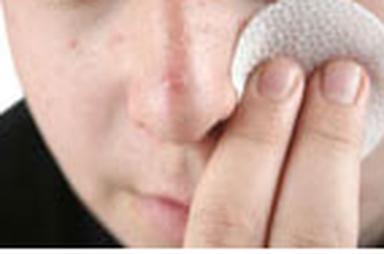 Oily skins make many teenagers unhappy (or, even, lead them to feel great misfortunes) every day … but also some adults. Shiny, with pimples and spots: in simple words, the exact opposite of a clean, thin and impeccable skin, which is still the must in the beauty world. Nevertheless, it does not have to be this way, especially if it is treated the right way, with due regard for the specific attention it deserves.
Oily skin deals mainly with the face, the body being far less concerned … even if its characteristics may go down to the top of the torso and of the back. Further, as good things never come singly, an oily skin is often synonymous with oily hair.
Every specific characteristic requires a suitable product. Thus, every oily area has a suitable cares program.
For the face
Cleansing is the clue to improve the quality of oily skins. Every single day, in the morning and in the evening (yes, EVERY day, every morning AND every evening):
• a cleanser (gel or foam) evenly applied on the entire face, a short massage, then wiped off (do not rub too much!) with a piece of cotton,
• a purifying lotion (better without alcohol; based on refreshing floral waters: rosemary, eucalyptus or mint) to complete cleansing and give the skin some freshness.
Do not clean with soap; avoid rinsing with tap water. This is aggressive and too harsh to the skin. Do not scrub; the movement is gentle, repeated until the last piece of cotton (used to wipe off the lotion) is as white as … cotton.

In the morning, a moisturizing cream, preferably with regulating properties and giving a matte complexion is the final step. Moisturizing? Yes, this is right. In fact, an oily skin is not always a thoroughly moisturized skin. It sounds funny, but the production of sebum and the right moisturization of skin are two very different notions. It is even possible to have skin at the same time both oily and dehydrated … blame it on bad luck!

In the evening, a mild massage with a serum or a plain vegetable oil may replace the cream. Beware; many may be too fat and will not be convenient. Think of hazelnut oil, which has very good regulating properties vis-à-vis the sebaceous glands.
Once a week, or twice (but not more!), apply an exfoliant (not too harsh, do not scrub! In other words, it shall not "scratch" too strongly), then apply a purifying mask.
For this, a basic and cheap green clay (which is a strong absorbent of sebum), added with some drops of tea-tree, rosemary, grapefruit or mint essential oil may have very convincing effects, providing that it is left a time long enough (15 to 20 minutes at least) without allowing it to dry on the face (to prevent it from drying, use an atomizer and spray on your mask every five to seven minutes).

After the mask, once the skin is thoroughly rinsed (with a lotion, better than water), end the care by applying the usual cream or a serum designed for oily skins.
Exfoliation and mask may target some parts of the face only. Combination skins can be given the same recipes, on their T-area only.
For the body
An oily skin on the entire body is not that common.
Thus, there are no specific remarks about the shower (and its gel), except that it shall be taken every day, and that having another one is a good one idea after a sport session (well, we say that … without any peculiar reason!). Further, better not to be too aggressive to the body skin, when taking so much care of the face. That is why the formula shall, nevertheless, be looked at thoroughly …

Once a week, an exfoliation helps in getting rid of the dead cells and lowering the "roughness" of the skin …, which becomes smooth. No peeling on the body, the movement shall be as mild as the product. Nevertheless, if the torso and the shoulders are also oily, it may be useful to insist a bit more (not too much, again) on these areas.

Soap shall be used only on hands. Quite recently, the news reminded everybody how much it is necessary to use it regularly, several times a day.
For hair
While the body is not really a concern, hair is far more often a worry. Yes, oily skin and oily hair are often linked.

Be cautious of the "for oily hair" shampoos: better not to pick up the first in your sight or the product seen in a TV ad. Many are those that contain strong active ingredients and harsh surfactants, designed more to dissolve the excess of sebum and get rid of it after one wash than to balance its production. As a result (it sounds familiar, does it not?): the sebaceous glands of the scalp, attacked and dried, tend to work more, producing more sebum … this requiring, through a well-known rebound effect, more frequent shampooing.

Paradoxically, the best choice for oily hair is the mild-action shampoos that can be used very often without attacking the scalp.
Mild-action comes thanks to ultra-gentle cleansing bases, the formulae of which some active ingredients balancing the sebum production on the long term complete. Among them, burdock, rosemary or nettle is known to have some efficiency. Clays (kaolin, montmorillonite …) may also absorb the excess of sebum, while respecting the scalp balance. Some essential oils may be a plus, due to their antiseptic and purifying properties.

Frequent shampoos are then necessary, every two days, even every day.
On the other hand, better to avoid after-shampoos or masks, which weight hair down.
Be aware also of the too harsh and/or too hot blow-drying: they cannot be of any help, indeed. Gentle dryings are far better; letting hair dry naturally is even better.

Another good idea for oily hair? A short hair-cut, regularly trimmed. It provides a nicer look than long, sticky hair!
LPE
© 2018- 2020 CosmeticOBS