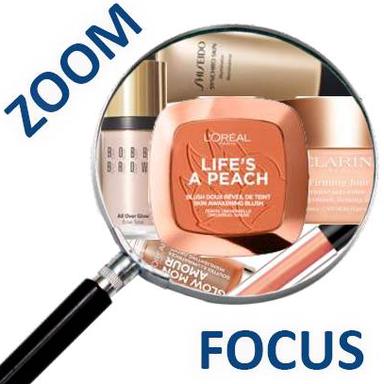 Similarly to one of the latest Iphone® models, it is THE colour everyone wants for a good spring start! Whether in packaging or makeup shades, pink gold is highlighted as the trendiest cosmetics shade this season…
Much softer and feminine than yellow gold, which is deemed too flashy or common, not to say vulgar, pink gold is close to the nude pink – Chloé designer's favourite colour – called 'Millennial pink', only it has golden warm reflections (otherwise it might look a bit dull).
It provides packaging with that elegant and refined something and a most trendy look, and Clarins has understood that perfectly well: they have adorned the caps of their five latest Extra-Firming face creams with this shade (three day creams, 50 ml, €80 each; two night creams, 50 ml, €85).
But pink gold is not only used in our creams. It can also be found in electric toothbrushes (Genius 9000 Rose Gold by Oral B, €299), dry shampoos with metallic pink looks (Batiste Golden Rose Dry Shampoo, 200 ml, €4.90), and makeup.
L'Oréal Paris has endowed their whole first season collection 'Wake Up and Glow' with it (Bonjour Nudista, €14.40; La vie en Glow, €15.90; Glow mon amour, €13.50; Life's a peach, €13.50; Back to bronze, €14.20; Bonjour Sunshine, €14.40; Joli bronze, €16. 90).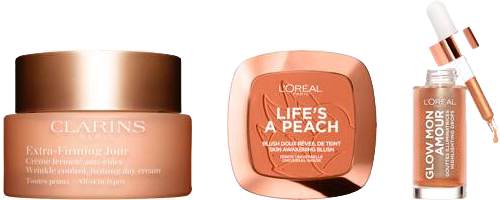 Nars have made it their flagship colour in the Orgasm collection, available as a preview at Galeries Lafayette as from May 11.
This universally flattering gold-infused peach pink was initially reserved for the cheeks (Blush Orgasm, €32), but the tone has become cult and can now illuminate the whole complexion (Orgasm Illuminating Loose Powder, €27, a silky loose powder which provides the skin with a natural glow), or the lips (Orgasm Afterglow Lip Balm, €27; Orgasm Full Vinyl Lacquer, €26), limited edition).
As for the blush, it was edited in large sizes to follow the trend (Orgasm Blush, €39, limited edition).
We can also mention the three following highlighters which suffuse the complexion with pink gold: Love Light Highlighter, Ray of Light shade, by Too Faced (€32.40 in Sephora stores), Synchro Skin Illuminator Rose Gold by Shiseido (€38), and Highlighter All Over Glow by Bobbi Brown (€34).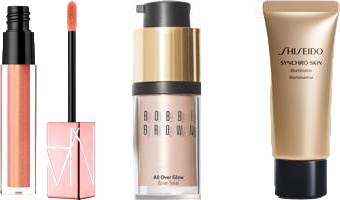 © CosmeticOBS-L'Observatoire des Cosmétiques
© 2018- 2021 CosmeticOBS