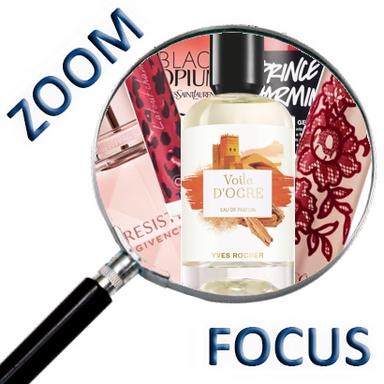 The cosmetics industry bets more than ever this year on love! A plethora of limited-edition perfumes celebrate it from every angle. The Love Calendar makes its appearance, while tattoos or heart masks, naughty massage candles, sexy palettes and kissable lipsticks prepare to meet Cupid!
Perfume celebrates love
He needs it to get back on track, and V-Day's creations don't lack panache, like the limited edition adorned with an exclusive La Nuit Trésor Dentelle de Roses de Lancôme lace pattern (€59 per 30 ml and €83 per 50 ml). For the occasion, the brand unveiled an unprecedented collaboration with Sophie Hallette, the French tulle and lace house, the jewel of French exception. Printed on the shoulders of the iconic black diamond, this precious veil, sexy and ultra-feminine, seems to both dress him… and undress him. Unveiling its shades of pink under the deep black of the lace, the collector's bottle is ambivalent, both tender and enticing. A case of delicate and mysterious elegance for a new sensual fragrance in which rose plays the leading role, draped in a trail of red fruits.
The pulpy rose is also at the heart of Givenchy's new Eau de Parfum Irresistible (35 ml, €66; 50 ml, €94 or 80 ml, €113). Accompanied by pear and ambrette, powdered iris and blond wood, it is the anti-morosis fragrance par excellence to offer on Valentine's Day, when cheerfulness and lightness are the order of the day. An invitation to let go to celebrate love and the freedom to be yourself!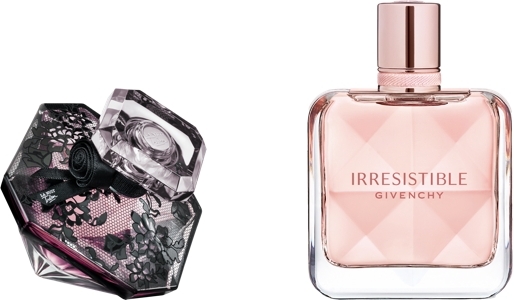 Love at first spray also with the new edition of Yves Saint Laurent's Black Opium Valentine's Day, which initiated the "café floral" olfactory family and is dressed in a zebra pattern of silver and black sequins (50 ml, €91).
Yves Rocher imagines Voile d'Ocre, a luminous woody fragrance composed by Fabrice Pellegrin, where spicy cedar contrasts with the milky softness of sandalwood (Eau de parfum, 100 ml, €57 or 30 ml, €33).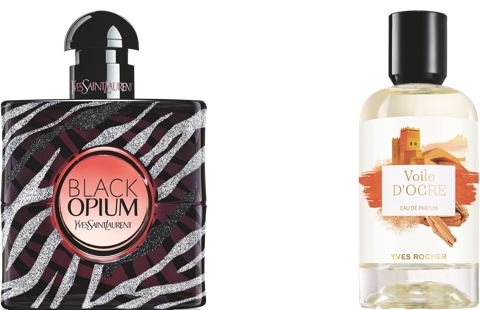 Another elegant woody fragrance warmed up with benzoin and patchouli essence: For Your Love by Mizensir (Eau de parfum, 100 ml, €190).
We can also offer message fragrances such as In Amore de Divina Terra, a spicy oriental (Extrait de parfum, 100 ml, €225), or Blossom Love d'Amouage, a gourmet fruity floral (100 ml, €330).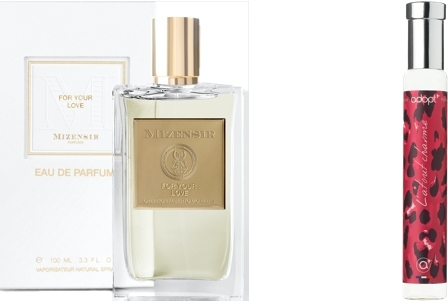 More accessible, Adopt' launches L'Atout Charme (Eau de parfum, 30 ml, €8.95), a floral oriental full of seduction (ginger essence, orange blossom, almond blossom, hazelnut).
Men are not forgotten and it is the fern (a masculine olfactory family where lavender is always found and of which Pour un Homme de Caron remains the most emblematic) that takes the prize! It is found tinted with oriental facets at Emporio Armani (Stronger With You Absolutely, eau de parfum 50 ml, €74 or 100 ml, €98) and Adopt' (Extreme Sensation for men, Eau de parfum, 30 ml, €8,95).
You can still embalm your room with Océopin Indoor Mist with maritime pine and immortal dune grass that intoxicates body and mind (100 ml, €35).
Love Calendar makes its appearance
It is Lancôme's excellent initiative to imagine this playful and loving variation on the traditional Advent calendars. Under its precious lace cover, it reveals 14 compartments to be opened, from February 1st to "V-Day". Isn't it said that the best thing is waiting? Make-up, care, perfume… Lancôme has put together a selection of iconic products in miniature format, ideal to discover them (Love Calendar, €85). In any case the idea should produce some little ones next year!

The make up is not to be outdone
Thus, Too Faced creates the Be My Lover Palette, decorated with a pink heart, which rhymes glamour with love (€29). It is composed of eight sexy eye shadows (neutral matte, shimmering and metallic finishes) with the scent of soft pink (€29).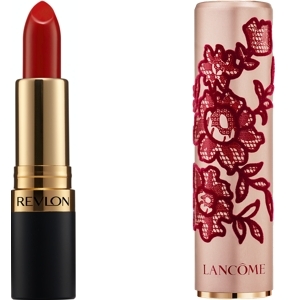 Revlon (Super Lustrous Mat, €11) and Dear Dahlia (Lip Paradise Effortless Matte Lipstick, €27.50) also prepare us to meet Cupid with their kissable lipsticks!
Lancôme's delicate lace is available in both grape and matte lipstick packaging (L'Absolu Rouge Intimatte, €35, Valentine's Day edition).
It is also possible to get a temporary heart tattoo at a low cost and just for the wink of an eye, thanks to Milk Makeup (Tattoo Stamp, €13).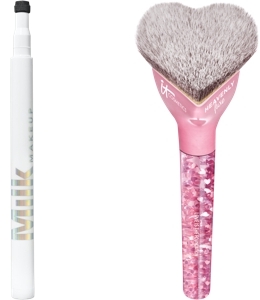 And of course to apply foundation, use the heart-shaped brush from It Cosmetics with dense, ultra-silky synthetic bristles that won't fall out (Heavenly Luxe Love Brush Valentine's Day, €30).
Naughty body care
Make foam, not war, that's what Lush advocates with its Prince Charming shower gel with the scent of marshmallow and pomegranate (120 g, €10).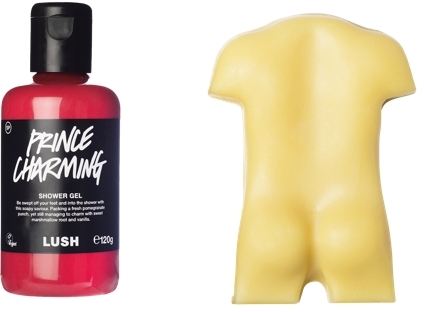 Nocibé launches the Coeur Power Collection: a boxed set of three body care products (shower gel, moisturizing milk and body scrub, €19.95), Bath Petals (€6.95) or bath bombs in the shape of little hearts with notes of neroli, woody vanilla and musk (€8.95). Lots of love to share again with these Lush Shea and Cocoa Butter Massage Bars (Naked Attraction or Rose Argan Massage Bars 65 g, €10 each), or these massage candles that turn into warm oil, heralding much bliss! (Massage candle with notes of woody vanilla and Nocibé musk, 140 g, €11,95; Massage candle with pure cocoa or mango Karetic perfume, 100 g, €23).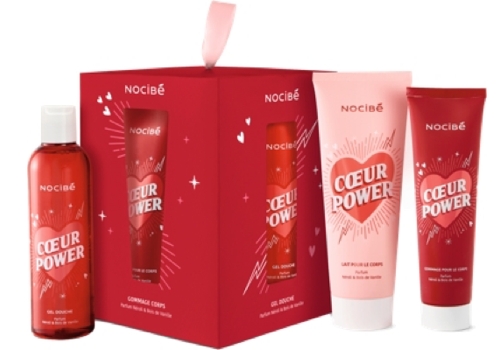 To love each other masked…
The Covid at the time of V-Day it also gives masks with hearts or tender messages. The brand Mon Masque de France® offers a silkscreen customization service for all its plain collections of washable and reusable masks in 100% cotton or linen. You can choose to compose your own mask according to your desires (Mask Le Coeur Rouge Brillant, €12).
Ariane Le Febvre
© 2021 CosmeticOBS