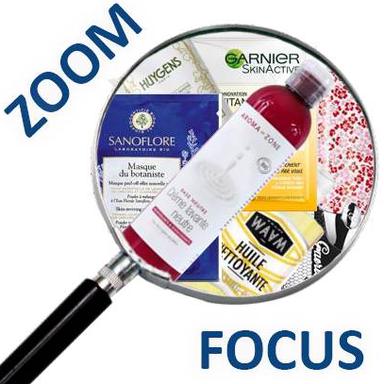 This idea has created a buzz in all beauty fields (skincare, hair care, makeup…). Lipsticks with a customizable design, shampoo bases to be adapted to the perfume and actives of your choice, masks to be prepared yourself… A touch of personalization, but not too much: that is the secret of this trend, and it seems more realistic, and especially more accessible than 'real' tailor-made products or DIY, which is too complex to develop…
This trend could be called 'mixology' or 'simplified tailor-made'. The idea is to provide your own personal touch without any stress because the brand provides some support. Even the DIY pope, Aroma-Zone, has decided to take to it. It is even one of the 'cherries on the cake' in their Parisian workshop-store: the 19 neutral bases to be personalized.
Far easier than having to warm up ingredients, invest in equipment like scales, take care of the preservation, etc., it makes homemade cosmetics accessible to all. Both bases and the ingredients are qualitative (most are organic-certified) and truly affordable (the base for the organic hair mask is available for €2.20 for 30 ml; the organic neutral cleansing cream costs €4.50 for 250 ml, and the thirst-quenching or anti-aging organic face creams €3.90 for 50 ml, etc. – and there are also makeup and bases for nail varnish). Basically, you buy a neutral base, you customize it with two or three cosmetic actives, you choose the perfume (with or without essential oils) and the packaging (a jar or a pump-bottle for face care products), and you get a natural product adapted to your skin and/or desires.
Many possibilities may be considered (although of course, the brand offers the most varied combinations). For example, you can add mica to your face cream to blur your wrinkles, or integrate cellulose fibres to your mascara and eyeliner base to give volume to brows (20 g, €3.50)… Leaflets and ideas of recipes are provided with each neutral base so everyone can create their own ideal recipe and quickly and easily choose the ingredients.
Waam Cosmetics also offer very 'natural' neutral bases to customize (Mild Cleansing Gel, 400 ml, €9.90, Sulphate-free Shampoo Base, 400 ml, €10.90, Cleansing Oil Base, 400 ml, €11.90, which you can both use as a body cleanser or makeup-removing oil). Each base may be used alone or topped with actives, vegetable oils, essential oils, perfumes… to create a unique product.
As for online French brand Mon Shampooing Personalized Haircare, they offer natural, SLS-free, silicone-free shampoos (250 ml, €25) and conditioners (250 ml, €27) with keratin to be personalized with five flasks combining three essential and vegetable oils (€12.50).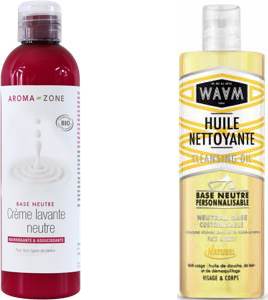 The luxury version
The same goes for Huygens, the French Beauty Apothecary, except it is the brand that makes the mixture with the perfume chosen (16 compositions based on essential oils are available), once you have selected your neutral base (Hand or Face Cleansing Gel, 500 ml, €25; Sulphate-Free Shower Gel, 250 ml, €19.50; Face Wash, 250 ml, €23; Body Scrub, as from €13 for 70 ml; Body Milk, 250 ml, €29; Hand Cream, 75 ml, €16; Face, Body, Hair Dry Oil, as from €33 for 100 ml; Face, Body, Hair Mist, as from €29 for 150 ml; Sulphate-free and Silicone-Free Shampoo, as from €17 for 250 ml, etc.).
At La Petite Épicerie in Le Bon Marché department store, Green Barbès imagined a simplified version of DIY with a 'ready-for-use' Kit to create a body cream and a face cream yourself (DIY Kit, €120).
Masks to prepare yourself
The L'Oréal Group has stridden into battle! Sanoflore devised Masque du Botaniste (€5), a powder of alginates in a bag to be mixed with the floral water of your choice.
In the SkinActive range, Garnier created sheet masks (based on algae with absorbing and diffusing properties) together with a shot of preserved actives (hyaluronic acid or vitamin C). Once mixed with the shot, the sheet mask transforms into a gelled, soft texture for a fresh, sensorial application (Masque Tissu Fresh-Mix Hyaluron Shot or Vitamin C Shot, €3.95, as from June 1st).
As for the Steam Mask for long hair, Steam Mask Elseve Dream Long by L'Oréal Paris (€3.90 as from June 4), it combines a repairing balm with a self-heating mobcap for a real hair spa! The formula gets fluid under the heat and penetrates the fibre more easily to restructure it in-depth.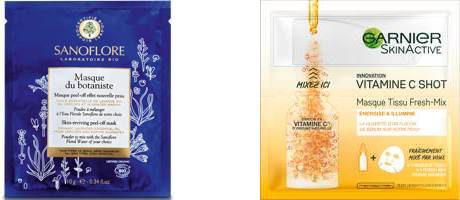 Haute Couture makeup!
There is another French brand at La Petite Épicerie – and online: La Bouche Rouge designed a completely tailor-made colour set, but also 13 lipstick colours with luxurious hand-sewn refillable leather packaging to be preciously stored, rather than added to the billions of red sticks thrown away all around the world every year! (Rouge à Lèvres Écrin, €135, initials colour hand-stamping: €15).
Guerlain have just launched My Rouge G customizable lipstick. You choose the colour in a 30-shade palette (€32), and then the cap, among 15 cases (€17.50).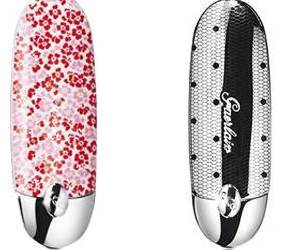 You are welcome to add your own touch…
Lastly, although it may sound a bit irrelevant here, you can also take part in the development of a product online. For example, Lush have imagined the #LushLabs concept. Every month, a few exclusive products never unveiled to the public will be available online (in May, seven original soaps, like Karanja, with the shape of a solid pump-bottle, and Aster La Vista, €9.95 each). Consumers will be able to give their opinions and tips on these products in social media conversations. This feedback will be taken into account to contribute to the further development (or stopping) of the products, so they can be marketed… a real immersion in R&D, where everyone can help create the product.
Ariane Le Febvre
© 2018- 2022 CosmeticOBS