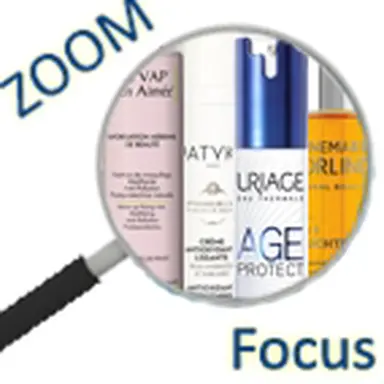 The world of skincare is being stirred up by a new obsession: blue light. Protection (mostly antioxidant) against this 21th century scourge seems to be the winning claim right now. And the movement is still in its infancy…
An eminently modern light!
Blue light is part of the visible spectrum: its wavelengths are between 380 and 500 nanometres. It is emitted by the sun, but also artificial light sources: LED bulbs and screens (tablets, TV sets, computers, smartphones…).
The blue light that is potentially harmful only represents a small part of all existing types of blue light: it corresponds to the blue-purple wavelengths less than 450 nm. It triggers the premature appearance of wrinkles and spots on the skin, just like standard UV rays do. Also called HVE (High Visible Energy light), blue light reveals pro-oxidant for the skin, and even, and that is last minute news, deleterious for mitochondria – also known as cell 'batteries', mitochondria produce the energy needed to keep cell biological functions operational.
We already knew blue light was harmful for the eyes (it is involved in ARMD), but it is also bad for the skin! Prolonged exposure to it in front of a screen may be responsible for premature skin aging. This artificial visible light is now everywhere, every day, and it is constantly present in the tools we use for social communication: our lifestyle compels us to increasingly rely on all types of screens. It was only logical the cosmetics industry would rush towards this new enemy to bring down!
Tomorrow's pollution…

We owe Garancia the first 'real' anti-blue light face product: it was launched in December 2016 (Ma VAP Bien Aimée Vaporisation Aérienne de Beauté, 40 ml, €21.40). It should be said it is one of Gérard Redziniak's hobby-horses – he chaired the product design. This alcohol-free makeup fixing mist has a mattifying, anti-pollution action and provides natural photoprotection. Composed of 98% natural ingredients, it creates a film which acts as an anti-aggression protective tissue, while allowing the skin to breathe. The film limits the penetration of polluting substances and the damage caused by invisible particles: PM2.5. But it is a Buddleja flower extract (Buddleja is known as the 'butterfly bush', because its perfume attracts these insects) that provides the product's anti-blue light benefits. This global natural photoprotection targets the different harmful effects of light rays, whatever their origin: UV, IR, and blue light. Tested in vitro , it reduces the oxidation emitted by blue light by 43% (mainly due to its exceptional richness in phenylpropanoids concentrated in verbascosides and echinacosides endowed with photoprotective properties). This botanical extract does not replace sun protection, but it limits the damage caused by light rays, including blue light.
Chain reactions…

Anne-Marie Börlind has just launched a 3-in-1 Face Oil (30 ml, €34.50) featuring an innovative anti-blue light filter: a tagetes extract (marigold). Based on exclusive vegetable oils (Prinsepia, Kahai, and Incha Inchi) that nourish dry and demanding skins, its fine, quick-penetrating texture is really well-thought-out.

Patyka has developed a whole 1ers Signes de l'Âge range for the first signs of aging (it is coherent, since young skins are the most exposed!) to offer the skin global protection against external aggressions, the different forms of pollution, and blue light, in particular by reducing cell oxidation. The flagship product in this line is the Anti-Pollution Hydra Defense Mist (40 ml, €19.90), where you can find… the Butterfly Bush flower (Buddleja officinalis) we were just talking about!
'The leaves in this tree are very concentrated in echinacoside and acteoside, a polyphenol 15 times more powerful than resveratrol. They act as natural photoprotectors to help the skin fight against pollution, invisible particles, and the blue light emitted by screens,' the high-end organic brand explains. Combined with plant-derived hyaluronic acid, a marine bio-complex, Goji berries, and cranberry cell water, this real urban shield preserves the skin's youth.
This range also features an Energising Eye Gel (12 ml roll-on, €34), an Antioxidant Perfecting Serum (30 ml, €59), and an Antioxidant Smoothing Cream (50 ml, €49).

Lastly, as from January, it will be Uriage's turn to offer Age Protect, a seven-product line (Sérum Intensif Multi-Actions, 30 ml serum, €35; Crème Multi-Actions, 40 ml cream, €30; Crème Multi-Actions SPF30, 40 ml cream, €32; Fluide Multi-Actions SPF 30, 40 ml fluid, €30; Contour des Yeux Multi-Actions, 15 ml eye contour, €27; Crème Nuit Détox Multi-Actions, 40 ml night cream, €30; Crème Nuit Peeling Multi-Actions, 50 ml night cream, €32).
'We spend six hours a day in front of a screen, on average. More penetrating than UV rays, blue light alters the skin's barrier, increases oxidative stress, and accelerates the formation of spots. Without adapted, efficient protection, spots might become an issue typical of young skins,' the brand says. This time, the (patented) complex contains a dragon's blood tree extract, blue mother-of-pearls, Uriage thermal water, and vitamins C and E. Two vegetable gums form a second skin which fixes on the skin to create a protective barrier.
The new cosmetics challenge for the future
Cosmetic and pharmaceutic active supplier Gattefossé was eager to discover the potential consequences of such an environment on the skin: to this aim, they launched a two-year research programme in collaboration with Cytoo , a company specialized in biotechnologies and cell models, to determine the direct impact of screen exposure on the skin. Special equipment was designed by Gattefossé to accurately recreate the spectral irradiance emitted by screens. Using micropatterning technology, a method that makes it possible to specifically guide the adhesion of cells to the cell matrix and set up a standardized organization for them, Cytoo developed a High-Content Cell Screening test (HCS) combining accurate monitoring of a culture of human dermal fibroblasts and a complex analysis of the mitochondrial fusion/fission dynamics by non-invasive imaging of living cells. Gattefossé and Cytoo associated technology, expertise, and know-how to explore the effects of the exposure to artificial visible light on mitochondrial modulation and protection. They found out screen exposure has a significant impact on mitochondrial function and dynamics and observed a fragmentation of the mitochondrial network, reduced monitoring quality, and a lower production capacity of ATP (Adenosine TriPhosphate).
'By using the Cytoo model, we were able to prove the light emitted by screens has a highly harmful effect on the mitochondrial network of skin fibroblasts. Our work highlights the importance of implementing a strategy to protect the skin from this type of light,' explains Nicolas Bechetoille, Skin Biology Research Manager at Gattefossé. The research results were presented at the Conference of the International Federation of Societies of Cosmetic Chemists (IFSCC) held in Seoul, Korea, on October 23-25, 2017. No doubt this new vision of the biological processes involved in the skin homeostasis will be in the spotlight for quite a while…
© CosmeticOBS-L'Observatoire des Cosmétiques
© 2017- 2022 CosmeticOBS