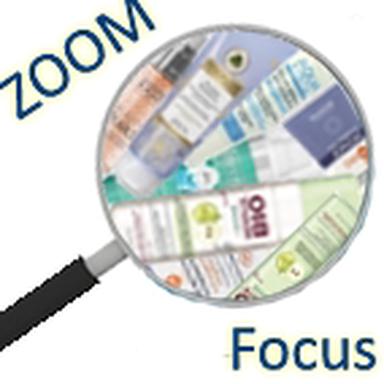 From cleanser ranges to day creams and serums, organic-certified cosmetics have every reason to claim 'anti-pollution' virtues.
Just a year ago, it was a major leitmotiv in conventional face care, but it was not really exploited by organic cosmetics brands, except for Patyka, Eau Thermale de Jonzac, and Sanoflore. Patyka's Supreme Defence Fluid Anti-Aggression Stimulating Skincare (50ml, €65) has been available for quite long.

Last year, Eau Thermale de Jonzac created a Detox anti-pollution range with an oxygenating angelica active (Organic Oxygenating Foaming Cleanser, 150ml, €8.72; Organic Detox Anti-Toxin Shielding Serum, 30ml, €21.08; Organic Detox Mask, 50ml, €13.12).



Sanoflore also offers a whole range of cleansers…
However, this spring, it actually seems that organic-certified cosmetics have adopted an 'anti-pollution attitude'. Indeed, many certifiable actives provide oxygenating, purifying, protective properties… It is a real trend and added value that can transform an ordinary cleanser or moisturizer into an 'anti-re-deposition skincare product' well-adapted to urbanites!
Cleansers/Makeup removers
After Sanoflore and their Acacia Botanica line, which frees the epidermis from pollution particles (four cleansers/makeup removers, including a Gelée d'huile démaquillante, a cleansing oil-gel, 125ml, €18, the first hybrid texture on the organic segment), Bio-Beauté by Nuxe is now launching an anti-pollution cleansing range with organic white grape extracts and moringa seeds:
• Face & Eye Anti-Pollution Cleansing Oil-Gel (125ml, €16.90)
• Dual-Phase Waterproof Eye Makeup Remover (200ml, €12.50)
• Anti-Pollution Gentle Exfoliating Gel (60ml, €13.50)


• Anti-Pollution Gentle Cleansing Foam (150ml, €12.90)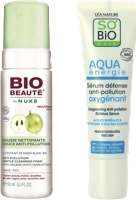 • Face & Eye Anti-Pollution Micellar Cleansing Water (200ml, €12.90 or 400ml: €15.90, as from June)
As a matter of fact, Nuxe capitalizes on this claim, since, starting from June, they will offer new anti-pollution formulas in their super cult range Crème Fraîche® de Beauté (not organic-certified, but with highly natural compositions).
Seaweed in the spotlight in the face care segment
So'Bio étic innovates for supermarkets with the first serum of its kind, which is also original, not only because it is packed in a tube, but because it is to be applied on the daily cream to form a real anti-pollution shield: Aqua Énergie Sérum Défense Anti-pollution Oxygénant (oxygenating anti-pollution defence serum, 30ml, €13.50). Its sophisticated formula with moisturizing glacier water liposomes and cryo-extracted boreal seaweed provides the epidermis with a real breath of fresh air and is intended for tired, normal to combination skins. This oxygen-boosting skincare serum does revitalize the cell metabolism and help the skin regain energy.
Lavera has developed Hydro Effect Serum, Intense Hydration & Protection against the influences of the environment (30ml, €14.90, Natrue-certified). This anti-pollution moisturizing serum contains an organic kelp extract, a complex of antioxidants (tocopherol, ascorbyl palmitate), natural hyaluronic acid, and a white hoarhound extract (obtained in a laboratory with the High Tech Nature technology from white hoarhound stem cells), which 'reduces the absorption of fine dust in skin cells.' It is all completed with plant-derived biosaccharides to help support the skin's barrier function and reduce transepidermal water loss.

Ultimately, Annemarie Börlind has released a range of three serums:
• Beauty Pearls Anti-Pollution & Sensitive Serum (50ml, €53.90)
• Anti-Pollution & Moisture Serum (50 ml, €53.90)
• Anti-Pollution & Regeneration Serum (50ml, €64.90), with polysaccharides obtained with biotechnology to form a natural protective shield on the skin, and, again, an active drawn from the secrets of the ocean, which the brand names 'botanical caviar', a macro-alga from Vietnam.
© CosmeticOBS-L'Observatoire des Cosmétiques
© 2017- 2021 CosmeticOBS