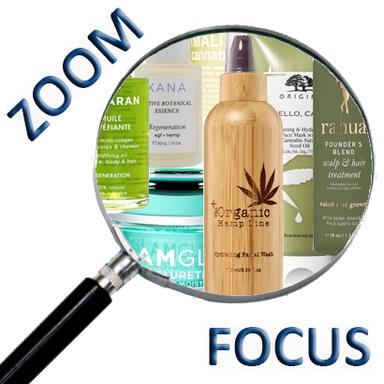 After facial care, "cannabis sativa madness" (or hemp seed oil) spreads to body or hair care, deodorants and even perfumes or candles! More than a trend, "CBD Skincare" (named after its multi-active molecule, cannabidiol or CBD) is a real tidal wave that swells over the winter!
Furiously trendy, the new flagship ingredient of the treatment is definitely being used in all kinds of ways!
Sephora has made it a separate segment in its stores, as demand is so strong.
Known for its antioxidant, soothing, moisturizing and exceptional omega 3/omega 6 ratio, hemp seed oil (cannabis sativa seed oil for intimates!) roasts everyone at the post in superstar ingredients!
As a reminder, it is distinguished by its richness in cannabidiol (CBD), devoid of any psychotropic or euphoric effect (this effect is due to THC, the component that "makes you high" and, in addition to the fact that it is banned in France, the latter could reduce the soothing benefits of CBD according to some laboratories).
A natural anti-inflammatory, CBD is an excellent winter ingredient, especially for sensitive skin (in general, the skin, sensitized by thermal shocks, tends to react more and blush when it is cold).
Cold pressed hemp oil contains more than 65% linoleic acid, an essential fatty acid that reproduces the same lipid profile as the skin.
The vogue for "CBD Skincare"
In facial treatments, hemp is found - at very different prices - in facial oils (Hemp Oil The Inkey List, 30 ml, €9.90; Ultra Repair Cannabis & Oat Dry Oil by First and Beauty, 30 ml, €31; Hemp Bed Mixture of hemp facial oils from Kana, 30 ml, €65…), serums (CBD Booster BYBI, 15 ml, €16; Active Botanical Essence from Kana, 30 ml, €75), day creams (Moisture Trip from GlamGlow, 50 ml, €49,90 ; Moisturizing Cream from Herb Essentials, 59 ml, €55), lip sticks (Dolce de Leite Brazilian Kiss Cupuaçu Lip Butter from Sol de Janeiro, 6.2 g, €16 ; Herb Essentials Lip Balm, 7.4 ml, 10 €) and soothing or radiant masks (Hello'Calm Face Mask with Relaxing and Moisturizing Hemp Oil Origins, 100 ml, €23; Radiance Transforming Mask from Evelom100 ml, €85; Night Mask with Purple Rice and Hemp from Kana, 50 g, €59, at Sephora).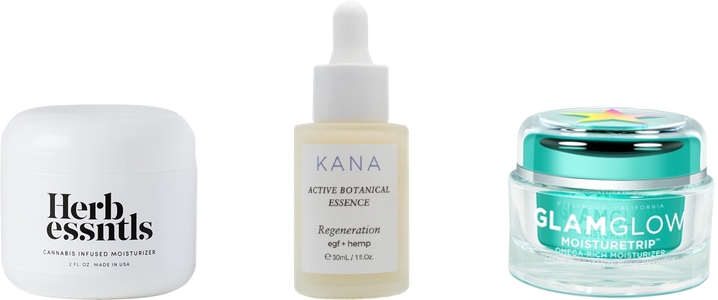 Britons or Israelis, make your bets!
Ho Karan (which means "I love you" in Breton) is a brand (Breton) entirely dedicated to the benefits of cannabis (each product listed on its "French Cannabis Expert" pack!).
For its founder, Laure Bouguen, "it is the only plant in the world capable of feeding us, dressing us, caring for us, relieving the stress of the mind and skin." Organic and local production, eco-responsible packaging designed with the Good Planet Foundation of Yann Artus-Bertrand. Guaranteed "no stress", Ho Karan treatments have the art of playing on the illicit side of cannabis, in the very titles of the products (L'Huile Stupéfiante, La Crème Stupéfiante, Super Nice Trip, Flower Power…) and maybe they owe (also) their success to this little sulphurous touch?
Among the latest innovations, the three Cannabooster Serums (Regenerating, Energizing or Detoxifying, 20 ml, €39 each), or the Detox Deodorant and "100% legal" based on terpenes and zinc (roll-on 50 ml, €18).
The cases are made of 100% recyclable hemp fibre, glass vials, recycled and recyclable cardboard shims.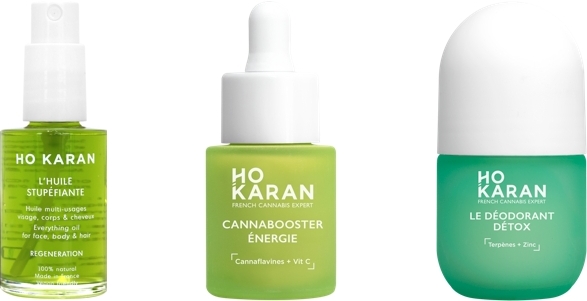 As for The Organic Hemp Line, this "top-of-the-range" Israeli brand certified Cosmos Organic and packaged in pretty handmade organic bamboo packaging, is also, as its name suggests, entirely dedicated to the virtues of hemp seed oil through eight facial products (Face Serum, 50 ml, €48.90 ; Eye Contour Cream, 30 ml, €55.90 ; Eye Contour Serum, 30 ml, €55.90 ; Facial Moisturizer, 50 ml, €44.90 ; Nourishing Night Cream, 50 ml, €48.90 ; Facial Moisturizer, 100 ml, €39.90 ; Illuminating Toning Lotion for the Face, 100 ml, €39,90 ; Exfoliating Peeling Mask, 50 ml, €59,90) and one of the very first body treatments (Body Balm, 150 ml, €36,90).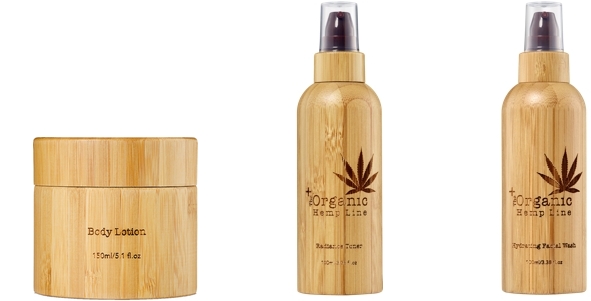 Body or hair care…
You can also find multi-purpose oils at Sephora Collection (Purifying oil with hemp face and body, 100 ml, €8.99), as well as a body moisturizing milk at Herb Essentials (Body Milk, 234 ml, €40, at Sephora) and a nourishing and firming balm, proposed by Cap-Ferret Laboratories (L'Onctueuse Crème Corps, 200 ml, €45).
Finally, hemp hair first aid is now available at Rahua, such as Founder's Blend Scalp and Hair Treatment (38 ml, €46), which nourishes, repairs and slows hair loss, while soothing scalp irritation thanks to the anti-inflammatory properties of hemp oil.
And we can also mention food supplements (they are certainly not the last!) that fight against skin problems linked to hormonal disorders ("CBD Absolute" by D-LAB Nutricosmetics, 28 vegetarian capsules, €38).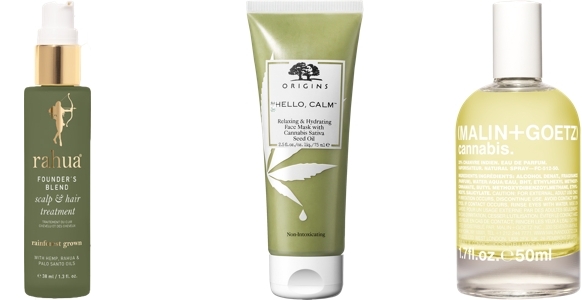 ####… and even cannabis flavors and candles!
Destination cannabis sativa for these eaux de parfums no gender from Malin+Goetz which contain 20% Indian hemp! (Cannabis, 50 ml, €85).
The brand also offers a whole range of Cannabis scents, such as a perfume oil or a hand and body cleansing gel (Cannabis Hand & Body Wash, 250 ml, €26) as well as two candles (Maxi cannabis candle, 260 g, €60 or 67 g, €27).
Just like Herb Essentials (Scented candle, 265 g, €50, at Sephora). To breathe urgently to do yourself good!
Ariane Le Febvre
© 2019- 2022 CosmeticOBS