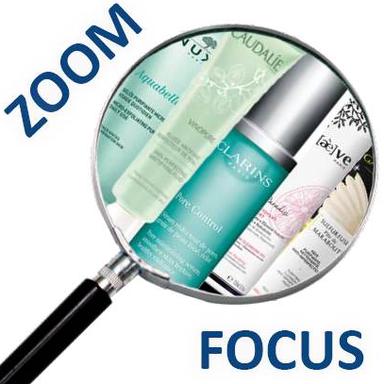 More and more respectful, partly due to the recent findings on the skin microbiome and the specific flora of oily skins, these new skincare products – which are no longer reserved for teens – are most welcome after sun exposures, as the skin got thicker and skin texture needs to be refined.
Everyone knows that skin imperfection problems do not only concern teenagers. 'It is estimated that 70% of adult women are affected (25 and older),' reveals Caudalie, as their Vinopure range for combination to oily skins will be released in September.
The range will comprise three products, all of which contain at least 97% natural ingredients (the brand no longer uses any silicone):
• Lotion Purifiante Peau Nette, Anti-imperfections (purifying lotion, 200 ml, €14.80)
• Sérum Infusion Anti-Imperfections (infusion serum, 30 ml, €26.60)
• Fluide Matifiant Perfecteur de Peau (skin-perfecting mattifying fluid, 40 ml, €22.20), with silica powder for a mattifying effect, and rose hydrolate and vitamin B3 to regulate shininess and moisturize the skin
The serum based on 100% natural exfoliating salicylic acid (derived from wintergreen), organic rose hydrolate, and hyaluronic acid, offers a 'quick break' texture that turns into water on the skin – it is worth K-Beauty! It can be applied locally on imperfections.
The microbiome at the forefront
The new Effaclar Duo (+) Unifying Corrective Unclogging Care Anti-Imperfections Anti-marks by La Roche-Posay (40 ml, €14.40, two shades, as from October 1) instantaneously unifies blemishes on problem skins, while significantly reducing imperfections after only eight days and restoring the balance of the skin microbiome to fight against recurrences. Indeed, its formula contains Aqua Posae Filiformis, a prebiotic which fights against the proliferation of a key player in recurrences: staphylococcus epidermis, over-represented on the surface of skins with imperfections. Here is an interesting point: its natural result, without any makeup effect, suits both women and men.
Cleanance Expert Teinté by Avène offers the same unifying power (40 ml, €13.55, two shades, as from August).
As for the new anti-imperfection, anti-mark global concealer Sebiaclear Serum by Laboratoires SVR (30 ml, €19.90), its purifying complex is composed of 14% keratolytic gluconolactone and 4% antibacterial and seboregulating niacinamide (plus, they are anti-inflammatory). The latter favours the diversity of the microbiota to reduce the inflammatory strains that trigger the formation of acne. Other original points: it is also anti-aging, as it acts on marks and wrinkles (aroleat samphira, a plant similar to retinoids and hyaluronic acid).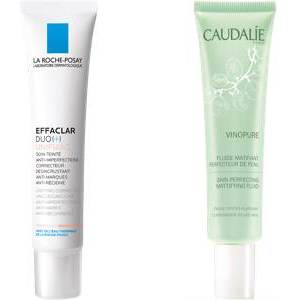 Naturalness and sensoriality
Saève is a new brand distributed in pharmacies. It was created by Pauline Bony, former Marketing Director of Caudalie, based on the forest bathing concept. For example, organic birch fresh sap is combined with organic chaga (nicknamed the 'The Mushroom of Immortality'). This dynamic duo of antioxidants strengthens skin defences.
This nice retro brand with an apothecary mindset developed, among others, the purifying, anti-imperfection range Pur Paradisi, which combines the previously mentioned actives with pink grapefruit to regulate the sebum and purify and tighten pores. It is composed of seven skincare products:
• Purifying Cleansing Gel (150 ml, €12.20)
• Purifying Micellar Water (500 ml, €16)
• Purifying Skin-Perfecting Lotion (250 ml, €14.30)
• Purifying 2-in-1 Exfoliating Mask (75 ml, €19.90)
• Anti-Imperfection Purifying Botanical Serum (30 ml, €27.80)
• Purifying Botanical Fluid (40 ml, €18.50)
• Intense Anti-Imperfection Concealer (15 ml cannula tube, €15.70)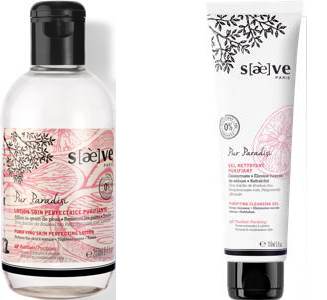 Now, the DermoPure line by Eucerin contains Licochalcone A extracted from liquorice to soothe irritations in skins with imperfections. It can be found in six products:
• DermoPure Micellar Water (400 ml, €11.10)
• DermoPure Face Scrub (100 ml, €10.70)
• DermoPure Mat Mattifying Fluid, 8h anti-shininess effect (50 ml, €14)
• DermoPure K10 Soin Rénovateur Cutané (repairing cream, 40 ml, €14.20)
• DermoPure Hydra Crème Compensatrice Apaisante (soothing cream, 50 ml, €14), to moisturize and reduce redness in skins weakened by drying dermatological treatments
• DermoPure Cleansing Gel (400 ml, €13.40)
Garancia's Sulfureuse Pâte du Marabout, Purifying, Cleansing, Anti-imperfection Paste (150 ml, €24.90) is another example of targeted cleanser. This foaming paste is now available in a new size and promises results as soon as the first application.
As for Nuxe, they imagined Aquabella® to moisturize combination skins thanks to natural hyaluronic acid and a white water lily extract, and to ensure a 'beautiful skin' effect together with a botanical Blur complex:
• Micro-Exfoliating Purifying Gel Daily Use, 150 ml, €12.50
• Beauty-Revealing Essence Lotion, 200 ml, €14.90
• Beauty-Revealing Moisturizing Emulsion, 50 ml, €23.90
The selective network is not lagging behind!
On the perfume segment, Clarins launched Pore Control Pore-Minimizing Serum (30 ml, €55), an anti-aging treatment which makes pores less visible. The brand discovered that the visible appearance of pores as we get older is related to the reduction of collagen and elastin (due to pore walls sagging, pores look more dilated). As a consequence, this treatment is intended for stimulating the collagen and elastin synthesis with a grapevine flower cell extract, while an organic yumberry extract limits the sebum production and tamarin pulp acids offer a keratolytic action.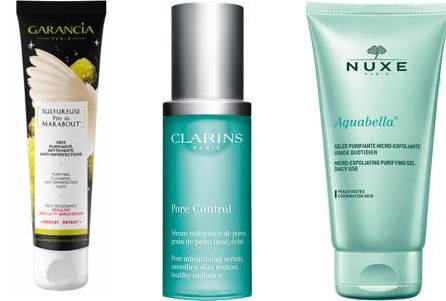 As for Payot, they designed Blue Techni Liss Week-End (single mask, 25 g, €10, as from September), a repairing, peeling, 100% natural and recyclable sheet mask that will be particularly welcome after summer. Thanks to its high concentration in glycolic acid (8%), it smooths wrinkles and repairs skin texture.
Erborian created Matte Crème Mattifying Face Cream (15 ml, €16.40 or 45 ml, €36.90), which blurs imperfections and the appearance of pores with a blur effect, while refining skin texture.
Ariane Le Febvre
© 2018- 2022 CosmeticOBS