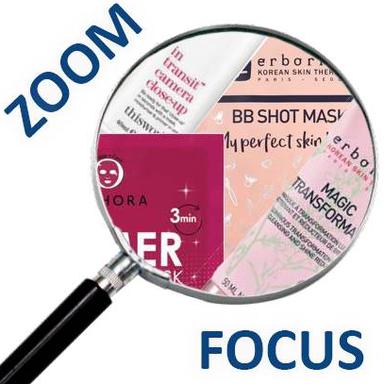 The enthusiasm for masks is not waning! After the night masks, here are the daytime versions that replace the day cream and/or primer, and can only be used in the morning. These "Cinderella" masks cleanse or photoshop the complexion, moisturize or tighten pores. They are often multi-active, cleansing, mattifying, sublimating… Very practical for "pillow failure" mornings where you don't have time to put on make-up…
Apart from Maria Galland's Soft Mask (50 ml, €51) - a mythical product with a creamy texture that cleanses the skin when you wake up thanks to the clay it contains - until now there have been few (or no) day masks.
It is understood, apart from sleeping masks which replace night cream, most masks can be used morning or evening, but in reality, they are used more often in the evening (or on weekends) when you have more time.
But in this "grief complexion" winter - masks being still widely acclaimed by younger generations who use little facial care and love surprising galenic products - brands are inventing a new morning routine: masks that replace day cream and/or primer. Erborian is the specialist in this type of mask.
After the BB Shot Mask, "Baby Skin" Radiance Effect Facial Mask (14g, €6.90) that really makes a pretty complexion, the Korean brand imagines the Magic Transformask, Light Transformation Mask Cleaning & Shine Reducer (50 ml, €33).
Thanks to its double texture transformation, it combines the power of a cleanser and a skin-perfecting mask.
In contact with the skin, this pearl gel traps dust and impurities. It deeply cleanses the skin without drying it out, then transforms into a skin care powder that removes excess sebum and refines pores (silica powder), while its detoxifying ingredients (tiger grass, Japanese knotweed, licorice root extracts, green tea….) purify the complexion.
By interacting with water, the powder transforms into a milky veil and gives way to golden pink pearlescent pearls for an instant ultra glowy effect. Ten minutes later, the complexion is sparkling, clean and matte.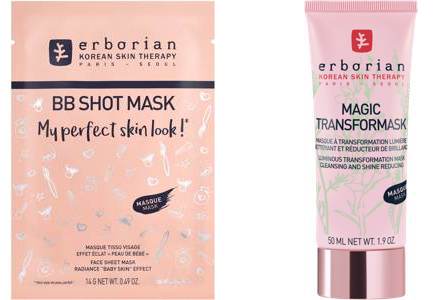 Sephora Collection is launching The Primer Mask Le Masque Base de Maquillage 5-in-1 (€4.99), a cotton mask that replaces the day cream, the make-up base and the primer. Impregnated with a creamy pale pink formula enriched with light-reflecting pigments and natural cotton extract, it nourishes the skin, illuminates the complexion, blurs imperfections, facilitates the application of make-up and fixes it, all with flash results in three minutes.
In the same vein, This Works creates In Transit Camera Close-up, Moisturizing Mask + Primer (40 ml, €39.99). This 3-in-1 is a mask, moisturizer and all-in-one foundation for more beautiful skin, even close up!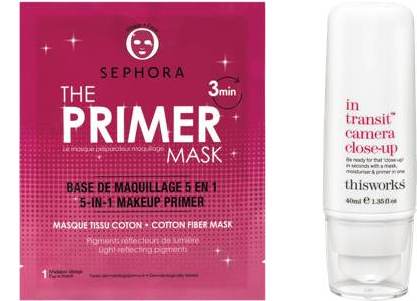 A small festive variation with this glitter mask that makes the complexion shine (Glittermask, Glamglow Firming Mask, 50 ml, €49.99, at Sephora) or this mask with seaweed gel and green tea that eliminates dark circles and puffy eyes in the morning (Mortal Kombu by Lush, €2 each).
Ariane Le Febvre
© 2019- 2021 CosmeticOBS