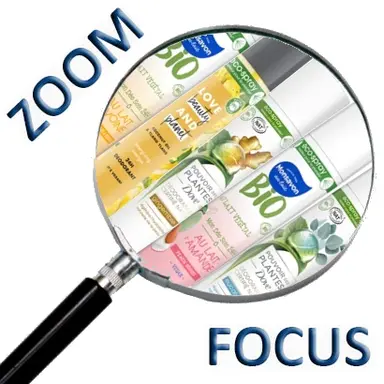 With their 100% natural gas propellant and their compressed aluminum format (recyclable), these new packaging is more responsible and environmentally friendly. The icing on the cake is that their mist diffusion is super pleasant on the skin!
Eco-spray, another new word to get used to! Because we can now see it displayed (with its corollary "better for the planet") on the deodorant pediment in supermarkets.
We owe it to the Unilever group and its brands distributed in supermarkets and hypermarkets (Dove, Monsavon, Love Beauty and Planet, while waiting for Rexona no doubt…).
The Anglo-Dutch multinational stands out for its creativity in the field of deodorants (we already owed him the compressed format - more environmentally friendly - which has now become widespread in supermarkets). Because what can be problematic from an environmental point of view in the aerosol packaging of a deodorant is indeed the propellant gas. Unilever has therefore replaced the usual propellant gases in conventional aerosols (ethane, propane, butane, isobutane…) with a natural nitrogen-based propellant gas (INCI: Nitrogen), which reduces greenhouse gas emissions and limits the impact on global warming. Nitrogen is naturally present in the air (the atmosphere itself is 78% nitrogen).
Last but not least, this innovation (patented) allows the diffusion of a fine and deliciously light mist that is deposited on the skin like a cloud of freshness.
The sensory experience is truly soft and pleasant. Bonus, the spray is not irritating to the lungs, unlike some aerosols.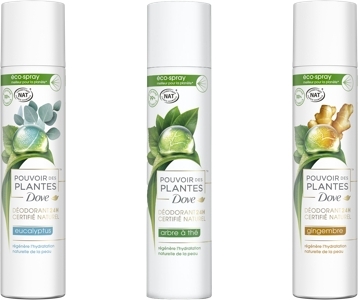 First to draw, Dove with its Plant Power range offers three compressed eco-sprays, all certified Peta and Cosmos Natural in three fragrances: Eucalyptus, Ginger or Tea Tree (Deodorants 24H, 75 ml = 150 ml, 4.19 to €4.29).
On the formula side (99% natural origin) nothing to say, an antibacterial active ingredient from sugar cane to fight against bad smells for 24 hours and a moisturizing active ingredient based on coconut oil, for soft and moisturized underarms.
The 100% natural perfumes contain essential oils.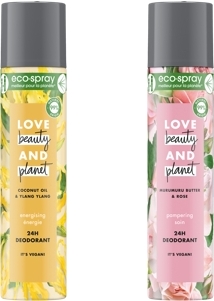 One month later, it's Love Beauty and Planet's turn (the group's latest green and committed - but not certified organic - brand) to launch these "mists" enriched with moisturizing glycerin, in two floral fragrances with ethically sourced natural extracts (24H deodorant coconut & ylang-ylang oil or muru muru & rose butter, 75 ml, €4.99 - €5.20 each).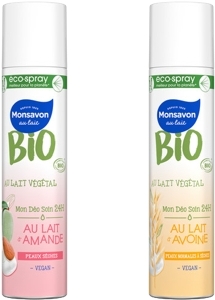 Latest to date, Monsavon's deodorants in turn use this natural propellant in a certified organic and vegan range with vegetable milks (Deodorant eco-spray With Oat Milk or Almond Milk, 75 ml, €3.50-3.69 each).
And we think it won't stop there. When will we see the first eco-spray lacquers? The future will tell us…
Ariane Le Febvre
© 2020- 2022 CosmeticOBS