Formulated as care that enhances the eyelash growth, khol effect, original tints … brands revisit this favourite of our make-up. A focus on the week's hot picks, by Ariane Le Febvre.
Mascara that makes eyeslashes grow
Ubiquitous in make-up, care is on for our mascara. Stepping up complexes from the research on anti hair-loss, mascara, further to provide our lashes with a fuller look and to lengthen them, increase their strength and stimulate new growth. This, thanks to growth activators, based on peptides, vitamins, collagen, quinoa proteins, seaweed … Why do without?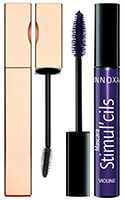 After Sisley, the last year precursor (So Intense, €39), now Clarins (Be Long Mascara, €25.50, two shades: Intense Black, Intense Brown), Revlon (Lash Potion, Mascara 2 in 1 Volume and Length, €11.90, one shade: Blackest Black, exists also as a waterproof version), Innoxa (Mascara Stimul'Cils, €15.90, five shades including a dark purple one), Bareminerals (Lash Domination Volumizing Mascara, €20, black, in Sephora), Astor (Big & Beautiful LovelyDoll, €10.90, black, in beauty salons) offer their strengthening and sheathing formulae.

Results may be noticeable: after Clarins, "the true eyelashes' length has grown by more than a millimetre (a bit less than 1/16") after four weeks of use" (test performed on 33 women, measurement of naked eyelashes, averaged). After Innoxa, "the eyelashes' growth speed is multiplied by three within a month."
The khol effects
These "two-in-one" mascara link the volume to the power of black kohl. Rich in pigments and intensely black, they let on and between lashes, a creamy, supple texture enriched of intense black powder, which magnifies the inner edge of the lower eyelid, as a khol pen, or kajal, does. They provide the eyes with a smoky expression, ideally oriental and sophisticated. The result is amazing, especially with light eyes.


• Dior, Diorshow Black Out Mascara Khol Spectacular Volume Intense Black, €30.60, one shade only: 099 Black Khol.
• Bobbi Brown , Smokey Eye Mascara, €27.50, one shade only: Black, in October.
Original shades
Or how to reinvent black, by designing "false blacks", often easier to wear, especially on clear eyelashes. Among them, the "grey black", by Yves Saint Laurent in its "Electric Chic" program (Mascara Volume False Lashes Effect Shocking N°08 Black, €29), or the bluish or purple black mascara, Midnight Blacks, by L'Oréal Paris, nicely blended with a lustre of mother-of-pearl called "Nymphas", with deep reflections (Mascara Faux Papillon Midnight, €14.50). Also Photo Op Mascara Illuminator, by Smashbox (€22, Brightening Black, in Sephora), an exclusive black shade, which contains deep-blue micro-capsules that make the look more intense and sparkling. As a final example, let us talk about an original color, the bronze-green in the Chanel program, "Superstition" (Mascara Le Volume by Chanel N°40 Khaki Bronze, €30, limited edition), or in the Givenchy Christmas collection "Precious Ondulations" (Mascara Phenomen'Eyes N°9 Precious Bronze, €29.50, limited edition – in November).
© CosmeticOBS-L'Observatoire des Cosmétiques
© 2013- 2020 CosmeticOBS