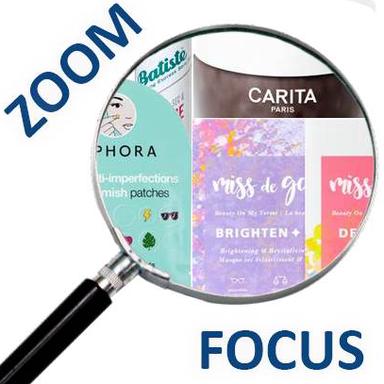 After dry shampoos (but they too reinvent themselves!), here are the scrubs, patches, facials and masks that can be used dry… Thanks to new technologies, these treatments offer significant time savings (because they do not require rinsing) and are also very ecological (no addition of water).
Express facial treatments
In the amazing "dry care" family I ask in order for the scrub, the mask, the patches and the anti-spots treatment.
The first of its kind, the new Carita Dry Facial Exfoliator (50 ml, €49) is a scrub that does not need to be rinsed off and transforms the skin! It smoothes the microrelief, refines the skin texture, detoxifies and clarifies the complexion, while eliminating impurities, dead cells and pollution particles. Inspired by the famous cabin product, this exfoliator formulated with vegetable flours and fruit powders (roasted sunflower seeds, crushed apricot stones…) offers a surprising texture that is simply removed by rubbing.
We then continue with the dry masks that we owe to Miss de Gaspé.
This new Canadian brand, distributed exclusively at Sephora, offers three products: Dry Anti-Pollution Mask & Purify Detoxifying Mask + White Charcoal Purge, Dry Anti-Aging Mask and Defy & Drench Hyaluronic Acid Hydrator with Red Maple Bark Extract or Brighten Lightening & Revitalizing Dry Mask + Beam with Lightening Plant Extracts (1310 mg, €29 each). Each fabric mask contains 83% active ingredients "dry printed on the techstile" and can be reused three to five times.
According to the brand, "wet masks are usually made up of 85 to 90% water and glycerin, and only 3 to 10% active ingredients. Our microvectorized biomimetic diffusion system penetrates the active ingredients deep into the skin for 6 to 8 hours in a single application. These dry masks offer more durable results than the temporary benefits of wet masks."
Other valuable advantages: they stay in place and do not slip (slots to place on the ears allow the mask to fit perfectly to each face), are antibacterial (bacteria like water and there is no water in these masks!), and above all, they do not ruin the hair (no water, so no damage to the hair)!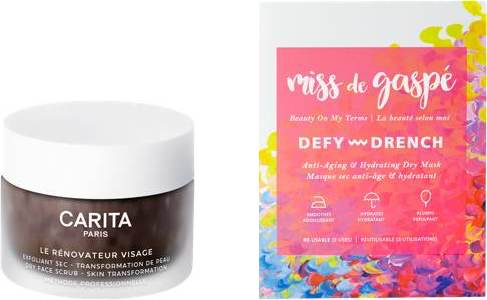 Patches get a new look
The latest anti-blemishes patches are applied to dry skin (whereas they were usually required on wet skin) before going to bed and act all night long for 8 hours to purify the skin.
This is the case with Sephora Collection Anti-Blemishes Patches (2.99 € X 12), formulated with salicylic acid, tea tree essential oil and green tea. They are simply removed when you wake up, no need to rinse. They are available in two sizes to suit all imperfections (4 invisible and 8 decorated with funny patterns for more fun!).
Dry treatment
It is a very fine white powder that is easily applied to dark spots (face, décolleté, hands) and works in 14 days.
It is owed to SVR Laboratories (Clairial Cible Target Concentrated Powder for localized spots, 4 g, 29,90 €). In fact, its transforming texture (the powder becomes cream on contact with the skin) is super fresh and pleasant!
Rich in depigmenting active ingredients (17% including 2% stabilized Vitamin C combined with a mild keratolytic complex composed of gluconolactone among others), it is used as a morning and evening treatment.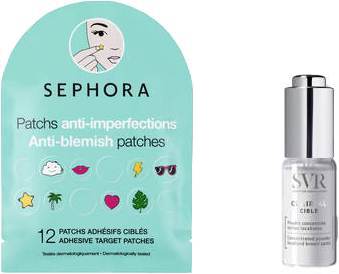 Dry shampoos that treat
The great novelty is that to compensate for the drying effect that was often blamed on them, they now offer a treatment value, like the last four Batiste dry shampoos (Dry & Moisturizing Shampoo with moisturizing avocado for normal or dry hair, Dry & Volume Shampoo with redensifying collagen for fine hair, Dry & Protects with fortifying keratin shampoo for damaged hair, Dry & De Frizz Shampoo with straightening coconut oil for curly hair, 200 ml, €5.95 each, available in preview in Leclerc stores in September, from late December in other GMS outlets). Another innovation is the vegan and anti-fall formulas of the Les Savons de Joya brand, which restore volume and cleanliness between two shampoos (Dry shampoo with or without essential oils, 35 ml, €7.90, refill: €5.90). 100% natural origin (including 62.50% of the total ingredients from organic farming), refillable and without added gas (therefore particularly ecological), they consist of organic corn starch, green clay, organic purifying and astringent horsetail powder (also rich in silica, it strengthens the hair), and especially kapoor kapoor powder that tones the scalp and promotes hair growth.
The latter also has a very pleasant smell that leaves the hair delicately scented. The version that contains in addition to grapefruit essential oil "slows down hair loss and tightens hair scales" says the brand.
Ariane Le Febvre
© 2018- 2021 CosmeticOBS