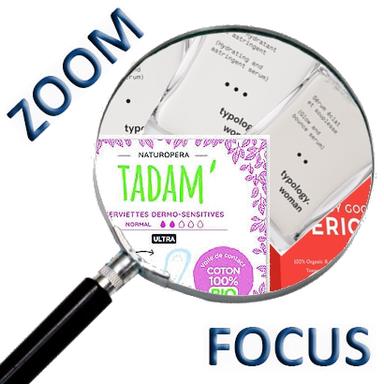 Femininity - and more particularly the menstrual cycle - are in the spotlight at the beginning of summer. If "no gender" care and perfumes (unisex, to put it simply!) are also on the rise, cosmetics that are very gender-specific are also in tune with the times. Two strong trends in the cosmetics industry…
Ultra-gender cosmetics!
We all know about skin problems related to hormonal fluctuations. It is a fact, the skin has its cycles, whether seasonal, diurnal, menstrual… From puberty to menopause, many of us have seen it: our skin is different depending on the weeks of our cycle.
This is why Typology decided to offer a range simply called Woman, which includes four serums specially designed for each week of the women's cycle (4 X 15 ml, €44.90).
It was enough to think about it of course, but this idea well deserves a focus to this young and innovative digital brand whose mission is to radically change the industry's codes. Typology concentrates all the trends of the moment: "clean cosmetics", products designed in France, environmentally friendly and at the right price.
Each Woman serum contains a minimum of 88% natural ingredients. All this is presented in a pretty box with eloquent waves allowing 3 months of treatment.
Rather than a number 1 responding to week 1, the brand preferred a visual code (popular with native digitals!) materialized by a single black dot on the bottle (two black dots for week 2 and so on…).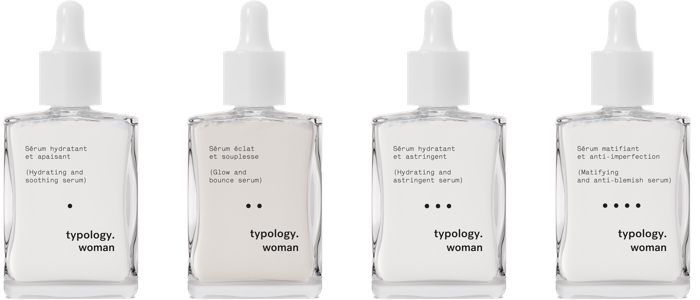 Then, week 1 (which begins on the first day of menstruation), the estrogen level increases in the body, the skin is sensitive and dry, it will be the Moisturizing and soothing facial serum that contains hyaluronic acid, Aloe Vera, bisabolol, blueberry floral water…
Week 2, the body prepares for ovulation, the female hormone level is at its peak: the skin is at its best. The Radiance and suppleness facial serum is back on track! It contains "beautiful skin" ingredients (vitamin C and fruit acids from blueberry, lemon and orange).
Week 3, progesterone levels increase, pores open and sebum is overproduced. The skin is then conducive to skin inflammation. Moisturizing and astringent facial serum, formulated with vegetable glycerin and ginger extract, fights against possible bacteria present in the pores and visibly reduces their size, without forgetting to hydrate the skin.
It is during week 4 that the skin is visibly oily and shiny and pimples can appear on what we call "the gynecological zone" (chin, T-zone).
This week before menstruation is the most feared woman for their skin!
The Matifying and anti-perfection facial serum, with marine algae and zinc extracts, reduces imperfections and skin shine.
The renewal of periodic pads
Feminine hygiene is entering the era of naturalness and periodic pads are becoming furiously popular in the autumn!
New look, organic cotton… and above all the removal of substances that could prove harmful, such as chlorine, absorbent ingredients, colorants, perfume (removal of the 26 allergens listed by the European Union)…
In this buoyant market, it's a real breaker!
After Nett, the first major national brand to launch Ecocert certified tampons in 100% organic cotton in supermarkets (between €4.30 and €4.70, regardless of the reference: Normal, Super, with or without an applicator made of more than 90% vegetable plastic), it is Naturopera Tadam''s turn to launch a whole range of organic cotton feminine protections in pretty packaging (Dermo Sensitive pads X 16, €2.45; 100% organic cotton pads X 16, from €2.90 to €3.50; Dermo Sensitive Lingerie Protector X 24, 2.45 €…).

The same goes for Gina, a brand of Ecocert certified tampons and towels that comes to Sephora at the end of August, in "handbag" packs to avoid being unprepared (Bloody Good Period, five pads or eight tampons, €4.50 each).
Ariane Le Febvre
© 2019- 2021 CosmeticOBS