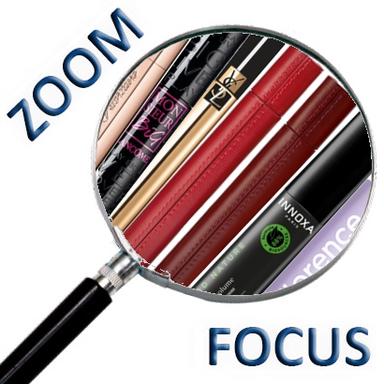 There is something for all tastes and sensibilities! On the one hand, ultra-black pigments (the famous black carbon often nanoparticles) invade our favorite makeup product. On the other hand, the first mascaras with clean formulas and 100% recyclable packaging make their appearance. A land of contrasts for the new school year's mascaras.
With the mandatory wearing of the mask, if lipstick is not at the party, far from it (70% of women no longer wear it), mascara is the winner!
According to a post-Covid survey conducted by My Little Box (which interviewed in June 2020 700 women between 18 and 66 years old on their beauty habits before and after the confinement), two out of three women continue to wear make-up even with the mask. And the eyes are obviously the big winners.
But their preference goes to the very black mascaras which hold without flinching all day long, do not run and ensure in all circumstances!
Flood of intense blacks
Ultra blacks take the lion's share, as at Lancôme, which contains in its latest Mascara Monsieur Big Extreme Black (10 ml, €27) the brand's blackest pigments to date (both ultra-black iron oxides and black carbon). Other advantages: a long hold (up to 24 hours) and super volume in a single stroke.
Same battle for the Bambi Eye False Lash Mascara Extra Black from L'Oréal Paris (€13.90), the Lash Freak Mascara from Urban Decay (€24.50, at Sephora) with its amazing asymmetrical fluo green brush, the new Climax Extreme Mascara by Nars (€25), Cils d'Enfer So Volume Mascara Intense Deep Black by Guerlain (€35.50) or Maneater Mascara de Tarte (€24.50).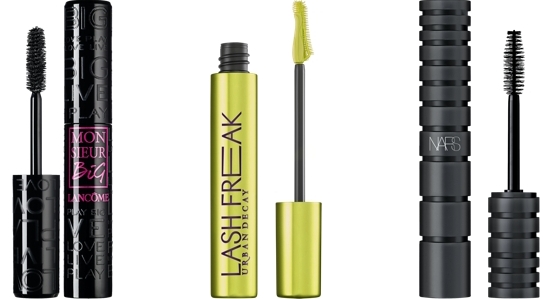 The well-being of lashes, a priority
Today, the feeling of care is essential and formulas are increasingly focused on preserving lashes from drying out with a high level of hyaluronic acid, collagen or vegetable oils. The result is a result that "hits" less, but takes a little longer to dry.
In this category, you can count on Mad Eyes Mascara, Guerlain's Custom Lash Volume Mascara with argan oil, cotton extract and D-panthenol (€35.50) or Yves Saint Laurent's new Radical False Lash Effect Volume Mascara (€34.50). The latter combines a specially researched deep black shade (classic black pigments + carbon black dispersion mixed with walnut leaf extract and blue pigments to boost the intensity of black) and a care formula infused with four nourishing oils (argan, safflower, sweet almond and castor) that leaves lashes soft and supple. As for the new brush, it mixes hard fibers to define lashes and flexible fibers to create volume and sensoriality.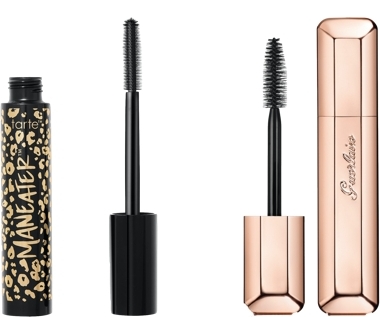 With Maneater Mascara, Tarte relies on jojoba extract to moisturize and protect lashes.
Maybelline New York imagines with Marvel a new edition of its Colossal Mascara enriched with collagen (9,4 ml, €9,50).
The first truly eco-friendly glass mascara.
We owe it to La Bouche Rouge, the first French luxury brand to offer make-up with zero micro-plastic, which is a feat for a mascara that adds an impressive number of small parts usually made of plastic, from the wringer to the stem, the brush and the bottle.
The Black Serum (6 g, 39 €), which can be dressed in a precious leather case to keep (€50, available from September 21) is, indeed, the first mascara made of 100% recyclable glass. The brush, made of castor oil fibers, is the first brush in the world without micro-plastic. The squeegee is made of bio-plant material. The cap is made of infinitely recyclable metal. The mascara can be adorned with an upcycled leather case (the brand uses leather scraps from the luxury industry), whose shades vary according to the seasons and trends (red, camel and chocolate for this fall). This case is also customizable: initials can be placed on it. But of course, you may prefer the vegan version in its simple black glass bottle!
As for the formula, this fortifying serum contains 99% natural ingredients. Carnauba wax coats the lashes, leaving them supple. The combination of castor fibers and jojoba oil provides spectacular volume and definition from the very first stroke while stimulating lash growth.
Finally, says the brand "this natural formula has excellent hold all day long and is easy to remove." According to Nicolas Gerlier, founder of La Bouche Rouge "True luxury today is the durability of objects and formulas."
A creation that combines French know-how, eco-responsibility and technological innovation.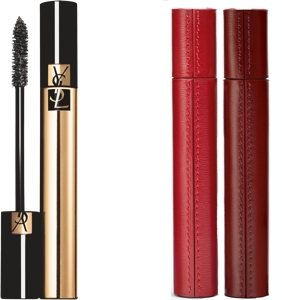 Cleaner formulas
If certified organic mascaras already exist (at Logona, Phyt's, Benecos, Lavera…), they do not always give satisfaction in terms of makeup results.
This is not the case with the 88% organic-sourced formulas of Innoxa's new Good Nature mascaras (Volume Mascara, 15 ml, or Lengthening Mascara, 6.5 ml, €17.50 each).
We can also mention the explosion of vegan mascaras (without beeswax), such as Built to Lash Mascara by Florence by Mills (€16.90, at Nocibé) or Go Big or Go Home Mascara 100% vegan by KAT VON D (10 g, €23), also available in travel size (5 g, €12), at Sephora.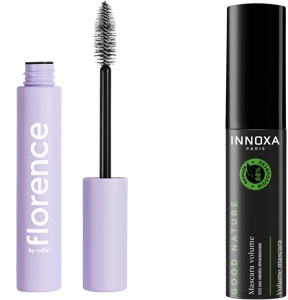 Ariane Le Febvre
© 2020- 2021 CosmeticOBS