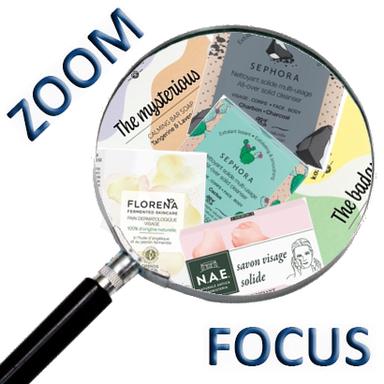 Starified because of the Covid-19 pandemic, soap has more than ever popularity! Including specific face formulas (syndets or cold saponified surgras soaps), numerous this spring, that nothing forbids to use on hands that are particularly in need of softness at the moment.
In the movement of solid cosmetics and its many qualities (ecological, economical…), soaps for the face are essential this spring.
Kings of beauty on the go, they can be found in certified organic versions as well as in supermarkets and hypermarkets at Florena Fermented Skincare (Dermatological Face Soap with Angelica Oil and Fermented Jasmine, 90 g, €6.99, a soap-free formula, ideal for cleansing skin intolerant to traditional soaps without damaging it) or N.A.E. (Solid Face Soap, 78 g, €3.50) than in the Selective channel.
The all-over trend
These soaps can be used from head to toe in a single "all-over" gesture, saving time and space when travelling!
Thus Sephora Collection offers three new ones, formulated with 98% of ingredients of natural origin: two moisturizing soaps with coconut milk or cactus, an exfoliating and purifying soap with charcoal whose porous (but not granular) surface eliminates impurities and gently exfoliates the skin and even the hair (Multi-purpose solid face and body cleanser, 75 g, €4.95).

For its part, Respire has just launched a Surgras Soap with 3 oils (sweet almond, oat and camelina) and a wild pear fragrance, which can be used on the face and body (100 g, €4,90).
Kazidomi offers four 100% natural soaps, cold saponified, which preserves the benefits of the skincare ingredients (olive and coconut oil, shea butter…) as well as their natural richness in glycerin (The Mysterious Calming Bar Soap Tangerine & Lavender, Tangerine and Lavender Soap 100 g, €3,35 ; The Detox Purifying Bar Soap Clay & Lemongrass, Clay & Lemongrass Soap 100 g, €3,46; The Minimalist Bar Soap, Shea Butter Soap, 100 g, €3,35 ; The Badass Tonic Soap Rosemary & Lemon, Rosemary & Lemon Soap 100 g, €3,46).

Refined "solid cleansing care" products
Typology imagines a range of four 100% natural surgras, also cold-saponified (with 8% surgras), which combine vegetable oils (coconut, sunflower and olive), shea butter and essential oils for the most part.
The Soothing Solid Washing Care with shea butter, which is suitable for sensitive skin, is, in fact, formulated without essential oils (100 g, €9.80).
Made in France in a traditional way, the brand rightly advises to keep them in a dry place between two uses and to place them on a soap dish that lets the water run off and thus extends their shelf life (Typology sells an airy beech wood soap dish on the site, €9,80).
Cold-saponified soaps are gentler on the skin and tend to melt more quickly than other types of soap. The fragrances are delicious! (Moisturizing Solid Wash with essential oils of palmarosa, lemongrass and exotic verbena for dry skin; Purifying Solid Wash with rebalancing nettle powder and essential oils of eucalyptus globulus and spearmint, for combination to oily skin prone to blemishes; Exfoliating Solid Wash with poppy seeds and cornmeal, 100 g, €9.80 each).

The same goes for the handmade soaps made in Brittany by Dessein at Oh My Cream which, with their geometric designs, are also particularly aesthetic, a nice gift idea that will advantageously replace the bouquet of flowers! (Sesame, Ylang Ylang and Petitgrain Soap; Cedar and Cocoa Butter Soap; Clary Sage & Coconut Charcoal Soap; Geranium and Pink Clay Soap, 120 g, € 22 each).
Among the certified organic brands, we can also mention the Surgras de Secrets de Provence Dermatological Soap - the king of solid cosmetics - with red clay and organic shea butter, whose soap-free, pH-neutral formula can be used on sensitive skin (90 g, €6.99).
Finally, Aroma-Zone's original soaps with carrot oil and urucum extract (a colouring powder rich in carotenoids that earned the Indians their nickname of "red skin"!) claim a healthy glow (Illuminating Organic Vegetal Soap, 100 g, 2.90 €; Organic Bonne-Mine Vegetal Soap, 100 g, €4.50 ).
Ariane Lefebvre
© 2020- 2021 CosmeticOBS