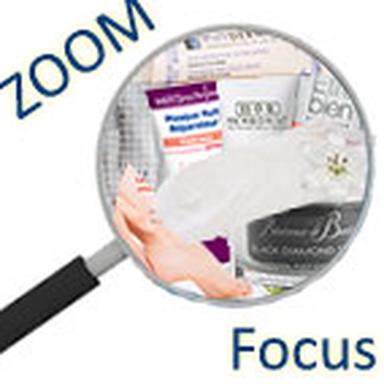 Cosmetic foot care is booming! Scrub with massaging tip, sonic polishing brush, electric grater, night masks, silk or pre-soaked socks… feet are more than ever in the spotlight this summer and give birth to many new products.
Thanks to the success of varnishes and"beauty of the feet" protocols in institutes, but also to the fashion of sandals which reveal the skin more and more, feet are subject to more attentive care at home. We must admit that calluses and other dry or cracked heels are really the"killing detail"! Often abandoned during the long winter months, the beauty of the feet is a must on sunny days. Scrub, treatment, mask… rituals, similar to those of the face, are refined and sophisticated.
Professional Pedicure at Home

The electro beauty of feet is evolving. One step above mechanical exfoliation, this new generation exfoliation eliminates horn and calluses. Electric rasps can now be found in pharmacies (Urgo electric rasp, 29,90 €), as well as in supermarkets (Mercurochrome electric rasp, 29,90 €). But the most complete device is at Clarisonic. The kit contains a polishing brush, a smoothing disc and three professional foot care products: softening exfoliant, nourishing balm and renewing peeling serum (Pedi Complete Foot Transformation Solution, 199 €).
Baby feet" socks
At first sight, they are simple socks which are in fact chemical scrubs with fruit acids and natural extracts (calendula, watercress, sage…). After wearing them for only one hour, they are removed and rinsed with soap and water. And there… nothing to report! It is only after about a week that the dead skin comes off on its own. A real snake moult! The feet then become very smooth and soft (Baby Foot, 19.90 €). You can also find over-moisturizing socks, impregnated with jojoba and avocado oils, as well as vitamin E. Foot mittens", they do not include the toes but perfectly cover the heels and arch of the foot (Pedi Feet Heel Repair Socks d'Alessandro, 29,95 €). But the most precious are those in silk of mulberry tree not chemically treated that Climson proposes (Silky silk Soquettes, 19,90 €). Worn alone, their very fine fibers allow you to enjoy the moisturizing benefits of silk at night. Worn with a foot cream (all night or a few hours), silk offers the advantage of not absorbing the cream (unlike cotton or synthetic), while creating an occlusion conducive to the penetration of active ingredients. Finally, this soft, light, antibacterial and thermoregulating material does not make feet sweat in summer and warms them in winter.
Bath salts, the return!
Good old grandmother recipes like bath salts are reappearing. They offer the warmed feet a relaxing and decongesting after an exhausting or hot day (Mavala Foot Bath Salts, 300 g pot, 11,55 €). The genre is renewed with an icy effect due to the essential oil of mint (Phyderma Salts for Foot Bath, 550 g pot, 12.90 €).
Coarse-grained scrubs to start off on the right foot
All refine the rough and thick areas of the foot by giving pride of place to naturality. The novelties are based on argan shells (Des Pieds & Des Mains, Refreshing exfoliating cream with menthol and argan seeds Les Sens de Marrakech, 125 ml, 18 €, from September), micro-particles of seaweed (Exfoliating foot cream Mavala, 75 ml, 13.35 €), sea salt crystals (Pedix Feet One Minute Pedicure Alessandro, 100 ml, €19.95), bamboo particles (Phyderma Foot Scrub, 50 ml, €12.90) or sugar grains (Castanha Ekos Natura Intense Foot Scrub, 60 g, €15.50). You can even find on the Bon Marché website a specific ultra luxurious diamond powder foot scrub, designed by the famous pedicurist Bastien Gonzalez (Black Diamond Scrub Révérence de Bastien, 200 ml, 80 €). But the most original is the one proposed by Parashop because it is equipped with a tip in soft pimples which amplifies the exfoliation (Exfoliation Pieds Peau Neuve Être Bien, 200 ml, 9,90 €).
Cute petons…
Once dead skin is eliminated, make way for moisturizing creams and balms, to be applied in the evening in summer (in the morning, they can make the foot slippery and favour blisters). They are almost always formulated with vegetable oils, shea butter and glycerin (Nutri Feet Nourishing Cream Completely Nuts, 75 ml, 9.50 € ; Ultra Nourishing Care Dry and Damaged Feet Phyderma, 75 ml, 15.95 € ; Mercurochrome Regenerating Oil, 50 ml, €8.30; Castanha Ekos Natura Foot Pulp Cream, 75 g, €15.50; Herborist Relaxing Foot Cream, 120 ml, €15), or Keratoregulating Urea (25% for Mavala Hydro-Repair Foot Care, 50 ml, €13.35). Some are dedicated to cracked heels (Phyderma Repairing Heel Care, 15 ml, 11.90 €). Others, rich in essential oil of peppermint, camphor, menthol… relieve swollen and tired feet (Relaxing Foot Care Phyderma, 75 ml, 12.90 €). Nourishing and refreshing, Argan Mint Foot Cream is certified organic and combines organic fair trade argan oil, shea butter, honey, mint floral water and mint essential oil (75 ml, 9.95 € or 30 ml, 6.95 €).
Masks to pamper them
It's the product with the wind in its sails! The idea is interesting because you don't always have time to hydrate your feet every day, so a mask once or twice a week is better than nothing! In individual bags (Thermasoft Alessandro self-heating mask socks, € 9.95; Timeless Truth foot moisturizing mask, € 12.50) or in a more generous capacity, to leave overnight under silk socks (Mercurochrome Repair Mask, 75 ml, € 6.05).
The final touch
Ultimate refinement, scented talc (Silky Talc for Pieds Révérence de Bastien, 50 g, 34 €) and sequined talc (Pedix Feet Silky Touch Alessandro, 45 g, 9.95 €) will complete this beauty enhancement.
Who said our feet didn't deserve the best?
The Observatory of Cosmetics
© 2015- 2021 CosmeticOBS