Certified organic formulas, oil or cream textures, rose or almond fragrance… the nail polish remover is becoming more and more cosmetic! Obviously without acetone, its composition is increasingly clean and respectful of the nail. The nail polish remover in tube makes its appearance, initiating a new gesture of make-up removal from the nails.
Newest: Nail makeup remover creams
Nomadic, ideal for travelling, their tube packaging and their pleasantly fragrant white cream texture are surprising at first sight.
Be careful not to confuse them with a care product because it is nevertheless a nail polish remover, sorry, "a make-up remover cream for nails"!
A little longer to use (it must be left to act for a few minutes on the nail), it nevertheless fulfils its function. One must also often use more.
Its assets: it does not remove the natural oils from the nail, does not discolour it either (like acetone which whitens it) and respects its integrity to the maximum.
Always enriched with vegetable oils and waxes, glycerin… it is formulated without ethyl acetate (the less drying ingredient that is increasingly replacing acetone), often with propylene carbonate.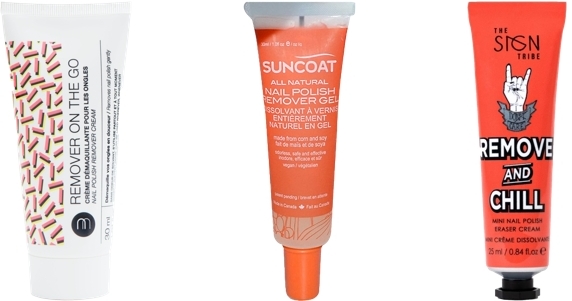 Nail Matic was the first to offer a rose-scented one (Remover On The Go Nail Cleansing Cream, 30 ml, €10), then The Sign Tribe (Remove and Chill, Nail Polish Remover Cream, 25 ml, €8 or 50 ml, €14.95, at Sephora) and finally Suncoat (Nail Polish Remover Gel, 30 ml, €11.22).
The clean nail polish remover in a bottle
Almost always enriched with organic castor oil, these dissolving waters, most often packaged in glass bottles, gently remove the varnish (sometimes the operation has to be repeated).
Here you can find the certified organic and vegan formulas from Logona (Natural Nail Polish Remover, 100 ml, €9,85), Naturado en Provence (Gentle Organic Nail Polish Remover, 125 ml, €8,55), or Benecos (Natural Organic Nail Polish Remover, 125 ml, €5,99).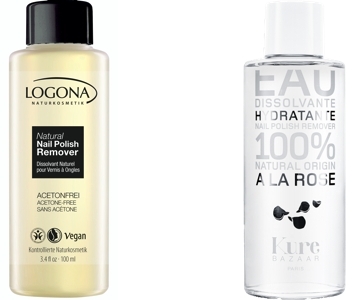 The cleanest contain neither alcohol nor ethyl acetate, but solvents based on wheat, corn and sugar cane (diethyl succinate), such as Kure Bazaar Rose Moisturizing Remover Water (100 ml, €22 or 250 ml, €36), an oil-in-water texture that moisturizes the cuticles as a bonus.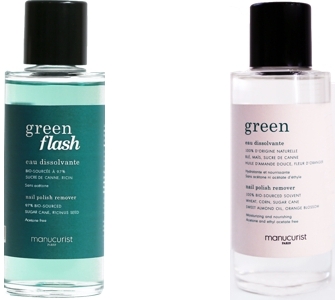 This is also the case for the two Manucurist dissolvents (Green Nail Polish Remover, 100 ml, €14 or Green Flash Nail Polish Remover, 100 ml, €16), made from 100% bio-sourced ingredients. Finally, let's mention the Clever Beauty's Biosourced Nail Polish Remover with almond scent (50 ml, €24,90).
Its originality lies in its anti-gaspy bottle: equipped with a dosing pump, it allows you to apply the right amount of product on the cotton, only three presses are enough to remove make-up from one hand.
Ariane Le Febvre
© 2020- 2022 CosmeticOBS