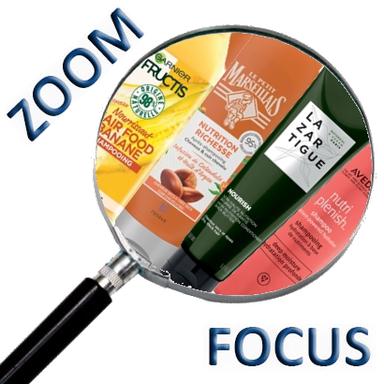 In hair salons, brands imagine tailor-made hydration, adapted to different hair thicknesses, textures and types. In pharmacies and supermarkets, a clear distinction is made between hydration and nutrition.
In salons, skin care and shampoos adopt a nuanced discourse
Hair care experts adjust the moisture slider according to the diameter and texture of the hair, as well as the degree of dryness.
Thus Lazartigue (owned by the Kresk Group, chaired by Didier Tabary), never behind the trend, offers two vegan certified ranges, the first - Nourish - is for dry and thick hair, the second - Nourish Light - for dry and fine hair.
Nourish includes four products with shea butter and babassu butter (High Nutrition Shampoo, 250 ml, €19.50; Nourish 2 in 1, High Nutrition Non-Foaming Washing Balm, 150 ml, €27; High Nutrition After-Shampoon Care, 150 ml, €27; High Nutrition Mask, 250 ml, €45).
Note the two cleansers, including the really sharp washing balm that "acts like a cleansing milk to wash textured hair without friction".
The Nourish Light trio is formulated with a much lighter soybean oil base to moisturize without flattening dry, fine hair (Light Nutrition Shampoo, 250 ml, €19.50; Light Nutrition Conditioner, 150 ml, €27; Light Nutrition Mask, 250 ml, €45).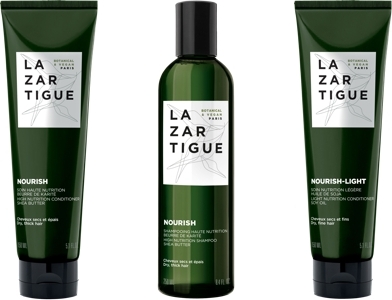 For its part, Aveda launches in January the Nutriplenish™ line based on nutrients (a blend of certified organic pomegranate oil and coconut oil, as well as mango butter, the percentages of which vary according to the range), again with personalised hydration, light for fine to normal hair, or rich for thick, highly textured hair.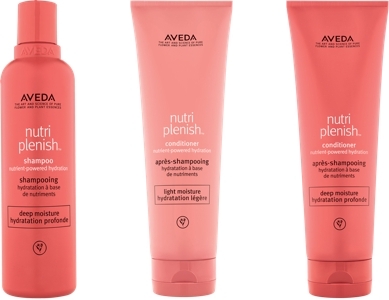 The first brings together four fast-absorbing moisturizing products that do not harm the volume of fine hair (Light Moisture Shampoo, 250 ml, €33.50; Light Moisture Conditioner, 250 ml, €36 or Leave-In Spray Conditioner, 200 ml, €36; Multi-Purpose Hair Oil, 30 ml, €33). The second combines rich nutrition and protection, so the conditioner contains a UV filter of natural origin (Deep Moisture Shampoo, 250 ml, €33,50; Deep Moisture Conditioner, 250 ml, €36).
In pharmacies and hypermarkets, a clear distinction between nutrition and hydration, as in facial care.
Phyto Specific designs a range of nine products for textured hair (curly, frizzy, frizzy or straightened), including Baobab Oil Bath Pre-shampoo, which can also be used as a leave-in treatment for dry hair (150 ml, €19.90), Rich Hydration Shampoo (250 ml, €14.90) or Cream Wash (125 ml, €19.90), as well as Rich Hydration Mask (150 ml, €19.90).
Even more original is the styling line dedicated to the same hair: Hydrating Styling Cream (150 ml, €19.90), Nourishing Styling Butter (100 ml, €14.90), Thermoperfect Smoothing Sublimating Care (150 ml, €23.90), Curl Legend, Curl Wake-Up Spray (150 ml, €19.90), or Curl Legend, Curl Sculpting Gel-Cream (150 ml, €19.90).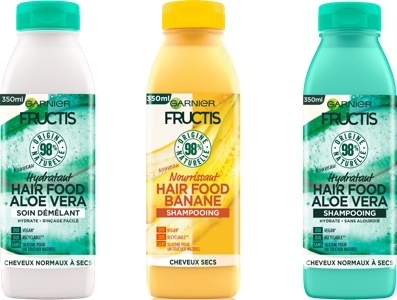 At the same time, Phyto offers the Phytojoba line for dry hair (Moisturizing Shampoo, 250 ml, €10.90; Leave-In Moisturizing Care Gel, 150 ml, €19.90; Moisturizing Mask, 150 ml, €10). In hypermarkets and supermarkets, Garnier Fructis offers Normal to Dry Hair the Moisturizing Shampoo and Hydrating Detangling Care Hair Food Aloe Vera, while the Nourishing Shampoo and Nourishing Conditioner Hair Food Banana are for dry hair (200 ml, €4.70 each, starting in February).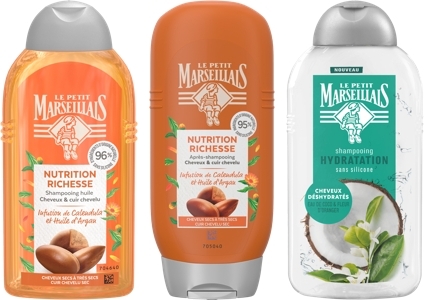 Le Petit Marseillais is also introducing this double speed with an unprecedented service (in supermarkets!).) for the scalp, with Coconut Water & Orange Blossom Hydrating Shampoo for dehydrated hair (250 ml, €3.25) on one side, and Nutrition Richesse for dry to very dry hair with a dry scalp (Calendula Infusion Oil & Argan Oil Shampoo, 250 ml, €3.25; Calendula Infusion Conditioner & Argan Oil, 200 ml, €3.25) on the other.
Ariane Le Febvre
© 2020- 2021 CosmeticOBS