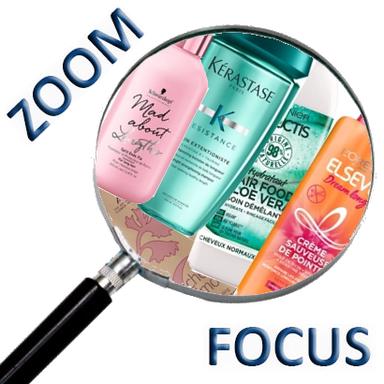 This will have escaped no one's notice, long hair is furiously trendy, especially among the younger generations (even very young girls are asking for it!). And the longer the hair, the more care it needs! This is why the number of hair ranges dedicated to them has increased. In supermarkets as well as in beauty salons.
The long hair phenomenon is not surprising.
They represent the very incarnation of femininity and allow multiple styling. As long as it is the sumptuous ornament we all dream of!
The desire for long hair (hair is considered long when it reaches the shoulders) concerns 65% of women aged 18 to 30, according to a Kérastase study.
This requires more care because long hair is fragile, "worn out", dried out by various styling, repeated brushings and other straightening… and the sine qua non condition is to have a beautiful material. Their main problems?
Damaged lengths, which are difficult to disentangle and break when brushed, split ends that are refined, and an impression that many women share: after a certain threshold, they no longer grow
In winter, thermal shocks also make them particularly electric.
Hence the development of ranges specifically adapted to the needs of long hair.
A strange picto appears more and more often on our bottles of shampoos and hair care products, the one of scissors that are crossed out with a line.
One of the first to have imagined entire ranges dedicated to long hair is the famous New York hairdresser Valery Joseph as early as 2014 (his "Long" line is sold on Amazon).
Its originality is that it can be applied to all hair types: fine, dry, damaged…
In hair salons
The first lines dedicated to long hair were created, such as Kérastase's Extensionist range (Shampoo booster length, 250 ml, €20; Fondant, Soin booster d'endurance de longueur, 200 ml, €30; Masque, 200 ml, €39; Serum scalp activator, no rinse, 50 ml, €36).
Made from break-proof creatine, it boosts hair fibre, repairs and strengthens lengths and ends, resulting in healthier hair, capable of reaching the ideal length (one of the recurring concerns of XXL manes).
78% less forks, 9% less breakage, and up to 4 cm of growth in three months (instrumental test after the application of the Extensionist protocol in salon).
Its latest creation, Extensioniste Thermique Gel Crème Soin des Longueurs sans rinçage (150 ml, €31) protects against damage caused by heat and promises beautiful brushings.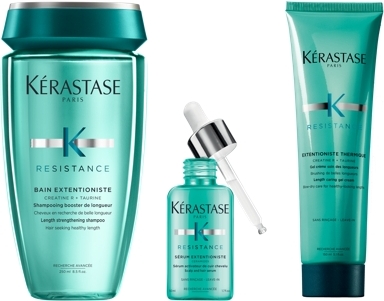 Schwarzkopf Professional creates the Mad About Lengths line, rich in biotin, which provides nutrition and protection for long hair (Root and Length Shampoo, 300 ml, €14.50; Length Care Mask, 300 ml, €23.50; Root Booster Serum, 40 ml, €27.80; and the latest: Repair and Protection of Tips, 200 ml, €19.30, a two-phase spray with a light texture, without rinsing, which seals the split tips).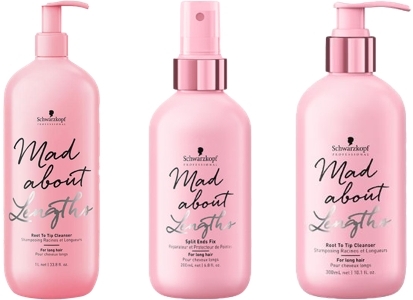 Aveda's Cherry Almond line with its delicious almond and cherry fragrance is suitable for all hair lengths (Sulfate-free softening shampoo, 250 ml, €17.50; Softening conditioner, 200 ml, €19; Leave On Conditioner Conditioner Leave-on Conditioner, 200 ml, €23). The formulas are all vegan, composed of 98% natural ingredients, and the eco-designed bottles (100% recycled plastic).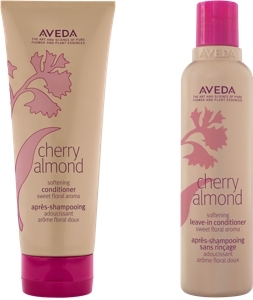 EVO, an Australian hair care brand, vegan and sulfate-free, also takes care of long hair with its Hydrate range based on quinoa protein, glycerin and vitamin B5 (The Therapist Hydrating Shampoo, 300 ml, €19 and The Therapist Hydrating Conditioner, 300 ml, €20, exclusively at Printemps Haussmann).
The packaging is made of PCR (Post Consumer Recyclable) and green PE (plastic made from cane sugar) plastic, which is easy to recycle. Damaged stocks are given to shelters for the homeless.
As for Silky Spa Shampoo special long hair from La Bioesthétique (250 ml, €24.65), its highly moisturizing formula contains lipoamino acids and repairing wheat peptides, hyaluronic acid and keratin.
In supermarkets
After L'Oréal Paris and its Elsève Dream Long range, designed for damaged long hair, which contains a complex based on castor oil, vitamins PP and B3 and vegetable keratin, to repair split ends (Reconstructive Shampoo, 250 ml, €3.90; Super Detangling Care, 200 ml, €3.90; SOS Mask, 300 ml, €5.50; Leave-in Conditioning Cream, 200 ml, €5.50; Steam Mask, Self-heating mask with spa effect, €3.90), it is Garnier's turn to launch two Hair Food Aloe Vera references for dehydrated hair, inspired by superfood and particularly recommended for long hair (Hydrating Shampoo, 350 ml, €4.70; Hydrating Conditioner, 200 ml, €4.70, from February 2020).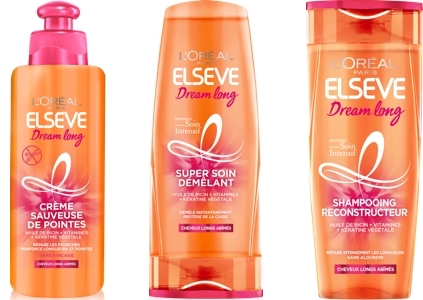 With Gliss Hair Repair Sublime Lengths, Schwarzkopf offers formulas enriched with 3 proteins to strengthen the hair fiber and prevent split ends (Shampoo, 250 ml, €3.20; Conditioner, 200 ml, €2.80; Sublime Length Mask, 200 ml, €6.23).
Finally, Evoluderm clearly announces the colour with its Délice de Karité range dedicated to long and delicate hair (Repair Shampoo, 400 ml, €2.50; Detangling and Repair Conditioner, 200 ml, €2.50; Repair Hair Mask, 150 ml, €2.50).
Ariane Le Febvre
© 2019- 2022 CosmeticOBS