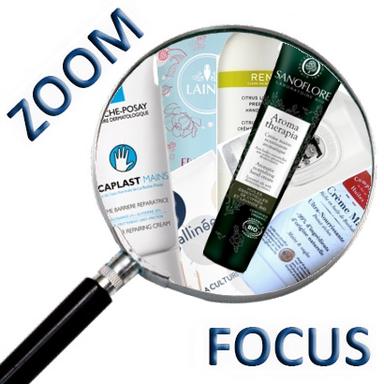 Suffering from repeated washing and disinfection with hydro-alcoholic gel, our hands are in great need of pampering! The demand for naturalness and transparency, healing virtues, respect for the microbiome, CSR commitments… here, as elsewhere, the major general trends are proving true.
Hand tugs are bordering on the painful at the moment and they need comfort more than ever.
Repeated use of hydroalcoholic gel and repeated washing can damage their protective hydrolipidic film and may cause irritation to even the most fragile skin.
Moreover, more and more brands are offering hand creams to hospitals and EPHADs (after L'Occitane, it is the turn of Clarins, La Roche-Posay, Cha Ling, Le Petit Olivier, Sisley, Thalgo). Given that particular attention must be paid to the choice of cleanser (if possible syndet or superfatted soap) and to gentle gestures (careful rinsing and not in too hot water, drying by dabbing well without rubbing…), it seems appropriate to us to focus on the latest innovations in hand care.
Naturalness and CSR commitments
Respect for the environment and natural formulas have become a requirement for consumers.
Silicones, mineral oils and other microcrystalline waxes are therefore generally no longer used.
Instead, vegetable ingredients (shea butter, vegetable oils, aloe vera…), glycerine and beeswax… as well as eco-responsible packaging.
It's still shy, which is surprising for such a basic and daily care as hand cream.
Nevertheless, Diptyque's initiative to offer its delicious Velvet Hand Emulsion in a magnificent, generously sized refillable glass bottle that becomes a lasting decorative object in the bathroom is to be welcomed (L'Art du Soin, 350 ml, €54; Refill 350 ml, €32).
Its formula gives pride of place to organic active ingredients (sesame oil, immortal flower water and chamomile…).
The fine texture envelops the hands in an impalpable and embalming veil.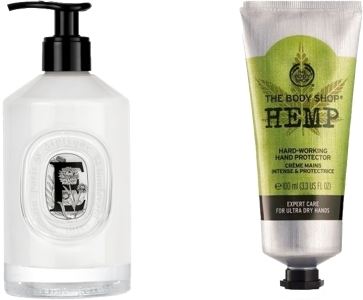 As for "cult" and well nourishing creams, we can mention the Intense Hand Cream with hemp seed oil from Fair Trade in the Hemp The Body Shop range, which is now available in travel size (100 ml, €14.50 or 30 ml, €7).
With the characteristic scent of patchouli that we love or hate!
Another best-seller, L'Occitane's Intense Hand Balm with 25% organic shea butter with the exquisite scent of white flowers (150 ml, €26).
The brand is committed to a sustainable and equitable partnership with the women of Burkina Faso to produce its shea butter (literacy programme, training and microcredit, development of businesses created by women).
Lighter versions for the summer
It's a good idea to offer featherweight textures that are rich in water but moisturizing in the summer. With thirst-quenching scents like cucumber, verbena or green tea.
In May, The Body Shop will be offering a cucumber hand cream (Cool Cucumber Hand Cream, 30 ml, €6).
L'Occitane has come up with a Verbena-flavoured Cool Cucumber Hand Cream Gel (30 ml, €8) that leaves a powdery, anti-mould film.
Enriched with organic verbena extract and tapioca powder, it reduces the feeling of dampness and swelling in the hands.
The Provencal brand also offers its Shea Butter Hand Cream in light textures and different scents of green tea, violet or citrus verbena (Green Tea Hand Cream, Shea Light Hand Cream Violet Scent, Shea Light Hand Cream Gel Verbena Citrus, Shea Classic Light Hand Cream, 30 ml, €8 each).
Healing formulas, a growing trend
More restorative than the others, they combine the usual nourishing and moisturizing ingredients (shea butter, glycerin, ceramides, hyaluronic acid…) with restorative active ingredients (panthenol, niacinamide…).
Although they are mainly found in pharmacies (La Roche-Posay Cicaplast Hands Barrier Repair Cream, 40 ml, €8; Atoderm Ultra-Repairing Hands and Nails by Bioderma, 50 ml, €2.95; Topialyse Nutri-Repairing Nourishing Cream by SVR, 50 ml, €5 or the excellent Cerave Repair Hands Cream, 50 ml, €5.50), they have recently appeared in supermarkets and hypermarkets.
Le Petit Olivier has just launched one with 98% of ingredients of natural origin (Crème Mains Réparatrice Beurre de Karité, 75 ml, €3,65), as well as Mixa Intensive Dry Skin (Cica Mains, Crème Mains Réparatrice Intense, 50 ml, €3,35).
The latter has been tested on exposed professions such as nurses.
Its originality? Its water-resistant formula due to its rich, film-forming "bandage effect" texture that continues to protect the hands after three washes with water.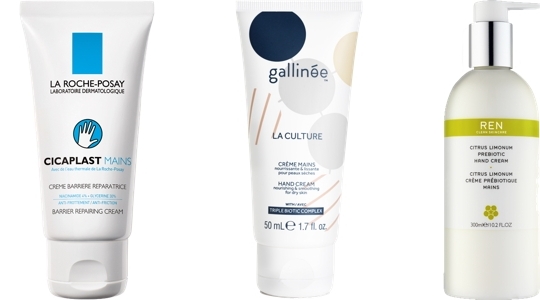 Respect for the microbiome
He is starting to point his nose, even if curiously biome friendly hand creams are still few and far between.
Any ideas to dig up?
For now, they can be found at Gallinée and Ren Clean Skincare. Gallinée's Hand Cream (offered at €9 instead of €14 per 50 ml for the entire duration of the confinement) pampers our good bacteria thanks to a patented complex of prebiotics, probiotics and post-biotics, which, according to Marie Drago, the founder, "gives excellent results on eczema".
Quickly absorbed, it is suitable for women who hate the greasy or sticky feeling that some hand creams can have.
Ditto for Citrus Limonum Prebiotic Hand Cream from Ren Clean Skincare (300 ml, €23). Fluid and light, it penetrates quickly and does not require a tedious massage.
Night Creams…
These are the richest textures and that's good because it's the moment when hands need the most nourishment (the cream has time to work all night long).
If you only need to use a hand treatment once a day, this is the best time. They can be applied in a thick layer in the evening before going to bed, before putting on cotton gloves, taking the time to thoroughly massage the joints and the contours of the nails and stretching them up to the forearms (an often dry area).
In the wake of Mavala's Repairing Night Cream for Very Damaged Hands (70 ml, €29.90), we also find Le Comptoir des Huiles Ultra-Nourishing Hand Cream (50 ml, €8.90), certified Cosmos Organic and Cosmébio, which has an exceptional concentration of baobab oil (10 %).
Its enveloping texture brings real comfort.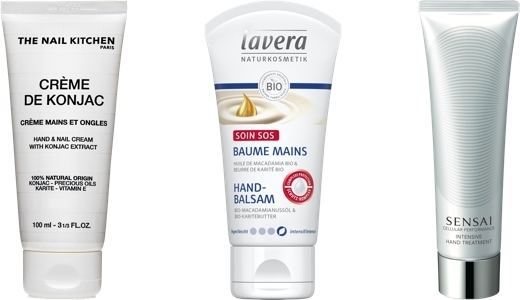 Other rescue formulas: Konjac Cream, The Nail Kitchen Hand and Nail Cream (100 ml, €22), SOS Hand Balm from Lavera (50 ml, €4,99), Pro Intense Hand Cream from Laino (50 ml, €3,95) with shea butter and insulating beeswax, or the very luxurious Intensive Hand Care from Sensaï Cellular Performance (100 ml, €96), an anti-ageing formula with the mythical Koishimaru Silk.
Combine it with the cotton and ceramic care gloves of the same brand to multiply the benefits (€20).
Fragrance, a real plus
Of course, the composition, texture and price are determining elements… but the fragrance of a hand cream is probably the most loyal.
That's often where the act of buying is played out. Some brands have understood this by paying particular attention to the olfactory creation of their products.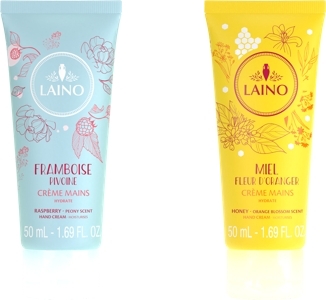 This is the case of Laino and its two new Collector creams, which contain 97% of ingredients of natural origin (Raspberry Hand Cream with Peony scent or Organic Honey Hand Cream with Orange Blossom scent, 50 ml, €3.95 each).
Sanoflore goes even further by relying on the aromatic benefits of its essential oils to boost concentration, relax or invigorate (Aroma Therapia Aromatic Nourishing Hand Cream, 30 ml, €9,86 each).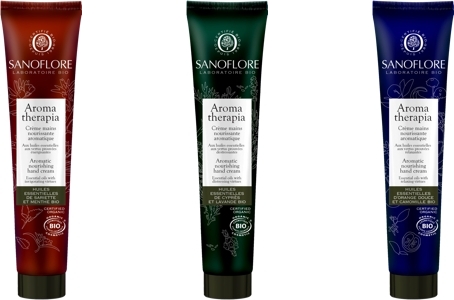 As you can see, the capacities have been reduced. The usual 75 ml has given way to the 50 ml, and even more often to the 30 ml travel size.
To meditate…!
Ariane Le Febvre
© 2020- 2021 CosmeticOBS