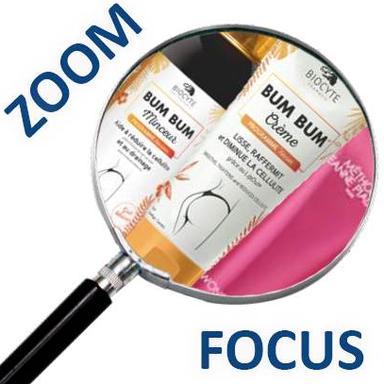 A beautifully shaped, soft, and rounded bottom is a real attractive advantage that French cosmetics manufacturers had not explored yet! This spring, they have made up for this oversight, with targeted creams which sculpt, smooth, and tone up the bottom. Sexy and mouth-watering, with an additional exotic touch (this trend obviously comes from Brazil!), they renew the slimming-firmness exercise.
Bum bum (pronounce it 'boom boom'!), which means 'bottom' or 'buttocks' in Portuguese, is a national obsession in Brazil! Brazilian women spend a lot of time on the beach, which means they do business and work there, and that is why they invented the tiniest bikinis in the world! The beach is an eminently social place in Brazil, and women have to look absolutely flawless, especially from the back! That is why they invest in this part of their anatomy in particular. Do not delude yourself though, they also do a lot of sport, but this trend just could not remain unnoticed in France. It emerged in 2018 with three cosmetics brands considered as pioneers. Well, of course, prices are still high, which may be a brake on their expansion in France. But one thing is for sure, we will hear about bum bum for quite a while!!
All about softness…
Sol de Janeiro is the first Brazilian brand to have launched their cult product in Sephora stores in Brazil: the Brazilian Bum Bum Cream (75 ml, €17.95 or 240 ml, €40.90). This body cream with a guarana extract rich in natural caffeine helps tighten and smooth the skin's appearance. Combined with other typically Brazilian, nourishing and moisturizing actives like cupuaçu butter, açai and coconut oils, it provides 'a skin with an irresistible feel'! With a touch of mica for the glow, a (very) quickly absorbed texture, and a suave and smooth, quite persistent perfume, no doubt this cream will conquer French women!
But the bum bum effect is not reserved for the buttocks, it can also be obtained on the rest of the body, since the brand recommends massaging the cream on the legs, belly, and arms as well – well, on the whole body then!
In Sol de Janeiro's wake, Biocyte have launched the Bum Bum Programme Fessiers range, a comprehensive programme comprising three items (a cream, a draining drink, and a food supplement) for firm and rounded, slim and plump buttocks. Bum Bum Cream (150 ml, €33) is a balmy slimming cream with sweet coconut and almond notes enriched in guarana, green tea, Brazilian maté (caffeine sources), and L-Carnitine (which transforms fats into energy). It contributes to removing nodes of fat and fats. Combined with elastin, its formula is also toning and removes the skin's roughness, so that it recovers a smoother aspect.
Along with the cream, Bum Bum Minceur (500 ml, €19) is a draining liquid formula based on hibiscus, maté, and grape marc. And Bum Bum Brûleur (60 capsules, €25) is a food supplement with guarana, green coffee, pineapple, and maté.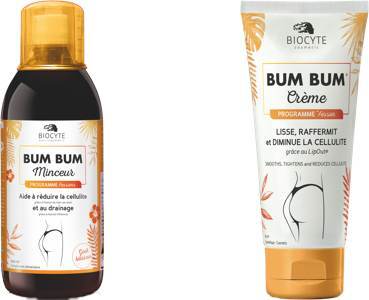 More technical formulas
The latest product in this race for bum bum was launched by slimming expert Méthode Jeanne Piaubert: Wonderfess 3D Gel Anti-Cellulite Redimensionnant Fesses (100 ml, €49), a 'redimensioning' anti-cellulite gel with a tensor and push-up effect and a blur texture which instantaneously makes the skin look smoother. As for the 'Bottom Like' complex, there is absolutely no doubt about its function! It contains vectorized caffeine, chestnut tree bud extracts to boost the removal of the orange-peel effect, proteins, and wheat polysaccharides, as well as soya, pectin, and a red alga extract – the last three 'enhance the quality and compaction (we did not know that term!) of tissues'. According to the brand, its secret is that its amino acids (proline, serine, and arginine) reinforce the elastic properties of the tissues, while maintaining optimum hydration.
But why is it called a '3D' gel? It actually acts on three dimensions, horizontal, vertical, and oblique, to provide the bottom with a smooth, tonic, and firm appearance. The formula is obviously quite strong, which may explain its high price.
Is the secret of beautiful Brazilian buttocks finally revealed? The future will tell us…
Ariane Le Febvre
© 2018- 2021 CosmeticOBS