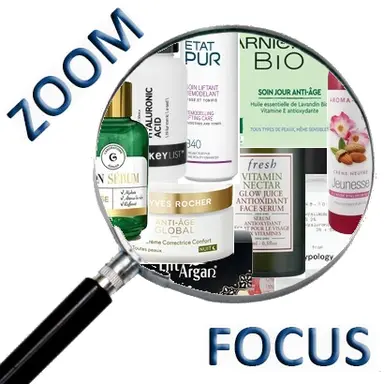 Good news, after the abundance of premium treatments at indecent prices in 2018 - didn't we see cures at €1,250 !- return to a more "moral" price! We are talking mainly about anti-ageing products - the most expensive segment of facial skincare - which, in this autumn, rarely exceed €50. If, after the supermarket, the pharmacy has initiated this movement, the brands that are developing on the web are following in its footsteps with creativity. The search for the right price is at the heart of the trends for the new school year. We're not going to complain about it!
The "moral" price
Brands tend to forget it, but the price - do we need to remember it? - remains the number one purchasing criterion!
Of course this is the hallmark of supermarkets but now, even if prices remain higher in pharmacies, the gaps between the two channels tend to narrow.
Naturally, it is necessary to examine the capacities, but the supermarket remains the kingdom of affordable prices where anti-ageing treatments can be found for less than ten euros, which is not yet available in pharmacies (Anti-ageing day care with lavender from Garnier Bio, €9.90 per 50 ml ; Anti-ageing day or night cream from Biopha Nature at €8.95 per 50 ml; Antioxidant Anti-oxidant Night Balm & Plumping Replenisher with hyaluronic acid and Evoluderm avocado oil at €7 per 50 ml).
In October, La Provençale releases an Anti-Aging Night Youth Balm at €13.09 per 50 ml, certified organic.
The Léa Nature group, on the other hand, capitalizes on argan oil. So'Bio étic has just reformulated its entire Precious Argan range for mature skin where you can find skin care products such as the Pink Radiance Firming Day Cream at €14.58 per 50 ml.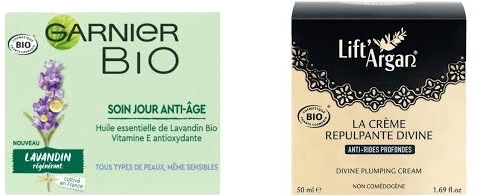 By way of comparison, Natessance (from the same group Léa Nature) offers its anti-ageing range in pharmacies and organic stores for less than 30 euros in four products, also Cosmébio certified (Global Lift'Argan Anti-ageing Cream, 50 ml, €29.90 ; Global Lift'Argan Anti-Aging Night Oil Cream, 50 ml, €29,90; Global Lift'Argan Anti-Aging Light Cream, 50 ml, €29,90; Global Lift'Argan Anti-Aging Eye Contour, 20 ml, 22,90€).
Honour at the pharmacy
Here and for a long time, anti-ageing products of around 30 euros abound (SPF 30 Hyaluron-Filler Day Care from Eucerin, 50 ml, €22; Liftactiv Specialist Peptide-C Vichy Anti-ageing Ampoules, 10 Ampoules, €28, in October ; Anti-wrinkle repairing plumping replenishing care Hyalu B5 Crème Riche de La Roche-Posay, 40 ml, €29.10, in October; A-Oxitive Serum, Serum antioxidant defense of Avène, 30 ml, €34.50; Lift Pinaster Botanical Anti-aging Serum Firming of Saève, 30 ml, €39.90).
The Giphar Laboratory, distributed in 1360 French pharmacies, is launching a whole range of anti-ageing products, the highest price of which is €19.90 per 30 ml (Mon Serum Anti-âge).
SVR imagines from October a line called "Ampoule" (they are in fact pipette vials) with a high concentration of molecules that have proved their worth (A Ampoule Lift with 0.3% vitamin A, 30 ml, €34.90; B3 Ampoule Hydra with 5% vitamin B3 and 3 hyaluronic acids, 30 ml, €31.90 : C Anti-Ox ampoule with 20% vitamin C, 30 ml, €34,90).
And Lierac does not practice higher prices with Cica-Filler Anti-Wrinkle Repair Cream at €49 per 40 ml (in September).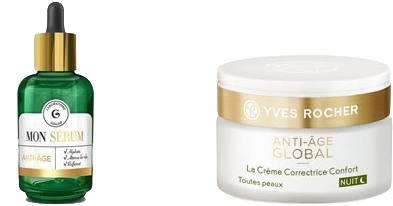 Fifty euros seems to be a threshold price, as also proven by the latest anti-ageing launch of Yves Rocher, the king of accessible cosmetics (Anti-ageing Global Nuit La Crème Correctrice Confort, 50 ml, €49.90).
Perhaps an effect of applications that, by refocusing consumer attention on ingredients, encourage more "normal" prices and make this sector more rational.
After supermarkets and dermo-cosmetics, it is now for the brands present on the web that things are moving!
The gems of the web
Things started with Etat Pur, created in 2011 by the visionary Jean-Noël Thorel (the founder of Bioderma and Esthederm) who already advocated quality at low prices (the most expensive product is 36 €), transparency (all compositions were revealed) and… respect for the skin ecosystem, concentrating, with a good length in advance, all the trends of the most modern cosmetics industry!
From that time on, you could personalize your cream with a Pure Active or buy your "turnkey" treatment, such as the Remodeling Liftant Care (40 ml, €32.60).
Since then, the concept has become trendy, because if the DIY is starting to lose ground, the cosmetics to be customized are terribly in the spirit of the times! Natessance invests in this niche by creating Les Soins Essentiels, neutral and pure formulas in glass jars, certified Cosmébio, to be used alone or customized (Regenerating Essential Moisturizing Cream, 50 ml, €9.80).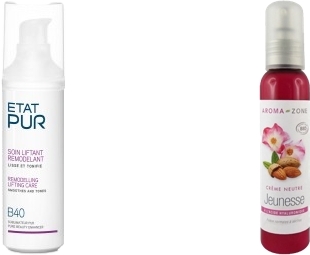 Much easier to create than DIY, these ready-to-use skin care bases can be customized with up to three active ingredients and the perfume of your choice (essential oils or other). This is how Aroma-Zone, which becomes, says Anne-Cécile Vausselin, its co-founder, "the cheapest certified organic cosmetics brand in France" (the brand will be distributed as of the start of the school year in a large number of provincial springs, with impressively large spaces), launches three new skincare products, to be personalized or not: an anti-ageing and protective Precious Face Oil at €5.50 per 30 ml, an Organic Youth Cream at €3.90 per 50 ml, or a moisturizing & anti-aging Hyaluronic Acid Concentrate Serum, at €4.90 per 30 ml (the latter contains 20% hyaluronic acid, one of the highest percentages on the market!).
Who says better? And if traditionally the most expensive anti-aging products are night creams and serums, it is precisely in this last category that Typology (a 100% digital brand) has decided to stand out.
The young French company practices clean beauty at the lowest price, as shown by its latest Lab Serums, which concentrate the best dermatological ingredients in significant percentages (3% on average) in 15 ml pipette vials that vary between €9,50 (Moisturizing Serum concentrated at 3% hyaluronic acid and 2% vitamin B5) and €12,50 (Antioxidant Serum at 3% ferulic acid and 3% resveratrol), all with compositions of natural origin from 80 to 100%.
Another trendy line dedicated to sensitive skin from which all superfluous skin has been removed: Ten (because it contains ten ingredients maximum). Prices range from €11.50 per 50 ml (Hand Balm) to €16.50 per 50 ml (9-ingredient Facial Moisturizer).
A significant detail for Internet sales, no presence is required for the reception of packages, as they enter the mailboxes.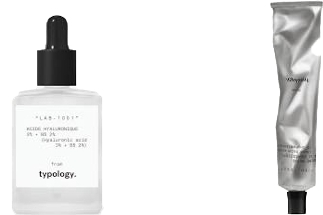 Let's also mention the Onatera website, which offers various treatments to be used pure or supplemented with active ingredients at a very gentle price (Crème Neutre Bio De Saint-Hilaire, 50 ml, €9.95, elected "best organic product of the year" by a panel of 100 consumers or Crème neutre au gel d'Aloe Vera Bio de Cosmesana, 50 ml, €4,90), La Rosée which received an Excellence Award in 2019 (Plumping Face Serum with vegetable oils, 30 ml, €18.90), or Merme, a young Berlin brand distributed at Oh my cream (Facial Hydration Serum with pure hyaluronic acid, 30 ml, €34, Facial Beauty Elixir with cold pressed musk rose oil, 30 ml, €32).
Even in selective distribution, the trend is downward
This is the case of brands that are not particularly renowned for their accessible prices, but which we feel make an effort at the beginning of the school year (Vitamin Nectar Glow Juice Antioxidant Face Serum de Fresh, 30 ml, €32; Overnight Retinol Oil de Pixi, 30 ml, €34, at Sephora ; Immortelle Précieuse Fluide Soin Dynamisant Jeunesse de L' Occitane, 50 ml, €39…).
Sephora Collection imagines a night cream with 95% natural ingredients (Night Cream with fruit acids, 50 ml, €24.99 from the end of August), or a Super Radiance Serum with vitamins C + E (30 ml, €19.99).
As for The Inkey List, one of Sephora's cheapest brands, it offers serums for less than 10 euros, with 10% Niacinamide, 1% Hyaluronic Acid or Alpha Hydoxy Acid…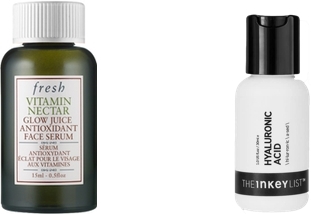 And there it clearly matches the prices of the supermarket. You'd really have to be crazy to spend more!
Ariane Le Febvre
© 2019- 2022 CosmeticOBS