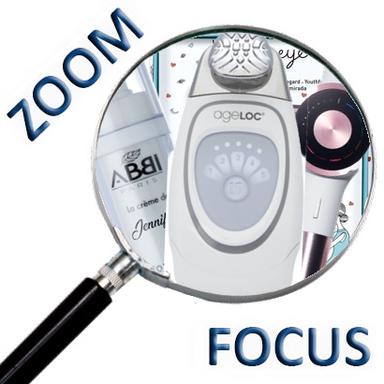 A customized cream designed by artificial intelligence, photostimulation combined with serum capsules, a device that stimulates the skin as well as the scalp… Beauty devices combined with clean cosmetic care are on the rise. They take anti-aging care at home into a new dimension of efficiency. A great gift idea for the holidays!
At a time when, curiously enough, the L'Oréal group is announcing the end of the marketing of the Clarisonic cleansing brush, which really initiated this trend of "beauty devices", others can't imagine launching cosmetic care products without the help of these precious tools, manual or electric.
This is the case, for example, of Sephora Collection, which this spring is accompanying its Get Up & Glow Kit, with pink quartz rollers (Get Up & Glow Kit, Kit Réveil Eclat, with pink quartz roller, €16.99, starting in February). But here we won't be talking about manual stimulation, but rather about appliances (which use electricity), accompanied by treatments whose composition is now aligned with clean beauty.
Light in the skin
LightinDerm Repair Regenerative Skincare is the new anti-aging device that combines regenerating light waves, photo active serums and tissue massage, all in three minutes (€260 the device & €79 the four capsules of serum for 28 days of use).
This innovation (27 patents granted all the same!) which uses the latest dermatological technologies has been the subject of seven years of research, five clinical studies and 450 in vitro tests.
It exceeds known levels of effectiveness by acting on tissue layers that cosmetic products cannot reach, and has proven to be three times more effective in reducing the signs of aging than a reference smoothing serum.
Following a skin cancer (now cured), Géraldine Decaux, the founder, was able to discover a fascinating phenomenon in her dermatologist: "the paradox of light".
While light contains potentially dangerous UVA and UVB rays, it also has certain wavelengths in its spectrum that can powerfully stimulate the skin's self-repair processes. Dermatologists are familiar with these wavelengths and use them extensively in their medical practices for post-operative recovery or to improve skin quality. By selecting these specific wavelengths and combining them with targeted photo-active ingredients, deep tissue regeneration is ensured.
The simple protocol involves a 15-second light "flash" (more effective than longer illuminations) to optimize the cellular response to light.
The results are immediate, the skin is smoother and more hydrated from the first application, and the complexion becomes more luminous after 14 days. Signs of aging (wrinkles, sagging) diminish in 28 days.
The capsules of serum are vegan and formulated without perfume, with 93% of ingredients of natural origin. They are suitable for sensitive skin. There are currently four serums (wrinkles and firmness / radiance / imperfections / redness).

A custom-made cream thanks to artificial intelligence
Welcome to the beauty of the future! Until now, custom-made cosmetics were mainly based on questionnaires and diagnostics (with or without devices). With Abbi (an acronym for Authenticity, Well-being, Beauty and Individuality in French), the company has taken a new step forward.
Thanks to a selfie and the web application Skan my Skin, an artificial intelligence that scans the skin of the face, one can now enjoy a precise and perfectly objective diagnosis of one's skin and launch, in a few clicks, the production of a customized treatment, more than 95% natural and engraved with one's first name.
With six bases and 22 additional active ingredients, you can make more than 40,000 customized creams!
This is the ingenious idea of Joanna (a biochemistry graduate) and Frédéric Ifergan, the couple behind this new avant-garde French brand.
To achieve this, its creators have developed over several years an Artificial Intelligence capable of scanning the face in its smallest details in order to identify and locate all the points that cosmetics can help. From the fruit of their meticulous work was born the web application usable on smartphone, tablet and computer. The formula, which is also high-tech, uses a very wide range of high quality active ingredients, integrated at their optimal concentration. It is particularly appreciated that it is clean (more than 30 controversial ingredients have been excluded) and packaged without a case. When you have finished your customized cream, you can make a new selfie to see the improvement of your skin markers… and relaunch another cream adapted to the current state of your skin.
Modern by nature and determined to become part of our daily lives (especially since the price remains correct), Abbi has developed its technology via a connected mirror that will soon be available in pharmacies, institutes and selective retailers (My Abbi Customized Cream, 30 ml airless pump bottle, €69 to €79 depending on the formula).

A futuristic multi-purpose device
Nu Skin's ageLOC Galvanic Spa is a compact device with four heads that allows two programs: cleansing and anti-aging care (€405 the device and its four heads, €60 the eight treatment ampoules: four of pre-serum and four of serum).
Small but powerful, it combines a galvanic current (well known from professional spas) to boost the penetration of patented products and ingredients (mostly vegetable).
It lasts five minutes, to be repeated three times a week. Its originality? It targets the visible signs of aging of the skin (face and body) and scalp at the source. There is even a small head to precisely smooth out wrinkles around the eyes. Its new LED screen is both intuitive and easy to use. Time and polarity are automatically pre-programmed to adjust to the chosen area. Wrinkles and fine lines are smoothed out, the complexion is refreshed and the skin looks younger and more radiant. The body is toned and firmed (arms, thighs, belly…), fine and tired hair is strengthened, the scalp is stimulated. In short, an overall improvement of the skin as well as the hair!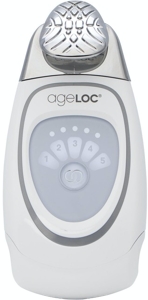 Fine cutaneous micro-currents to relax the eyes
Talika, king of instrumental cosmetics, has created for the holidays the Lovely Eye Gift Set which combines a cosmetic device dedicated to the eye contour area with the anti-aging Eye Quintessence Duo Eye Contour Day & Night care (Day Cream 10 ml + Night Serum 10 ml, the whole €142.50). The first eye device that combines the cosmetic power of light (three complementary wavelengths) with electrostimulation functions, it uses very gentle and imperceptible micro-currents with detoxifying and decongesting virtues to rejuvenate the eyes. The different lights (orange, red and green) reduce wrinkles and fine lines, as well as redness and pigmentary micro spots around the eyes. The micro-currents stimulate the skin tissue, increase microcirculation and cellular exchanges and boost up to 500% the production of adenosine, the cells' natural fuel, to stimulate all the skin functions of the eye contour safely.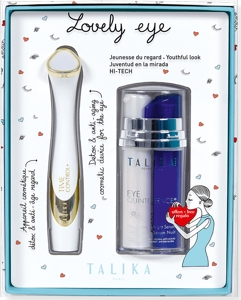 By increasing skin permeability, they improve the penetration of cosmetic active ingredients. The triangular head makes it possible to reach the inner hollow of the dark circles.
Its gold-plated electrode is hypoallergenic. The look is visibly transformed in one minute chrono.
Ariane Le Febvre
© 2020- 2021 CosmeticOBS