Innovations are not that frequent in this field… With the emergence of wheel eyeliners that slide in the blink of an eye, the gesture gets real simple! And there are other innovations in the field of long wear and colours. Eyeliners are on a roll!
For this spring, brands have focused on the major flaw of eyeliners: the difficulty of application. Thanks to a wheel-shaped applicator (a tiny rotary disk that looks like a 'pizza wheel'!), it is now easy to


trace a line with perfect geometry, whether fine or thick. No more trembling hands or irregular outlines! The applicator guides the gesture, which is totally under control for a flawless line. Thanks to the ergonomic handle, tracing a straight, smooth, continuous line without the tiniest jolt is now a child's play, in only one gesture. This highly fine 'roller' was developed


both by luxury brands like Guerlain (La Petite Robe Noire Roll'Ink Liner, €31) and brands distributed in supermarkets: Revlon (Colorstay Exactify Liquid Liner, €10.95) or Artdeco (Roll it Disc Eyeliner Black, €17).
'Light-catching' shades and unfailing long wear
Eyeliners are also often reproached for not lasting long enough. All the brands previously mentioned have developed waterproof, anti-transfer formulas that do not run or migrate into folds and can last all day long.

At a higher level, L'Oréal Paris has designed a 24h 'tattoo' effect felt eyeliner in their 'zero retouch' Makeup Collection. The line remains intense, shiny, and lacquered as if it had just been drawn (Tattoo Signature by Superliner Extra Black, €14.50).
As for Bobbi Brown, she has played with colours with a double liner combining two shades to be applied in layers, one over the other: navy blue and gold or chocolate and grey (Dual-Ended Long-Wear Liquid Liner, €36, Spring in Capri Collection, as from March).

Lastly, let's mention the Maybelline New York Curvitude Liner (€8.10) which, with its tilted tip, provides easy application and better handling. Its highly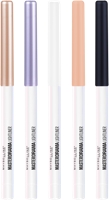 fine and flexible tip accurately reaches the lash root. The brand has also just released a collection of five retractable eyeliners with a powdered texture that intensely illuminate the gaze thanks to a generous quantity of mother-of-pearls and concentrated pigments (Masterdrama Light Liner, €6.90).
A very en-lightened trend!
© CosmeticOBS-L'Observatoire des Cosmétiques
© 2018- 2021 CosmeticOBS