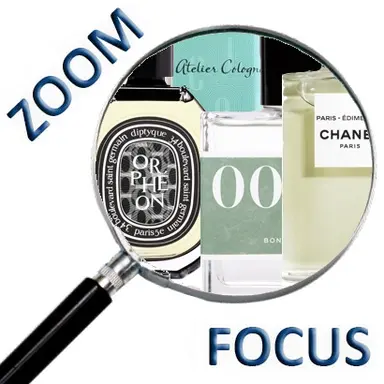 Until now, we didn't know it was there, but its delicate touches resounded as a minor chord in many great perfumes, but now different brands (luxury or niche) are playing it in majesty this summer. Its naturalness spices up original fragrances with a strong character!
Non-gendered fragrances are particularly trendy
When one thinks of juniper, it's impossible not to think of its black berries used to flavour sauerkraut or to make the famous gin. Much sought after by perfumers, these same berries are steam distilled to obtain an essential oil with a peppery, woody and slightly resinous scent, with a mushroomy note that is also reminiscent of gin. Juniper twigs are also used in perfumery (but more rarely) with aromatic inflections. Juniper berries bring fine and racy spicy accents to perfumes. They are part of the fresh spices. Their gender-neutral scent is particularly trendy, even if until now they were mostly found in men's fragrances.
This is still the case with the latest creations, as in the new men's fragrance Diesel Sound of The Brave, which will be released on June 1 (30 ml, €48; 50 ml, €59; 75 ml, €67; 125 ml, €89).
Festive or earthy
The incisive freshness of juniper berries can be found in some of the most remarkable creations of the moment.
Thus, Diptyque and Chanel have decided to put them in the spotlight.
The former has chosen to express its festive side in Orphéon (eau de parfum 75 ml, €135), a woody, spicy, flowery and of course gender-neutral fragrance, which pays tribute on its 60th anniversary to the joyously effervescent bar where the three founders of Diptyque liked to meet.
Located at the corner of 34 boulevard Saint-Germain and rue de Pontoise, it was literally next door to the Diptyque boutique, so much so that a few years later the trio bought it to expand their space. Today, the only vestige of this is a blue faceted column located in the store. Orphéon is the olfactory portrait of this place, a dream composed by Olivier Pescheux that recalls a decor of wood and velvet (cedar, vetiver, patchouli), the vapors of alcohol (juniper berries that immediately evoke the gin and tonic that was sipped there), tobacco scents (mastic, galbanum, cistus), the fragrant trail of elegant women (ylang-ylang from the Comoros, magnolia from China, Turkish damascena rose) and dandies (musk, amber). Plus the essential olfactory accident dear to the House: a splendid and vibrant absolute of jasmine sambac.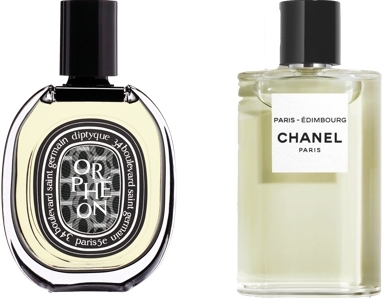 Chanel, for its part, dives into the mysterious Scottish countryside with Les Eaux de Chanel Paris-Édimbourg (eau de toilette 125 ml, €127, from June 1). While there, Olivier Polge is struck by two characteristic scents: "striking and icy" juniper berry and peaty wood. From this variation in lighting, this tension between incisive freshness and warm darkness, comes the idea of a water with an aromatic vegetal power, in the tradition of the English gentlemen's colognes. He highlights the typical lively notes of juniper berry and cypress, adds a hint of lavender, then chooses cedar for its enveloping comfort and vetiver for its peaty and slightly smoky accents. It finally warms the trail with notes of vanilla and musk. Thus, the most earthy, androgynous and woody of the Eaux de Chanel becomes a reality. Under its apparent coldness, it deploys warm and comforting tones. "It could be the scent of a tweed jacket, borrowed from the men's wardrobe that so inspired Gabrielle Chanel," says Olivier Polge. "Smelled after a walk, it is imbued with the scents of the wilderness." Its bottle, which looks like a flask of alcohol, has never made so much sense! It reveals a lichen green fragrance like the Scottish landscape.
A singular freshness
The spicy music of juniper berries is a major chord in Atelier Cologne's Clementine California, a sunny composition ideal for summer (30 ml, €60 or 100 ml, €120), or in Nicolaï's two new Eaux Fraîches: Eau de Yuzu and Eau Mixte (30 ml, €42; 100 ml, €126; 250 ml, €252).
In the first, they accentuate the original character of the essence of yuzu (a small Japanese citrus fruit with lemony and acidic notes). In the second, juniper berries in the middle energize citrus fruits (bergamot, Sicilian lemon, grapefruit), mint and blackcurrant bud.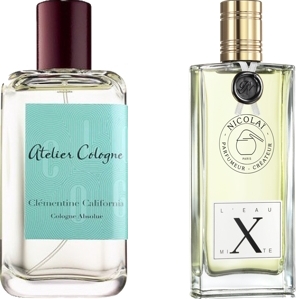 The aromatic scent of juniper berries also brings its pep and modernity to various natural and eco-responsible fragrances such as Cobalt Amber by Abel, which revisits amber (natural eau de parfum 50 ml, €118), or perfume 004: Gin, Mandarin, Musk by Bon Parfumeur (30 ml, €38 or 100 ml, €82), an icy, sparkling cocktail warmed with patchouli.
Its elegant freshness splashes on Mon Vétiver by Essential Parfums (17% concentrated eau de parfum, 100 ml, 72 €) created by Bruno Jovanovic, an 89% natural and particularly virtuous composition (raw materials from certified "For Life" crops, beet alcohol, no coloring or cellophaning, glass bottle produced with green energy, FSC-certified corrugated cardboard packaging fully recyclable …) which is based on a natural essence of Haitian vetiver LMR (Monique Rémy Laboratory in Grasse, a guarantee of excellence).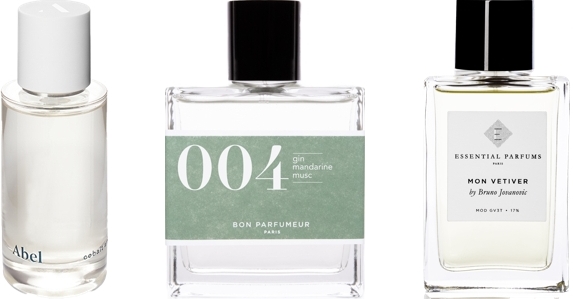 Ariane Le Febvre
© 2021 - 2022 CosmeticOBS