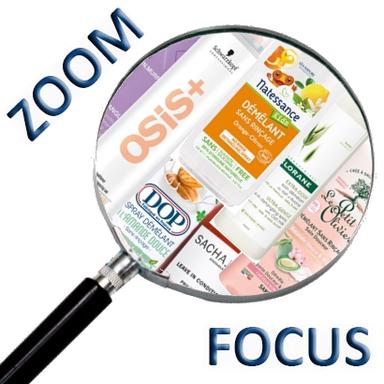 Much easier to live with, these conditioners offer a serious time saving! Ultra convenient and easy to use, they quickly get to grips with all nodes and instantly untangle. A few pschitt and the comb slips. Another advantage: they offer care effects (moisturizing, repairing…) that are not likely to be cancelled out by rinsing…
American women are crazy about this new generation of "leave-in conditioners", which is why until now they have been found mainly in "sharp" American brands (Drybar, Aveda, Sacha Juan…) or in salons (Kevin.Murphy, Schwarzkof…), not to mention certified organic brands (Cattier, Elenature, John Masters Organics).
But recently, they have become established in supermarkets (Dop, Le Petit Olivier, Urtekram). Notice to the girls in a hurry, they will very quickly transform their daily lives.
You save precious minutes in your bathroom while getting the best hair!
To each his own leave-in conditioner!
Most no-rinse conditioners are available as gas-free sprays, in fine, non-weighed textures.
While they all make styling easier, each one has its own particularities. Kevin Murphy's is vegan and sulfate-free, formulated with Australian fruit extracts.
Suitable for all hair types, it conditions while protecting hair from the heat of the hair dryer or straightening plates (Un.Tangled Conditioning Conditioner Detangling Conditioner without rinsing, 150 ml, €31).
Klorane (Extra-Gentle Detangling Care without rinsing with oat milk, 200 ml, €12.40) and Cattier (Family Detangling Spray Aloe Vera without rinsing, 200 ml, €6.70) are for family use (from 3 years old), while Natessance Kids orange-lemon detangling without rinsing (150 ml, €6.90) is for children. Fanola (Nutri.Care Restructuring Leave-In Conditioner, 300 ml, €6.60) and Elenature (Nutritive Leave-In Conditioner, 150 ml, €33.99, Cosmébio certified) are for dry hair.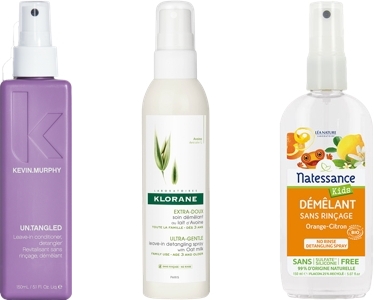 Sacha Juan's seaweed-based Sacha Juan is well suited to fine hair to which it provides density (Leave.In Conditioner, 250 ml, €22).
Just like John Masters Organics' Conditioner for Normal Hair with Citrus and neroli (236 ml, €22.50), a lightweight moisturizing conditioner that can be used as a conditioner or day cream on lengths.
Perfect for those who are afraid of losing volume with their conditioner!
In the same brand, the Revitalizing Spray without rinsing with green tea and calendula is universal (125 ml, €32).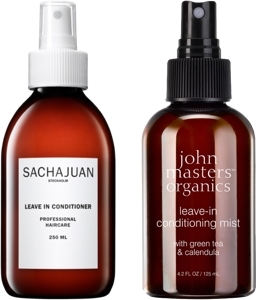 Just like Aveda's Sap Moss™ Conditioner (200 ml, €28 or 400 ml, €50) with Icelandic Moss, Larch Sap and Coconut and Kukui Oils.
Dry conditioners are making their appearance
More rarely, these powdery, leave-in conditioners are similar to dry shampoos, such as Drybar's Detox Dry Conditioner (93 g, €24.50, at Sephora), or Schwarzkof Professional's Osis+ Soft Texture Dry Conditioner (300 ml, €19.55).
Both moisturize, smooth the hair surface, eliminate frizz and prolong blow-dry.
It is sprayed on dry hair, by pressing briefly, without prolonged spraying, and then working the hair with fingertips.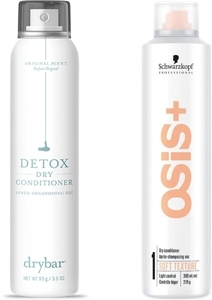 We're starting to see them in supermarkets
There was already Dop's who embalmed the bitter almond (Sweet Almond Detangling Spray, 150 ml, €2.99), and now Le Petit Olivier has just launched two, the first for dry and damaged hair (Detangling without rinsing Nutritional Care Olive oils, Shea Butter, Argan, 150 ml, €3.89), the second for normal hair (Detangling without rinsing Sweetness Care Almond & Rice, 150 ml, €3.89).
Made in France and labelled One Voice, they have been patented.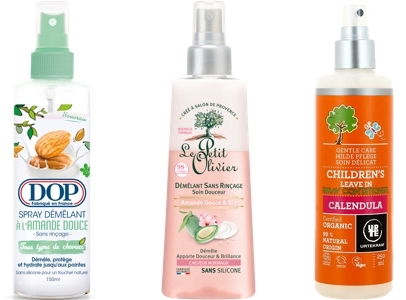 Finally, Urtekram (a Danish certified organic brand, distributed in the Franprix) imagines two of them, the first for children (Detangling Spray for Children with Calendula, 250 ml, €5.60), the second for adults (Spray Conditioner Leave-In Coconut, no-rinse conditioner spray with coconut nectar, 250 ml, €5.95).
Ariane Lefebvre
© 2019- 2021 CosmeticOBS