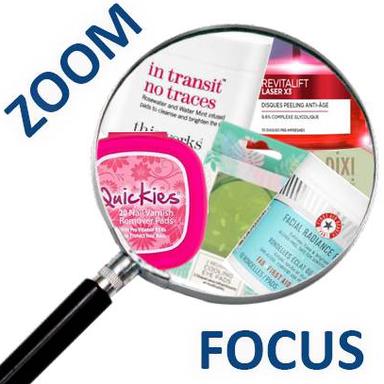 Convenient when you are flying (or travelling, generally speaking), pads, or cleansing, solvent, and most of all, exfoliating pieces cotton, are on a roll… Thank you Quickies®!
This post could have been entitled 'The return of Quickies', but we are actually talking about very long-gone times here… Today, they are called 'pads', even if the principle remains the same: cotton pads pre-soaked with a cleanser, solvent, or exfoliating agent to go fast and follow us everywhere. These real travel products do not go fluffy and make all travellers happy.
Is it really the end of Quickies?
If Quickies® (what a brilliant name, when you think about it!) are still distributed by Amazon, new pads have been emerging: cleansers like those by This Works (In Transit No Traces, 60 cleansing pads, €23.90, available on the Sephora online store), or acetone-free solvents by Nocibé (€4.90), Mavala (Nail Polish Remover Pads, 30 pads, €6.55), Hérôme (30 pads, €5.60), or Kiko (travel-size Nail Polish Remover Wipes, 15 units, €3.95).
There are even decongestant masks to reduce puffy eyes and dark circles in the form of funny cucumber slices (Beauty Junky Multi Use Eye Pads by NPW, €5.95 for two pads).
But it is peel pads that are all the rage.

Exfoliating pads
L'Oréal Paris developed Revitalift Laser Renew Anti-Ageing Glycolic Peel Pads (30 pre-soaked cotton pads, €17.90). Inspired from the peeling techniques used by dermatologists, they still contain 9.6% of a glycolic complex and are enriched in soothing agents (allantoin and panthenol) to help rebalance the skin when applying the product.
As for Pixi, they formulated their pads with 20% of glycolic acid (Peel Pads, 60 pads, €19.90)! But the British brand also offers a gentler concentration (5% of glycolic acid) to suit most skin types (Glow Tonic To-Go Pads, face exfoliating pads, 60 pads, €19.95).
First Aid Beauty have launched Facial Radiance Pads based on lactic and glycolic acid, prebiotics, and tea and liquorice extracts to exfoliate, tone up, and brighten the skin (60 pads, €30.50, or 28 pads, €15).
Dr. Jart+'s are gentler: they are featured in a box with 40 double-sided pads on one side (one side is smooth for sensitive skins, the other rougher for normal to combination skins), and a moisturizing micro-peeling milk with coconut milk and salicylic acid on the other (Dermaclear Micro Milk Peeling, 100 ml, €31.95, in Sephora stores).
Let's finish with the Kiko Green Me Cleansing Pads (€4.95), natural double-sided pads (one side is smooth, the other exfoliating) based on different materials (loofah fibres, a plant-derived sponge, and sisal) and designed for face cleansing. They are not pre-soaked, but they can still be considered part of this padsmania!

Ariane Le Febvre
© 2018- 2021 CosmeticOBS