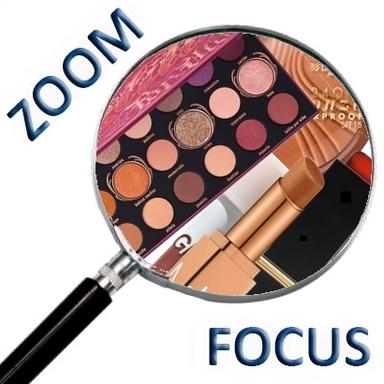 This incendiary shade of gold warmed with red is flattering to most people, especially those with tanned complexions. It lights up the eyes, the complexion and even the lips this summer but also at the beginning of the school year…
Even perfumes (Eau de parfum Copper Comme des Garçons, 100 ml, €144) and hair dryers adopt it (Collection Capsule Bronze Shimmer by Babyliss, Sèche-Cheveux €49.90, Lisseur €69.90, Boucleur €44.90), but it's especially on our eyelids, cheekbones or mouth that this shade will triumph.
Hot gaze
The copper shade with sparkling, metallic or glittery finishes can be found in many eye shadow palettes this summer (Palettes Couture Le 9 by Givenchy, in harmonies 9.1 or 9. 5, €67; Born This Way The Natural Nudes by Too Faced, €45; Luxury Eye Palette The Queen of Glow by Charlotte Tilbury, €49.90; Mini Orgasm Eye Shadow Palette by Nars, €24; Lolita Por Vida Palette by KVD Vegan Beauty, €49.90, at Sephora).
But the most famous is Urban Decay (Naked Heat, €52, Sephora), which is composed of 12 eye shadows, ranging from warm brown to burnt orange tones.

You can also try the unique power of this incandescent shade in mono eye shadows, such as Glossier's Sparkling (Lidstar in the Cub shade, a warm coppery red, €18), Charlotte Tilbury (Eyes To Mesmerise, Amber Gold Cream Eyeshadow, €26), Dior (Diorshow Mono 684 Reflection, €34.50), or Nars (Power Chrome Loose Eye Pigment Shock'Em, €26). Yves Saint Laurent is continuing it in his Autumn Collections, as a palette (The Eye Palette Collector, €70, limited edition, from September 21), or solo (Satin Crushed Eyeshadow, No. 4 Extreme Copper and No. 5 Radical Rust, €33, from August 28).
Its beautifying power has not escaped the notice of Japanese designers such as Suqqu, who have made it the flagship shade of their Designing Color Eyes Palette (€57, from September 24 at Le Bon Marché).
It sets fire to bronzing powders!
These summer essentials become even hotter in these warm bronze, amber and reddened gold tones (Diamond Light Bronzer by Too Faced, €38,50; Les Beiges Summer of Glow, Poudre Belle Mine Illuminatrice teinte Sunset by Chanel, Exclusive Creation, Limited Edition, €57; Diamond Bomb All-Over Diamond Veil, Cognac Candy Hue Diamond Effect Veil by Fenty Beauty By Rihanna, €38 at Sephora; La Terra Wild Bronze Glow 03 Amalfi-Medio by L'Oréal Paris, €16.90; Terre de Soleil 24Ore Bronze SPF 15 by Deborah, €12.50). The entire Bronzing Collection by Nars pays tribute to him.

It is ideal in its matt version to sculpt and accentuate facial definition (Poudre Bronzante Mate nuances Quirimba or Laguna, €40), or to intensify and illuminate the tan in its iridescent gold versions (Poudres Bronzantes San Juan, Punta Cana, Laguna or Casino, €40).
As for Suqqu, it offers six shades of blushes and bronzers, including a beautiful copper orange, in the Powder Blush Compact palette (€76, from 24 September at Le Bon Marché).
But copper can also be found in Huda Beauty's illuminators (N.Y.M.P.H. Illuminateur teinte Aurora, 15 ml, €28).
A sparkling mouth
Again, this warm colour is found in both summer and autumn collections.
In summer, it makes the tan as sexy as it is dazzling (Melted Matte Naughty by Nature Lipstick or Yummy Rummy Lip Gloss Juicy Fruits, both from Too Faced, €23 ; Brilliant Signature Wild Nudes by L'Oréal Paris, €12.30; Rouge Coco Flash 152 Shake by Chanel, €36; Oil Infused Lip Tint Laguna - a sparkling bronze iridescent with gold - €26 or Afterglow Lip Balm Laguna, €28, both by Nars).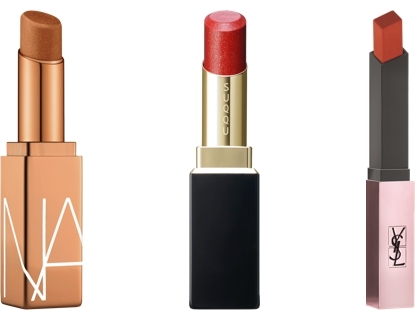 At the start of the new season, she brings sunshine to the face at Lancôme (L'Absolu Rouge Collection "L'amour à la Française", French Lover, an incendiary red, €34, in a precious vegetal leather case, from August 3), Chanel (Le Rouge Duo Ultra Tenue Eternal Summer, 176 Burning Red - a brick red - or 184 Intense Brown - a burnished red - €36, August 27th), Yves Saint Laurent (Rouge Pur Couture The Slim Glow Matte at fini matte luminous, Illicit Orange, a powerful amber tone, €38, October 12th), or Suqqu (Moisture Rich Lipstick 118 Shuori, a luminous orange-red, €38 ; Fluide Confort pour les Lèvres Mat in an amber orange shade 05 Oujyukuka or Brillant in the shade 05 Yuuhi, €45, each from September 24th at Le Bon Marché).
Finally, we are starting to see it dawning in varnishes (Semi-permanent Varnish Sunset Kiss Collection Le Mini Macaron Sundown, €12.95).
Ariane Le Febvre
© 2020- 2021 CosmeticOBS