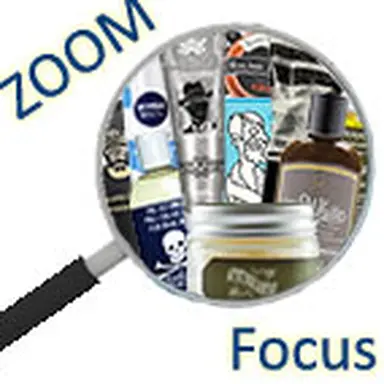 Whether cosmetics dedicated to shaving or hair care, more and more refined creations are being created. Shampoos or specific beard balms, styling products for the mustache, shaving serums, 2-in-1 creams to use as an after-shave or in daily moisturizing treatments… One thing is certain: male beauty still goes a long way through the hair!
Shaving care
For men who shave, the trend is"close shaving" and impeccable skin. Considering that men with sensitive skin (69% of men) are also entitled to strong sensations, Nivea Men proposes a fix freshness in the morning with its new Sensitive Skin Fresh Shaving Mousse (200 ml, 2.40 €). Its alcohol-free foam texture softens beard hair, fights irritation and razor burn thanks to its formula enriched with soothing chamomile and seaweed extracts.
The Smart Barber men's skincare brand which, despite appearances, is 100% made in France (it belongs to the Hairgum group, specialising in hair care and styling products) arrives at Monoprix. It is distinguished by its packagings with the look vintage (boxes and bottles in aluminium decorated with a gentleman graphic and elegant) and its natural ingredients from organic farming, which respect sensitive skin. The shaving treatments reproduce the ritual of the barber at home. Thus, the brand is back with shaving brush and beard soap (50 g, 12 €) which helps prepare the skin for the most effective shave. The shaving cream with organic coconut and jojoba oils (100 g, 10 €) provides all the softness necessary for a comfortable shave. As for the After Shave Balm (50 g, 12 €), it leaves the skin moisturized and soft after razor burn, and acts as a skin care product.
Other organic creations, for sale on the soft online shop good.com (men, especially younger generations, love to do their beauty shopping on the Internet, a reality that brands must take into account): the shaving bread without sulfate certified Cosmebio de Secrets de Provence (90 g, 6.50 €) made from natural clay, organic glycerin and shea butter, which, thanks to its curved shape, can be used with or without badger. Or Matin de Douces Angevines (15 ml, 26 €), a non-oily, alcohol-free after-shave fluid that calms irritations and perfectly moisturizes the skin on a daily basis.
The image of English elegance is definitely well anchored in people's minds, witness this English site feelunique.com which offers a Pre-Shave Oil The Bluebeards Revenge (Pre-Shave Oil, 125 ml, 14 €) for sensitive skin or thick beards. Its moisturizing formula smoothes the skin while reducing the risk of cuts and redness associated with shaving.
Latest"sharp" innovations at Aésop : Moroccan Neroli Shaving Serum (100 ml, 47 €) and Moroccan Neroli After Shave Lotion (60 ml, 41 €), which calms and nourishes all skin types, including sensitive and damaged. This light and fluid treatment can also be used as a daily moisturizer.
Hair care
Beards and moustaches become a stylish"accessory" in their own right for young people hipsters . Faced with this fashion which concerns nearly 40% of the French according to Beardilizer, organic brands (Ma Belle Barbe) or not (Beardilizer, Proraso…) are devoted exclusively to hair care and mustache styling !
It is in this field that we see the most original creations, such as the Shampoo Barbe Beardilizer of Phytobiol Laboratories which ensures an irreproachable cleanliness all day (150 ml, 18,50 €). The brand also offers 12 scented, nourishing and softening beard oils (75 ml, 22.90 €), a Beard Wax to shape it (100 ml, 24.90 €), a Nourishing and softening Cream that protects the beard from pollution and UV rays (but if you read well ! 100 ml, 24.90 €), and a White Moss scented Beard care spray, which accelerates its growth locally (100 ml, 34.90 €). Enough to have a healthy, voluminous and shiny beard!
The Smart Barber also offers a special beard care oil (40 ml, 12 €), as well as a special moustache and beard wax that can be sculpted at will (40 g, 10 €, at Monoprix).
So It Grows Virile Beard Balm? (15 ml, 27 €) is an embalming alchemy (beeswax, propolis, vegetable oils and extracts) that leaves the beard and skin soft and neat.
On the trendy Comptoir de L'Homme website, you will find the Cire à Moustache (16 g, 13 €) or the Huile à barbe Originale (10 ml, 13 €), both from Apothecary 87, a new brand specialising in beard and moustache care. You can also find products from the Italian brand Proraso, such as the Soothing Beard Balm (100 ml, 14 €), or the Hot Beard Oil (4 x 17 ml, 14 €), specific for long beards.
A luxury version, Ma Belle Barbe's products are available for every type of beard (Mr. White for drupe beards, Mr. Red for dry beards, Mr. Blue for mixed beards). You can find Organic Beard Shampoos (250 ml, 29.99 €), Organic Beard Oil (50 ml, 49.99 €) or a Revitalizing Organic Beard Balm with Nigella Oil (100 ml, 29.99 €).
Finally, in the Collezione Barbiere d'Acqua di Parma, Beard Oil (30 ml, 40 €) is suitable for all types of beards.
The Observatory of Cosmetics
© 2016- 2022 CosmeticOBS