Too much color kills color … Nowadays, the trend is to a "clean" and healthy nail, "glowy" and neat. Following the "BB" movement, being at the same time a care, protecting and beautifying, these sophisticated varnishes are really flattering. And, to tell the truth, easier to live with … A focus on the week's hot picks, by Ariane Le Febvre.
BB polishes, primers, blush, nail perfectors … one can say that now the nail polishes come through a nude -like"updating", following the path of our make-up (especially the tone make-up).
Their delicate skin-like tints or their sophisticated optical agents enhance the natural beauty of the naked nail, provide it with a healthy glow or a strong shine, brighten it, even it or smooth it, while protecting it.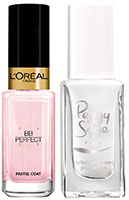 Their bonus? Enriched in fortifying, nourishing, moisturizing (pro-keratin, trace elements, cotton oil, high in vegetable silica bamboo stem …) ingredients, they put care at the heart of our nails.
For all those who do not like colored polishes, but who want manicured-like nails, without any need to do it every other day, they are perfect.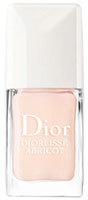 Among the latest innovations, the "BB vernis", by L'Oréal Paris (BB Perfect Pastel, 5 mL, €6.90), the "French manicure" effect, i.e. the varnish makes the nail pink area more pinky, and makes the free margin whiter (Dior Nail Glow, Cherry Edition, 10 mL, €21.40), the "nails' foundation" (Essie, Anti-aging Smoothing Base coat, 13,5 mL, €13; Peggy Sage, Tint Perfector for Nails, 11 mL, €7.90), or the "Nude Perfector", which makes the nail sublime while adorning the nail with a light pinky or apricot shade (Dior Liss Apricot, Perfector Smoothing Varnish, 10 mL, €23.40, 2 shades).
The "primer polish" makes it as a tint brightener. It enhances the nail radiance and provides it with a shining whiteness, thanks to micronized titanium and optical reflecting brighteners (By Terry, Nail Laque Terrybly Primer, 10 mL, €24).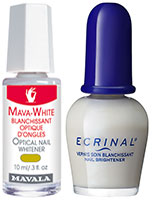 This category of lightening polishes is the most important, by numbers. Ideal for smokers or for all who forget applying the primer before the colored varnish (which makes the nail yellowish), it uses optical brighteners (similar to those added in washing machines to make our laundry more shining) and specific pigments that react under UV radiation, a system that provides yellowish, dull and stained nails with a natural and healthy aspect (Mavala White, 10 mL, €12; Ecrinal, Whitening Varnish Care, 10 mL, €9.80; Alessandro, Pro-White Varnish, 10 mL, €9.95, 5 shades).
As for "environment-friendly" polishes (there is no organic-certified polish, as yet), low in chemical ingredients, let us quote the interesting "Clean" tint of the Kure Bazaar polish, 10 mL, €16. It becomes matt when drying, giving the nail a clean and polish aspect.
A final information: these toluene-free, formaldehyde-free and without DBP (INCI: Dibutyl phthalate) varnishes, may also be applied under your colored nail polishes (they will, then, often intensify the tint). Many of them are as well convenient for men, a booming market from the number of men in nail salons!
© CosmeticOBS-L'Observatoire des Cosmétiques
© 2013- 2022 CosmeticOBS