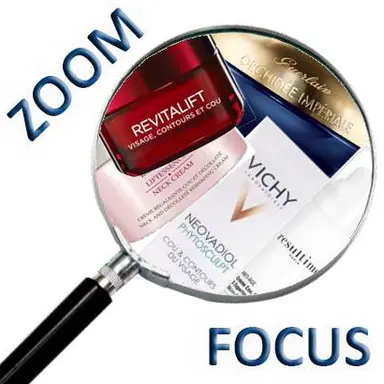 This is a concern that has, until now, affected women in their fifties and beyond. Except that… the omnipresence of the mobile phone in our daily lives (and the unfortunate postures associated with it) contribute to the appearance of these wrinkles in collars (also known as "rings of Venus"!) that occur earlier and earlier. No wonder then that many treatments dedicated to this area are being developed at the beginning of this year…
Until now, specific neck and décolleté care - not so numerous - has been available in the premium anti-ageing ranges of luxury brands (Sisley, Dior, Estée Lauder, Clarins…), and also in some institute brands (Phytomer, Esthederm, Dr Pierre Ricaud…).
These sales were quite confidential, most women simply stretching their anti-aging facial care on the neck, or even the neckline, as they age… But the situation is changing, the neck becoming, if not a priority, in any case a negligible problem, for many women using their smartphone (which often generates folds) all day long…
The demand exists from 35/40 years old.
Two types of skincare appear in all distribution channels (pharmacies, perfumeries and even supermarkets): those exclusively intended for the neck, and facial care (creams or brands) that also include the neck.
Specific neck care
After by Terry (Cellularose Liftessence Neck Cream, Regalming Neck and Décolleté Cream, 50 ml, €118) and Resultime by Collin (Anti-ageing, Neck & Décolleté Cream 5 Expertises, 50 ml, €48), it is Vichy and Guerlain's turn to launch their dedicated treatments.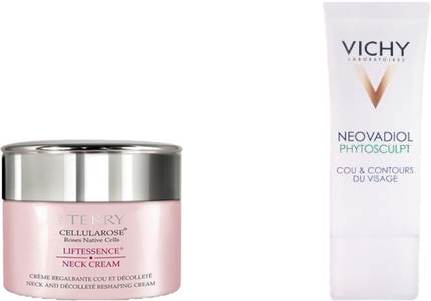 Vichy imagines Neovadiol Phytosculpt Cou & Contours du Visage (50 ml, €30, from March), one of the first treatments of its kind in pharmacies. Rich in Phytosterol, fern extract, hyaluronic acid, Proxylane, Hepes… its comfortable "stretch" texture is particularly innovative, the neck requiring both nutrition (it is an area low in sebaceous glands) and tension, a double exercise not so easy to achieve! Mechanical efficiency is immediately noticeable, thanks to a resculpting galenic composed of waxes that melt on application, creating a re-tensioning of the tissues, similar to a "tightening corset" effect.
In March, Guerlain will offer in its luxurious Orchidée Impériale range La Crème Couture et Décolleté (75 ml, €332), which, with its "invisible second skin mesh" texture, seems to cover fabrics from the inside.
At the heart of its formula, in addition to the two rare varieties of orchids found throughout the line, three active ingredients act in synergy: Tara gum (also known as "the green gold of the Incas") and red seaweed, which fight against skin sagging and provide ideal support, and on the nutritional side, mango butter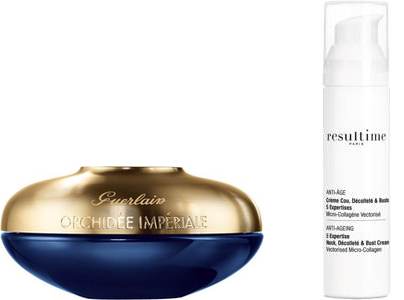 Masks or face and neck care
A sign of the times, more and more, the word "neck" appears on the facings of packaging, which was not the case until then.
This is the case with L'Oréal Paris Face, Contour and Neck Revitalift (50 ml, €11.90) in supermarkets, or Capture Totale Crème de Nuit Haute Régénération Visage et Cou de Dior (60 ml, €174.50).

On the mask side, Clarins Multi-Intensive Lifting Serum Mask, Clarins Facial and Neck Fabric Mask (5 X 30 ml, €95), 3-Luronics Face D Anti-Wrinkle Face & Neck Mask (25 ml, 4.95 € the single-dose mask) or Apot Collagen Face Lift Cryo Mask face and neck.Jellyfish collagen care, very similar to human collagen (€14 per unit or €49 per box of 4 masks), are part of this new generation of masks that also take into account the neck.
It's about time!

Ariane Le Febvre
© 2019- 2022 CosmeticOBS