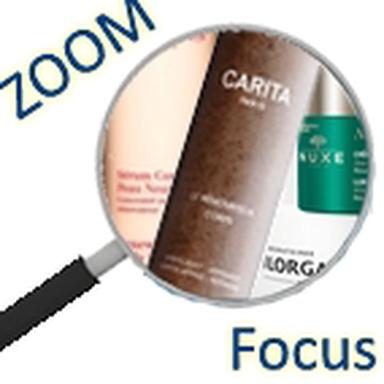 As the population counts more and more 'senioristas', anti-aging body care is getting promotion! What is new is that we are no longer dealing with 'mere' regenerating skincare here, but global anti-aging treatments specifically intended for the body's mature skin – with a slimming added value or not. As a consequence, it is no surprise prices are going up… Indeed, let's start with the bad news: the passport for body's youth is not accessible to all of us… Here is our harvest of very luxurious body products to start the new year…
Anti-aging body care products already existed, especially among ranges developed by great body beauty specialists like Clarins. But what is new is that given the growth of sextas (almost 22% of the French population), they will blossom next year and will be increasingly more thorough and targeted.


So, one of the first brands to have anticipated this change is Clarins, with the Lift Fermeté 'Jeunesse du corps' range (Extra-Firming Body Cream or Extra-Firming Body Lotion, 200 ml, €57 each). Rich in regenerating and tightening plant extracts, they restore elasticity and density, smooth tiny witherings, and of course, specifically nourish drier mature skins.
As for the Renew Plus Body Serum Age-Defying Concentrate (200 ml, €57), it transforms the skin's quality and texture with a generous quantity of pre-retinol and white water lily milk for a highly moisturizing texture.
The brand will complete the series this spring with a skin-smoothing and toning Moisture-Rich Body Lotion available with three new perfumes: Magnolia, Neroli, Jasmine (75 ml, €35).
Matching face and body care products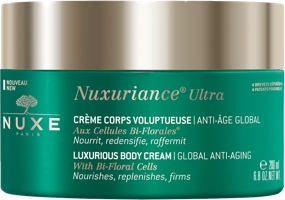 At least, that is what 'mature', demanding skins expect: they want treatments exclusively dedicated to their own problems. Face & body care: same story? We are tempted to say yes, plus the capacity, hence the high price. They contain the same anti-sagging, nutritive, smoothing, anti-dark spot ingredients… as in face care products.
But they often involve patented innovations, like the Nuxe Cellules Bi-Florales® de Safran et Bougainvillier in their latest creation: Nuxuriance Ultra® Global Anti-Aging Voluptuous Body Cream (200 ml, €55). This new technology, inspired from the 'slow release' mechanism of action of drugs, consists in encapsulating regenerating molecules of saffron flowers in the native cells of another plant, bougainvillea, for a targeted, continuous action with reinforced efficacy. The saffron flower active plant extract, particularly rich in polysaccharides and polyphenols, is incubated for 12h to 48h under precise conditions with bougainvillea plant cells. Perfectly biocompatible, the latter play the role of a vehicle, but they are also renowned for their richness in active elements (21 amino acids, 14 fatty acids, 6 vitamins, 9 trace elements, proteins, lipids, and sugars). The plant cells obtained can then release their active content continuously for 12 hours. According to the in vitro tests on the actives, 'they stimulate the birth of new major skin cells to redensify the epidermis.' This cream endowed with a voluptuous texture also contains a hyaluronic micro-acid whose low molecular weight helps stimulate the proliferation of fibroblasts by +25%, as well as a rye extract which improves the skin's energy, tonicity, and firmness, by enhancing the contractile properties of fibroblasts ( in vitro tests).

Patyka also offers a high content of botanical hyaluronic acid as well as organic acacia polysaccharides in their new Youth Firming Body Cream Reshaping & Tonicity of Slack Skin (90 ml, €47), an organic-certified lifting treatment.
Body coaching is emerging…

Next March, it will be Filorga Corps's turn to launch Nutri-Modeling, Baume nutri-affinant quotidien (200 ml jar, €39.90), which takes care both of sagging skin and nodes of fat or stubborn plumpness – an association of sculpting actives (loosestrife flower, ivy oils, and draining babassu…) for a ' feature - reshaping action' .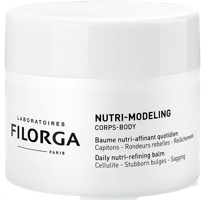 Lastly, body scrubs start emerging in this category highly-coveted by the whole cosmetics industry (a public with a high purchasing power!), as can be seen with the Filorga Scrub & Peel Crème Exfoliante Resurfaçante Effet peau neuve immédiat (150 ml, €24.90 in March) or the Carita Rénovateur Corps, Exfoliant Affinant (200 ml, €60, as from March), a cult product in salons now available to the general public.

The good news is, the concept will become democratic as from January, as Nivea will offer their first Lait Hydratant Fermeté with Q10+ and vitamin C (250 ml, €4.95), as well as a Lait Jambes Fermeté Fraîcheur with Q10+ and menthol (200 ml, €5.90), a real first in supermarkets! Let's bet the idea will be followed by many others…
© CosmeticOBS-L'Observatoire des Cosmétiques
© 2018- 2021 CosmeticOBS