Dermatology's star molecule for its soothing virtues, niacinamide (or vitamin B3) becomes a key ingredient in safe cosmetics. Very present in pharmacies, it is increasingly found in clean beauty brands. This multi-targeted active ingredient has more than one trick up its sleeve!
Niacinamide is a group B vitamin derived from nicotaminic acid, which is found under different names: vitamin B3, vitamin PP, nicotinamide or niacin.
If it is very connoted "sensitive skin", because of its anti-inflammatory and anti-oxidant virtues, it is in fact (like many interesting active ingredients) a versatile ingredient "broad spectrum action" that treats a wide variety of skin problems, such as pigmentation spots, dilated pores, acne, dryness, rosacea …
In this new season, it is the new molecule "Swiss army knife" very popular with dermatological brands as well as clean beauty brands.
Featured ingredient of dermo-cosmetic brands…
La Roche-Posay, SVR, Garancia, SkinCeuticals… niacinamide is a major player in dermatological care. L'Oréal is incorporating it more and more often in the products of its Active Cosmetics division, particularly at La Roche-Posay.
Thus in its latest night serum with a peeling effect for oily, blemished, acne-prone, adult skin (Effaclar Sérum anti-imperfections, anti-blemishes, daily peel, 30 ml, €28), where, concentrated at 2%, niacinamide softens the powerful action of fruit acids and is therefore suitable for sensitive skin. But it also reduces water loss, reduces hyperpigmentation, soothes and reduces irritation, giving the products excellent tolerance. It can be found in the brand's star products against atopic eczema (Lipikar Baume AP+, 400 ml, €21 or Syndet Lipikar AP+ Anti-Irritation Lipidizing Anti-Scratch Cleansing Cream in its new 400 ml eco-refill, €11.90).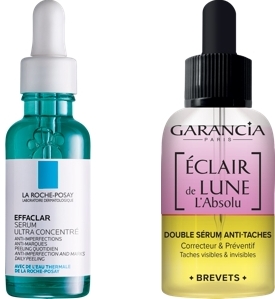 Garancia uses it at 4% to protect the skin from blue light and cellular aging in the first mist enriched with niacinamide (À quoi rêves-tu La Brume Océanique des Sirènes, 200 ml, €9.99), or in its anti-dark spot serum with a two-phase texture between dry oil and serum (Eclair de Lune - L'Absolu Double Sérum Anti-Taches, 30 ml, €43.50, from November).
The brand declares that at "4%, niacinamide is as powerful as hydroquinone to lighten stains. This vitamin boosts the skin's barrier effect against bacterial aggression by stimulating ceramides and antimicrobial peptides and protects the skin from the effects of blue light."
This versatile ingredient is also present at 4% in Sebiaclear Micro-Peel, Eau Rénovatrice Désincrustante, Lissante from the SVR Dermatological Laboratories (150 ml, €14.90), a gentle formula that targets all causes of adult acne (the microbiome, the skin barrier, excess sebum).
But the dermatological brand also uses it in its Clairial lightening range, its eye make-up remover with a minimalist formula (Palpébral Démaquillant by Topialyse, 125 ml, €11), or its sun products to repair cellular damage (Sun Secure Solar Water Face and Body SPF 50+, 200 ml, €19.90, Sun Secure Mineral Stick SPF 50, babies, children, adults, 10 g, €12.90).
This is also the case of SkinCeuticals in its latest Daily Anti-Spot Sun Care with an invisible finish (Advanced Brightening UV Defense Sunscreen SPF 50, 40 ml, €45). But the American firm was already using vitamin B3 at a concentration of 5% in its Anti-Spot Serum, which treats all hyperpigmentation, even stubborn ones (Discoloration Defense Serum, 30 ml, €98).
Like clean beauty marks on the canvas…
Niacinamide can already be found at Erborian (Red Pepper Pulp Gel Cream Radiance Booster, 50 ml, €45), Typology (Niacinamide 7% Acid Soothing Toner, 200 ml, €15.90) or Charlotte Tilbury (Magic Serum Crystal Elixir, 30 ml, €72, at Sephora), but the record dosage will be launched by Paula's Choice Clinical (Treatment 20% Niacinamide, 20 ml, €52).
This new serum with a very light gel texture is as powerful as it is gentle. It is the king of general anti-aging! It fights dry skin, reduces fine lines and wrinkles, tightens enlarged pores and reduces spots and pigmentation defects.
Combined with meadowsweet, purslane, camellia japonica and licorice root, it offers soothing, moisturizing, pore-minimizing and antioxidant benefits. A real Swiss Army knife, according to the legend!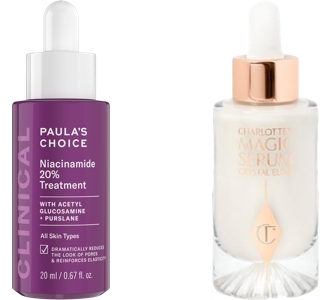 Ariane Le Febvre
© 2020- 2022 CosmeticOBS