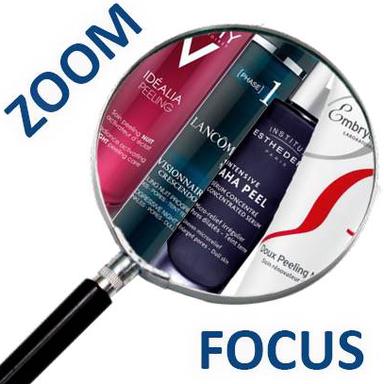 On the agenda this season, a spring skin thanks to this new skincare gesture particularly timely at the end of winter to revive radiance and get brand new skin texture. And since it is preferable to use a peeling at night, the idea is all the more coherent…
Everyone knows radiance is the new beauty Grail. And to get it and remove that grey veil that makes our complexion look dull, nothing better than a peeling, whose action, it should be reminded, is based on chemistry, thanks to different acids (fruit and salicylic acids, BHA – beta hydroxyl acid – LHA…), contrary to scrubs, which only act mechanically with physical grains.
Peelings track down dullness more in depth, so they are quite welcome to start afresh as sunnier days approach. The skin has lost its firmness due to the excess of winter fats, and it does need this spring cleaning!
Night peeling is a good idea, since it is actually better to apply a peeling at night, on the one hand because it stimulates cell renewal, a process particularly active overnight (the skin uses all its energy to regenerate, not to defend itself like during the day), on the other hand because in the morning, it is said to weaken the skin, by creating 'breaches' in its 'protective coat'.
Lastly, since acids make the skin more UV-sensitive, all brands recommend applying sun protection every morning over the whole night peeling treatment period.
A potentially high glycolic acid concentration
New night peelings can offer high doses of fruit acids, as can be seen with the latest SkinCeuticals night 'cosmeceutic' product (Glycolic 10 Renew Overnight, 50 ml, €75), which contains 10% 'active' glycolic acid (thanks to its pH3.4) to accelerate cell renewal, refine skin texture, and globally enhance the skin's appearance.
What about skin tolerance? The brand certifies that this optimized glycolic acid level provides good tolerance and that the product suits all skin types. Glycolic acid acts by reducing the intercellular cohesion in the stratum corneum and promotes the removal of dead and dehydrated cells, revealing a brighter, younger skin. Its synergic association with phytic acid and a soothing complex contributes to enhancing the complexion texture, radiance, and brightness. The AHA and BHA concentration even reaches 12% in the Esthederm Intensive AHA Peel Concentrated Serum (30 ml, €70) intended for skins with an irregular micro-relief, dilated pores, and dull complexion. The brand also offers Intensive AHA Peel Gentle Serum (30 ml, €60) with a lower AHA/BHA concentration (5.4%). You can actually alternate between both concentrations: start with the Gentle Serum for the first weeks, and then continue with the Concentrated Serum to enhance the skin's tolerance to AHAs.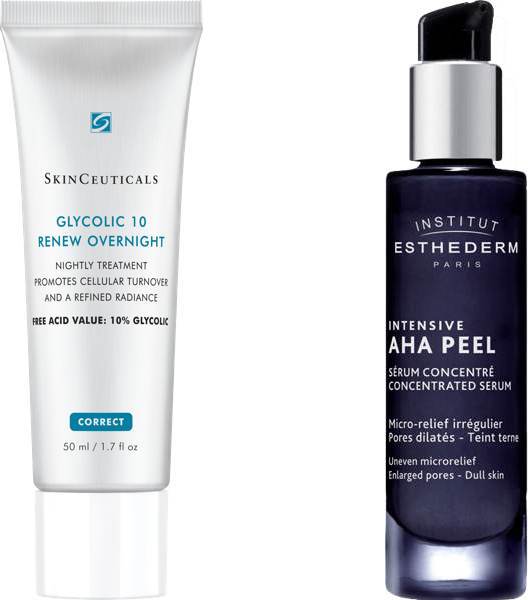 The essence texture is on a roll
Very liquid, it can be applied with a cotton pad, like the Vichy Idéalia Radiance Activating Night Peeling Care (100 ml, €30.50), which contains 4% glycolic acid and an energizing complex (antioxidant blueberry polyphenols, radiance-activating fermented black tea extract, anti-fatigue natural corn adenosine, Vichy mineralizing thermal water).
You can also use your fingers, like with the latest Essence micro-peel Progressif Néomorphose Clarté Fondamentale Resurfaçant Fondamental by Carita (30 ml, €60), which combines glycolic acid, LHA (which penetrates more in depth), and HELES (which delicately exfoliates the skin and regulates the formula pH).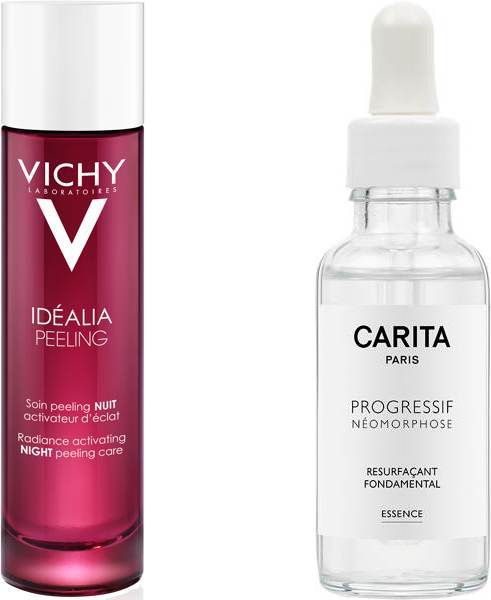 When peelings replace night creams
But the king of night peeling is Lancôme: after Visionnaire Crescendo Progressive Night Peel (30 ml, €85), they have launched Absolue Precious Cells Rose Drop Night Peeling Concentrate (15 ml, €98), a 'peeling-in-oil' particularly welcome, since it does not require applying a night cream on it. This bi-phase formula contains glycolic acid in the rose phase, and two oils in the gold phase (argan and cold-distilled rose Damascena), as well as exceptionally regenerating Lancôme rose native cells, and an anti-inflammatory and soothing supercritical CO2-extracted rose Centifolia concentrate. This peeling is so concentrated that two drops will do. Ultimately, Embryolisse developed Doux Peeling Nuit Soin rénovateur éclat (40 ml, €18), with a micro-dosed fruit acid derived from lemon caviar.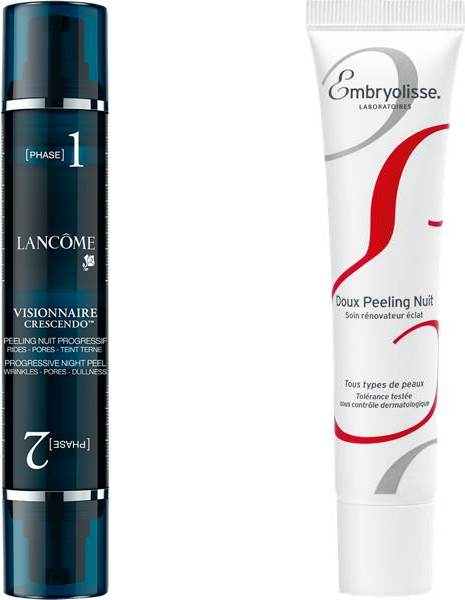 Ariane Le Febvre
© 2018- 2021 CosmeticOBS