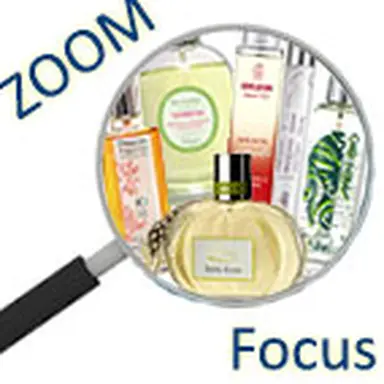 New certified organic creations bring natural fragrances to the forefront. Some remain intimist, others offer a real wake. They become less simplistic, more elaborate and faceted. They also hold better on the skin (the #1 concern in organic farming). Let's face it, organic perfumes are starting to look like real perfumes!
There were already the perfumes of Honoré des Prés, composed by the great Olivia Giacobetti with Vamp in NY a tuberose with an enchanting trail (Eau de parfum, 50 ml, 76 €) and the latest creation : Nude Green (Pure, simple and beneficial water, 50 ml, 56 €). But for two or three successful organic perfumes, what disappointments, pale and monotonous soliflores with a puny trail! The demand from women who refused classic 80% synthetic fragrances remained unfulfilled. That is changing. Organic or natural perfumes (not all of them are certified organic), particularly thanks to biotechnologies, can broaden the field of possibilities. They move from the aromatics camp to that of more worked compositions.
Real uncertified fragrances
They are 100% natural perfumes and formulated without any synthetic molecules, but as they use, for example, wild plants that cannot be certified, they cannot fit into the narrow and restrictive framework of organic labels, which, it must be recognized, limit (prevent?) olfactory creation so much. They have the most relief and wake.
This is the case of the latest creation by Michèle Cros, founder of Douces Angevines: iO What I am (50 ml, 90 €), a spicy, woody and balmy eau de parfum, with a singular personality and an indisputable presence. This is not surprising when you list its powerful and unusual notes: myrrh, labdanum, sandalwood, cardamom, rose, magnolia, yang ylang, geranium rose, petitgrain, bushman candle (a sweet and sweet substance from Southern Africa, discovered just two years ago) and palo santo, a Peruvian wood that shamans use to come into contact with spirits. A mystical and earthy perfume, rare and surprising, that wants to be protective and that its creator presents as "… being able to absorb the surrounding negative waves ".
It is also the choice of Valérie Demars and her pretty brand of natural perfumes: Aimée de Mars, who invented Aromaparfumerie® (see also the article Valérie Demars and her love perfumes of Aimée ). 95% natural perfume waters, made from organic wheat alcohol and organic essential oils (as soon as the extraction method permits), free of chemical dyes or filters, phthalates or other denaturants. To make beautiful perfumes, Valérie allows herself"identical nature" molecules like ionone, hedione, aldehyde C11, coumarin… or beautiful natural materials like absolutes of jasmine, tonka bean or rose that are refused by Ecocert (because extracted with hexane, a polluting solvent, from petrochemicals). It combines the benefits of aromatherapy and perfumery thanks to an active heart composed of 21 natural essences, found in all perfumes and which acts on well-being. To discover in particular: Mythic Iris in the Le Jardin d'Aimée collection (50 ml, 69 €), an amber iris, faceted with almond, vanilla and benzoin, or Water 21 in the Les Éléments d'Aimée collection (50 ml, 69 €), to the notes of cedar wood and oak moss, and the brand's first unisex fragrance.
Natural and certified scented waters

Weleda, the Laboratoire des Sources, Florame, Acorelle, Bo.Ho Cosmetics… launch this autumn delicious organic scents, even if their trail remains shy.
Weleda's first natural scented water ( Garden of Life Granada 50 ml, 20 €, in October) combines the fruity notes of orange essential oil with the oriental sweetness of vanilla and davana. Nothing surprising from a brand that has always taken care of its fragrances and has its own"Fragrance Competence Center" and its own perfumer (Olivier Biedermann), which makes all the difference!
The Laboratoire des Sources, with its expertise in aromatherapy, is launching six new organic certified eaux de toilette in September to smell good and feel good: Balsamic, Hesperidée, Lavandée, Lupalichou (oriental), Verbena and Vétyver (100 ml, 28 € each). Fresh, fruity, woody or oriental, they are formulated from flower hydrolates and essential oils certified organic. Very pleasant to wear every day, they are mixed for the most part.
Florame offers Cosmébio labelled eaux de toilette for Christmas, such as Eastern Cyprus, Imperial Green, Belle de Grasse or Paradise Flower (50 ml, € 38.50 each).
Bo.Ho Cosmetics pays homage in its scented creations in preserved places of the planet, like Goa, Corsica or the Aeolian islands, in bottles with handcrafted wooden caps certified PEFC (50 ml, 29.95 €), without case, to fight against overwrapping.
Men are not forgotten. Thus, Naturado offers Tribal for Men One of the first eaux de toilette with spicy notes, certified organic (100 ml, 33.50 €).
The development of natural fragrances is also in Acorelle's DNA which already has nine eaux de parfum acting on emotional balance. For the holidays, the brand decides to relook its Perfumes Roll-on ( Sweetness of Rose, Cedar Land or Lotus Dream 10 ml, 12 € each, from October). Thanks to their metallic ball, these fragrances can be reapplied discreetly during the day, on different energy points (inside wrists, plexus, hollow neck…). A relaxing break and a gesture that was initiated by organic cosmetics and aromatherapy.
The Observatory of Cosmetics
© 2015- 2022 CosmeticOBS