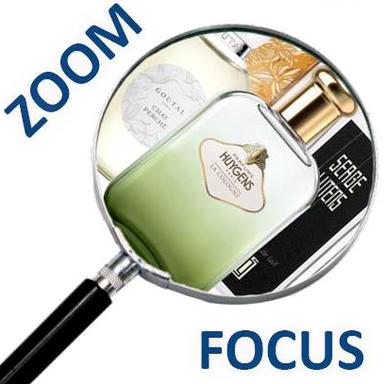 Dent de Lait, Chat Perché, Eau de Givenchy… the omnipotence of childhood rules over our summer perfumes. No doubt these olfactory whispers represent everything we long for these days. These 'perfumes for angels' are endowed with polished olfactory writing and sophisticated compositions, and of course, they do not leave too strong a trail behind them: they are just very pretty and pleasant to wear…
A sweet childhood scent…
They were already stolen Eau de Bonpoint, which eventually led the brand to create an adult version (as a reminder, Annick Goutal, sister of Bonpoint founder Marie-France Cohen, had designed it in 1986). Now, Isabelle Doyen and Camille Goutal have just imagined a scent for our little ones (knowing perfectly well mums are going to jump on it!): Chat Perché by Annick Goutal (Eau de toilette, 100 ml, €75).
From Petite Chérie to Eau de Charlotte, the poetry of childhood and everything passed down from mother to daughter have long inspired the Goutal brand. This delicate creation, which preserves the dreamlike, botanical world of the brand, is an invitation to play games. 'Games represent everything we do without having to do it,' Mark Twain said. Nestled in white musk, this manifesto for mischievous innocence mingles the raw notes of nasturtium and crisp peas with sweet pea and lemon tree flower scents. A breath of fresh air as soft as a child's cheek which will seduce all the tender-hearted among us… and it is featured in a bottle concealing ornaments anyone will enjoy discovering.
The label at the front is adorned with the poetic nature of the brand, while the back label of the bottle reveals a pattern depicting coloured kittens – a nod also featured on the embossed case. Chat Perché grabs the suspended moments of childhood, those we would love to remain in the present for ever. It also embodies the summer trend: perfumes for babies with a universal, clean composition which hang heavy in the morning air.
Angel or devil
Similarly, with Dent de Lait (Eau de parfum, 100 ml, €180), Serge Lutens clearly evokes childhood, but without giving in to innocence – rather to the biting spirit of this period, when children get more self-confident. Almond milk, piperonal, musk, incense of Somalia… this floral, powdery, musky fragrance owes its originality to the metal aldehyde smells reminiscent of the taste of blood discovered by children when they lose a milk tooth! Impregnating and vaguely regressive, it is the only scent that offers real persistence.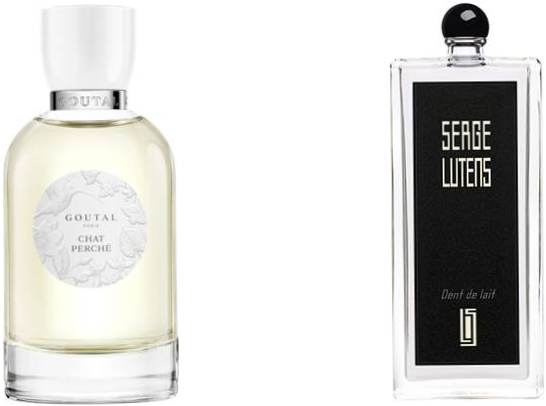 Minimalist, peculiar refinement
The new Eau de Givenchy (Eau de toilette, 100 ml, €80, available exclusively in Nocibé stores on May 28, and then in all points of sale as from July 2nd) is a musky, subtle, refined neo-Eau de Cologne created by François Demachy, LVMH's olfactory composer. It expresses this childhood spirit and the smell of a baby's skin thanks to hesperidia notes (bergamot orange, lemon, orange, and tangerine), but mostly to orange blossom, whose whole richness is expressed: petitgrain, neroli essence, and absolute with a heady trail. 'The olfactory accident' is due to the unexpected green notes of bitter almond. The design of the cylindrical bottle with the white cap (another trend for these childhood perfumes) mirrors the olfactory writing: soft and minimalist.
Here is another Eau de Cologne with a real personality: Cologne by Huygens (Cologne Intense, 100 ml, €98) wavers between freshness and heat. If the creation is inspired from classic scents (sparkling smells of citrus fruit enhanced with basil and coriander), it intensifies with the middle notes, thanks to lavender and sage modulations. The jasmine absolute contrasts with this duo, while at the back, patchouli, tonka bean, and vanilla unveil their own intense features. This mixed Cologne differentiates itself with its natural (98.9%) and organic (80.9%) raw materials.
In the same vein, Maison Lancôme devised Oranges Bigarade in Collection Les Eaux Grands Crus (Eau de parfum, 100 ml, €180) to pay tribute to the bitter orange tree. This Cologne spirit cultivates the art of paradoxes: the freshness of orange essences is shaken up with the smoky notes of Ceylan black tea.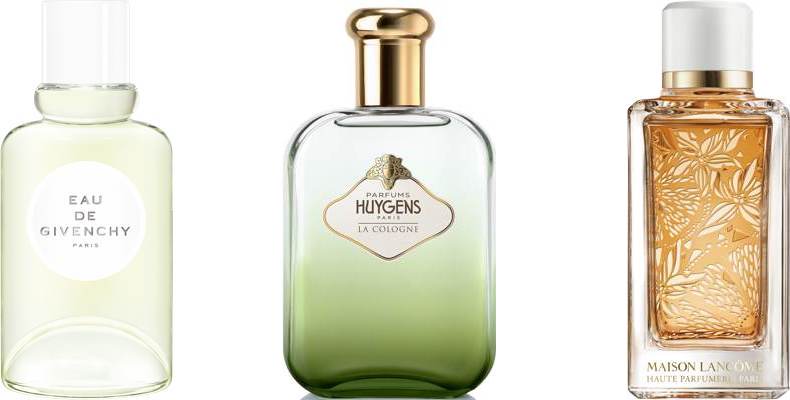 Ariane Le Febvre
© 2018- 2021 CosmeticOBS