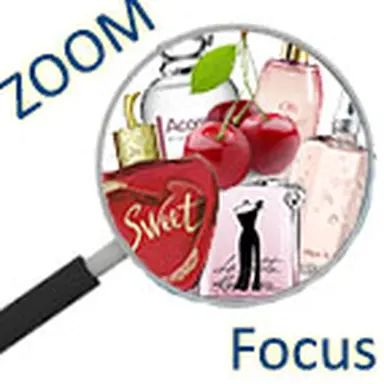 The tender and juicy flesh of the cherries inspires the perfumery and splashes its tasty scents with the novelties of the end of the year. With the worldwide success of Guerlain's La Petite Robe Noire, it is back in the spotlight as the major accord for sweet (very) gourmet cosmetic fragrances.
Today, 6 out of 10 perfumes sold belong to the gourmet register. Mostly oriental or fruity. In this juicy market, cherries get the lion's share! Acidulous and crunchy, with pronounced almond facets, it titillates the taste buds and makes the mouth water! This is called a"salivating" note. No essential oil is obtained from cherries. Its fragrance is recreated by synthesis, by combining different molecules (notably benzaldehyde, with a powerful bitter almond fragrance). Joyful and youthful, appetizing and delectable, it seduces the younger generations.
Different facets
The cherry brings a fruity touch, more or less almondy, green, floral or sweet, to the compositions. Perfumers mainly use cherry, cherry stone or amarena (the sweetest) notes. Thierry Wasser, Guerlain's in-house perfumer, chose the latter to create La Petite Robe Noire. And it was through her, and her worldwide triumph, that it all began. Its success owes much, indeed, to the greedy scents of its amarena cherry, evocative of succulent desserts (Italian ice creams with candied cherries, black forest…). The big house continues to"capitalize" on this olfactory signature for the holidays with La Petite Robe Noire Eau de parfum Couture (50 ml, 84 €), a slightly more red fruit variant where raspberries dominate. But her latest creation, French Kiss, in the collection Les Élixirs Charnels (eau de parfum 75 ml, 185 €) which evokes lipstick, pardon"the art of the French kiss" (pink, iris, raspberry, violet on a bed of vanilla, heliotrope and white musks) can also recall cherry, even if the latter is not claimed. Marketing talks about it as"floral glossy" (we don't really know what that means, a lacquered, shiny effect, a call to kiss?), a term we find for Sweet by Lolita Lempicka (eau de parfum 50 ml, 70 €), a cherry dipped in dark chocolate, coated with angelica and wadded musks. One thing is for sure, the mouth and the cherry work very well together, with all the imaginary projections that can be attached to it! The cherry accord is still found in a fragrance girly Oh Délice ! by ID Parfums (eau de parfum 50 ml, 55 €, starting in November), a boudoir treat, evoking Marie-Antoinette's fantasy and Ladurée macaroons (sweet rose, jasmine, praline, tonka bean and vanilla). Even the great Serge Lutens has explored the cherry stone note in Rahät Loukoum, which can now be found in his Vaporizer Tout Noir (eau de parfum with 2 refills of 30 ml, 135 €, from November). This oriental sweetness where white almond, honey and vanilla dominate is undoubtedly the most appetizing of all!
Floral or spicy cherry
Acorelle launches in its range Les Naturelles Cerise Intense (natural eau de toilette at 88 %, 50 ml, 16 €), where red fruit aromas (cherry, raspberry) blend with gardenia and orchid flowers. L'Occitane plays with the spring tonality of cherry blossoms (more widespread in perfumery), but its new fragrance also contains a real extract of Luberon cherry (Fleurs de Cerisier L'Eau, eau de toilette 50 ml, 35 €, from 7 February 2015). As for Jo Malone, she offers in her Christmas collection named Cherry & Clove (i.e. cherry and clove) an Intense Frosted Cherry & Clove Cologne, rich in winter spices (100 ml, 105 €, limited edition from November), as well as a whole line of scented gifts and candles declaring the same scent.
The Observatory of Cosmetics
© 2014- 2022 CosmeticOBS