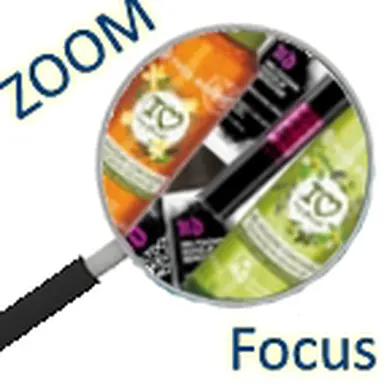 How can you transform daily products into magic innovations? Always by combining packaging innovation with formulation innovation. Here is a selection of four really original creations which brilliantly revisit a shower gel, a makeup remover, a moisturizing cream, and black mascara.
A patented shower gel… quite unordinary!
The new Yves Rocher Concentrated Shower Gel (100ml, €3.50, three beneficial botanical scents: Relaxation, Energy, Sensuality, as from June), is to revolutionize showering, and there is no doubt much will be said about it! Similarly to Dove's compressed deodorants, its small 100ml bottle is enough for 40 showers, on average (as many as a 400ml bottle). The new magic formula, 1 = 4, is so concentrated that only one pump will do for one shower!


As for the content, the cleansing base is 100% plant-derived, the preservative-free formula contains 97% of natural ingredients, and above all, the transforming texture is endowed with a lamellar, multi-layer structure which flexibly stretches and develops as much of a delicate foam as you want!
As for the container, a new valve capsule collects the quantity of formula necessary for a whole shower with only one pressure. Eventually, that is twice less plastic and greenhouse gases! The bottle also contains 25% of plastic derived from bottle recycling. And since the products take up less space in the trucks used for their transport, that is five times less trucks on the roads every year! The art of reinventing the shower to preserve the skin and the planet…
Stick or spray makeup removers… it changes everything!
No need to rub the skin anymore: this Urban Decay Meltdown Makeup Remover Dissolving Spray (100ml, €20) only needs to be sprayed on a piece of cotton to remove any trace of – even waterproof – makeup. This ultra-efficient, water-free formula only contains three ingredients, including vitamin E with nourishing virtues.

The same goes for the cleansing sticks by the same brand: Cleansing Oil Stick (€24) and Lip Oil Stick (€18). The first has a balm texture which transforms into oil, and then into a light foam to gently remove makeup. Based on a turmeric root extract, sunflower seed oil, and vitamin E, it is also deliciously perfumed. Convenient, the stick format is easy to travel with, without any risk of leak or seizure by the customs! As regards the second, its formula based on gelled oil easily removes waterproof lipstick without leaving any oily film. The idea is simply to apply and wipe the product. The wax-free formula contains moisturizing ingredients and ceramides to tone up the lips. And since it is really nourishing, it can also be used as a lip balm!
XXL lashes

There is no doubt Monsieur Big, the new Lancôme mascara (€27, Black only) is the most volumizing mascara you have ever seen! Again, its secret lies in the brush-formula combination.
Intuitive, the brush separates and fills every single lash. Its long, wavy fibres help better capture the formula and distribute it homogeneously on every lash.
As for the formula, it contains a hyper-malleable, supple wax and mingles its shaping agents with a creamy texture for a soft, long-lasting (waterproof and smudgeproof), comfortable (no flakes) application. Last elegant, modern detail: the silhouette is black, with a touch of shocking pink.
When face care radiates with a new glow
Galénic's Diffuseur de Beauté Radiance Booster (50ml, €50) is a moisturizing cream which makes the skin look so radiant it can almost do without any makeup! Thanks to its ruby microparticles, which melt when the cream is applied, making your cheeks go pink, it revives the skin's natural rosy colour, smooths its contours, hydrates it in depth, and protects it from external aggressions. The raspberry ruby colour shows an astonishing ability to diffuse light: the brand tells us its crystalline structure creates an organized light diffraction, so that it does not scatter everywhere. The ruby powder microparticles are coated with a double sugar wall (cellulose and mannitol), so they remain intact and can be spread as soon as they come in contact with the skin. Ultimately, thanks to the formula's architecture (blur gum, oily emollients, botanical glycerine, vitamins B3 and E…), the skin is radiant all day long.
© CosmeticOBS-L'Observatoire des Cosmétiques
© 2017- 2022 CosmeticOBS