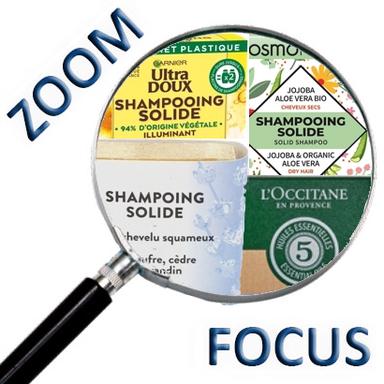 In the anti-plastic crusade, solid shampoo is taking the leading role. Volume, dandruff, white, blond or colored hair, anti-hair loss, sensitive scalp… Will solid shampoo lines become as plentiful as their liquid cousins? In any case, it's proof that this is more than just a trend, it's a real movement…
We won't go back over their ecological and financial advantages (according to the brands, a 90 g solid shampoo would allow to make 50 shampoos) that we now know by heart!
What interests us today is the wide variety of products that now meet almost all hair types. If the solid shampoos of the beginning were rather universal (frequent or family use), it is not at all the case this spring.
Among the first, Love Beauty and Planet offers the only (to our knowledge) Volume Solid Shampoo and a Solid Shampoo for colored hair (90 g, €6.20), both heart-shaped, vegan and sulfate-free, with delicious natural fragrances.
The first, enriched with coconut water, organic coconut oil and ethically sourced mimosa flower extract, moisturizes hair lightly and without weighing it down.
The second, infused with muru muru butter and rose, moisturizes, preserves and revives color radiance.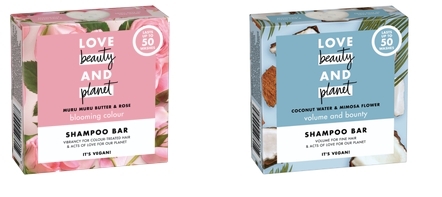 Cosmo Naturel (Laboratoire Gravier), an expert in solid cosmetics, meets almost all expectations with its range of certified organic solid shampoos (85 g, €6.60 each), one of the most extensive lines on the market. Thus, you can find them against dandruff (Shampoo Solid Anti-Dandruff Cade & Sage Bio, Rhassoul), sensitive scalps (Shampoo Solid Sweet Almond Bio), oily hair (Shampoo Solid Clay & Nettle Bio), dry hair (Shampoo Solid Jojoba & Aloe Vera Bio), blond hair (Organic Chamomile Solid Shampoo) or colored hair (Organic Rose & Argan Solid Shampoo), and even one for white hair (Organic Centaury Solid Shampoo), or a 2-in-1 solid shampoo with detangling properties!

The same goes for BioCoiff', which has created solid shampoos that are extremely nuanced and fortifying (Shampoing Solide Force et Pousse au fenugrec for sensitized, weakened hair with a tendency to lose hair), specific for colored and dull hair (Solid Shampoo with hibiscus), anti-dandruff (Solid Shampoo for Dandruff and Itching with basil and neem), not to be confused with scaly scalps (Solid Shampoo with sulfur, cedar and lavender). The first is for so-called "dry" dandruff (the most common), which looks like a white powder, does not adhere to the scalp and falls on the shoulders.
The second is to be used in case of dandruff called "greasy" which clusters together and forms compact patches that stick to the scalp and irritate it.
The brand is just as fine at distinguishing, as it does for the face, between the need for nutrition in dry, weakened and split hair (Nourishing and Repairing Horsetail and Jojoba Solid Shampoo) and the need for hydration in dry hair (Lemon and Jojoba Solid Shampoo). 8 references in total (100 g, €11.90 each), for the specialist in vegetal hair color (20 salons in France), all certified Nature & Progrès, Vegan & Cruelty free and made in France.

The first solid shampoos with prebiotics
There is no reason why solid shampoos should not follow the major trends, such as that of prebiotics, which are particularly useful for a healthy scalp.
L'Occitane en Provence has three sulfate-free solid shampoos with an oblong, curved shape to fit the scalp, including one enriched with prebiotics (a complex of natural sugars) that promotes the balance of the scalp's microbiota (Shampoing Solide Equilibre & Douceur, 60 g, €12).
While this one is fairly universal, the other two, still in the 5 Essential Oils range, are aimed at normal to oily hair (Shampoing Solide Fraîcheur Purifiante with purifying peppermint essential oil, plant vinegar that awakens shine and green clay) and damaged hair (Shampoing Solide Réparation Intense, 60 g, €12 each).
The latter contains, in addition to sunflower oil and wax, angelica essential oil, whose anti-breakage effectiveness has been patented, and black oat extract rich in amino acids, which limits split ends (minus 29%) and strengthens hair resistance. One of the feats of these formulas is that they contain only 2% surfactants from coconut (it is often three times more in a solid shampoo) and that they have not been subject to saponification.
"We have taken particular care with the pH of our solid shampoos. Saponification leads to a basic pH that opens the scales and dulls the hair, which we did not want. We have developed a process of assembling the raw materials by compression, which allows us to offer a physiological pH of 5.7 to 6.7. Thus, the ecosystem of the scalp is respected, which is good for its microbiota," says Pascal Portes, director of scientific information of L'Occitane en Provence.
The brand is planning a solid repair conditioner format for 2022. This is another challenge because conditioning agents are rare and often incompatible with the solid format.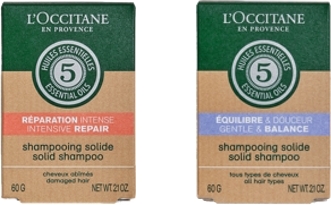 L'Oréal, which offered solid shampoos at DOP and Garnier Ultra-Doux, has also come up with two more specialized, sulfate-free creations, Garnier Ultra-Doux.
The first one brightens up blond hair (Chamomile & Agave Syrup Solid Shampoo), the second one revitalizes dull, weakened and damaged hair (Ginger of Life Revitalizing Solid Shampoo, 60 g, €4.90 each).
Finally, L'Oréal Paris will release one of the first solid shampoos (with charcoal) dedicated to men (price not given). A really good idea as this format is particularly appreciated by short hair!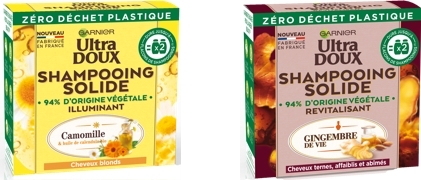 Ariane Le Febvre
© 2021 CosmeticOBS