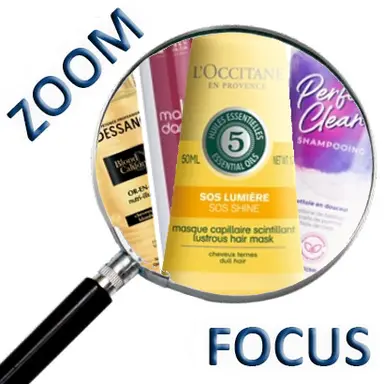 Constellated with gold or diamond particles, iridescent mother-of-pearl or glitter, they boost shine and sublimate the hair. Their particles cling to the fiber and give it a real light bonus. It's the new highly cosmetic shiny hair trend and a great idea in this season when hair is particularly dull!
Need a boost of light to illuminate hair?
L'Occitane en Provence was one of the first to design in its Aromachologie range a Scintillating Hair Mask SOS Lumière (50 ml, €12). Enriched with five essential oils (rosemary, bergamot, lemon, cedar, geranium), lemon and sugar cane extracts (micro-exfoliants) and mica particles, this express care formulated without silicone immediately detangles and softens dull hair, while making it shiny.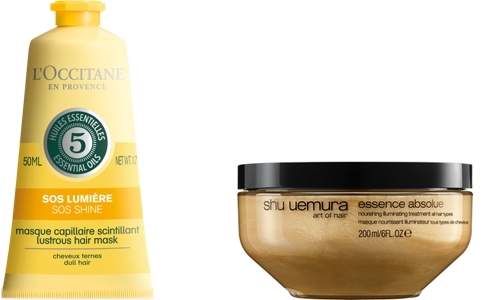 Shu Uemura Art of Hair uses gold oil and an iridescent texture to deeply nourish all hair types and sublimate them with subtle golden highlights (Essence Absolue, Nourishing Illuminating Mask, 200 ml, €64).
Urban Keratin, a French straightening brand that is never behind a trend, offers five new Makadamia hair ranges, all of which contain diamond powder, but also organic macadamia nut oil (which participates in the sublimating power) and vegetable keratin : "I illuminate colored hair, I moisturize dry hair, I draw curls, I plump fine hair, I soothe the sensitive scalp" (Shampoo, 250 ml, €19,90 each and Care, 200 ml, €21 each).
In its Californian Blonde range, Dessange imagine Or-en-huile nutri-illuminante, with shine-boosting micro-minerals that capture and multiply the light of blond or highlighted, dry or dull hair, (125 ml, €9.95 each).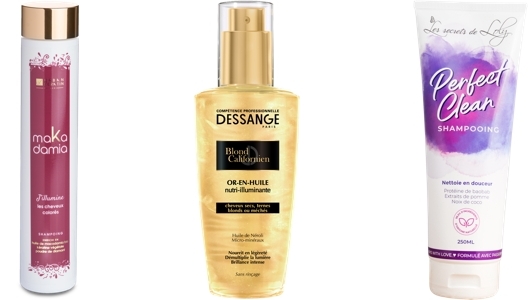 Finally, Les Secrets de Loly launches Perfect Clean, a shampoo with glitter that illuminates all curly, frizzy or curly hair, often dull because of its texture that has difficulty reflecting light (250 ml, €15.50).
Apple-scented, with a coconut washing base that prepares for detangling and redraws curls, its sparkling lather transforms the washing routine into a beautifying treatment.
Ariane Lefebvre
© 2021- 2022 CosmeticOBS