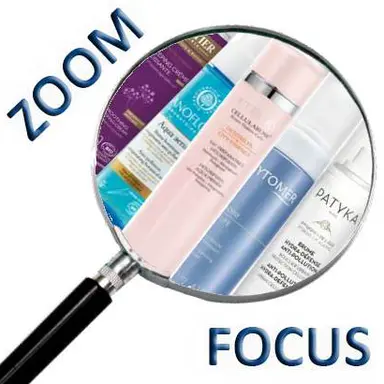 Detox is becoming more precise. Once a little "stuffy", it is now becoming the other name for anti-pollution skincare, which is increasingly gaining ground in supermarkets. In selective channels, beauty institutes and pharmacies, these "city cares" are often combined with an oxygenating or anti-blue light action.
As we know, pollution is one of the most harmful oxidative phenomena for the face (with of course UV rays).
Protecting oneself from the urban environment is becoming a growing concern for women. Suspended particles, cigarette and exhaust smoke, UV, blue light… The skin is subjected to many stresses on a daily basis.
Photo-pollution (combination of UV and pollution) in particular increases oxidative skin stress, a factor in accelerated natural ageing and the appearance of spots.
The new detox treatments provide physical protection (anti-adhesion film that prevents pollution particles from adhering to the skin surface) as well as biological protection (anti-oxidant, detoxifying, oxygenating).
Pollution control is gaining ground in supermarkets
Detox cleaners (meaning those that remove toxins including pollution residues) are very successful in supermarkets. They are a guarantee of deep skin cleansing.
After Le Petit Olivier and its Anti-pollution Almond Flower range (Cleansing Cream, Exfoliating Jelly, Foaming Mask, Facial Mist, Eye Contour Gel, Day Cream Gel, from €4.90 to €7.90), it is now Neutrogena's turn (Skin Detox range), Garnier Bio (Detoxifying cleansing gel with organic citronella essential oil, 150 ml, €6.90) and Le Petit Marseillais (Multi-Protection Nourishing Fluid SPF 20 Délice de Miel, 50 ml, €6.80) to take out their detox treatments.
Neutrogena's Skin Detox range is the most complete.
It offers a Purifying Scrub and a 2-in-1 Purifying Clay Mask (150 ml, €4.99 each) both containing glycolic acid and targeting traces of pollution and 100% of toxins, as well as a Detoxifying Moisturizing Care (50 ml, €9.90) which uses, in addition to a powerful antioxidant, a film-forming polymer that traps external toxins.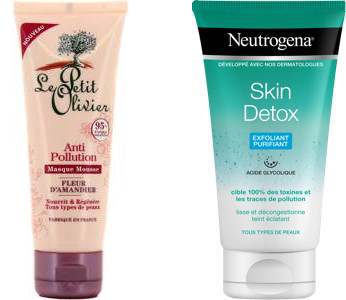 The pharmacy relies on oxygenating care
The palm goes to Filorga who after the Oxygen-Glow line with nasturtium extract, detoxifying enzymes and hyaluronic acid (Oxygen-Glow Clean, Super cleanser with a clear skin effect, 125 ml, €19.90; Oxygen-Glow Eyes, Super-Smoothing Eye Care, 15 ml, €29.90; Oxygen-Glow Mask, Super-Perfector Express Mask, 75 ml, €32.90 and Oxygen-Glow, Super-Perfecting Eye Cream, 50 ml, €39.90 from March) launched in April Scrub & Detox, Intense Purity Foam Exfoliant (50 ml, €32.90).
That's five products at once!
The Giphar Laboratory imagines a night mask for normal to combination skin, based on hyaluronic acid, extracts of antioxidant wild thinking and relaxing silk tree (My Detoxifying Night Mask, 50 ml, €12.90).
Saève offers Detox Officinale Botanical Serum Antioxidant Detox Shield with fresh organic birch sap, titrated dandelion extract and encapsulated apple phloretin (30 ml, €32.10).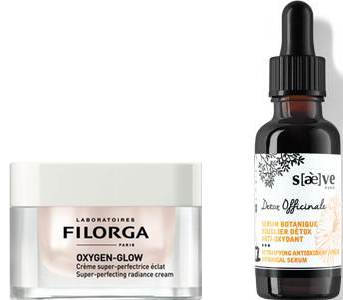 And Mavala creates Pore Detox Perfecting Toning Lotion with a physiological pH (200 ml, €14) that cleanses and purifies the skin.
Urban care is multiplying in perfumeries and beauty institutes
By Terry focuses on urban protection with its Cellularose Detoxilyn line, depolluting and anti-aging (Detoxilyn City Essence Detoxifying Preparatory Water Essence, 130 ml, €68; Detoxilyn City Serum, Detoxifying Defense Concentrate, 30 g, €115; Detoxilyn City Cream Detoxifying Defense Cream, 50 ml, €95; Detoxilyn City Mask, Effervescent Detoxifying Mask, 80 g, €78).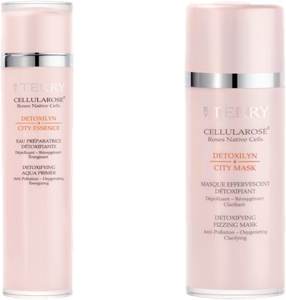 The same applies to Carita with Le Fluide Urbain Fortifiant, Anti-Pollution SPF 15 (50 ml, €95) and This Works with In Transit Skin Defence, Anti-Aging Anti-Pollution Moisturizer SPF 30 (40 ml, €38, at Sephora).
Guerlain adds the blue light protection (in addition to UV and infrared) with Abeille Royale Skin Defense Protection Jeunesse SPF 50 (30 ml, €65).
In spas and beauty salons, after Citadine Citylife, Crème Sorbet Visage et Yeux with a fresh "non-stick" texture (50 ml, €69), Phytomer imagines Algodéfense SPF 20, Emulsion Rides Multi-Protectrice (50 ml, €65, from March), a marine shield, both protective and wrinkle corrector on a daily basis.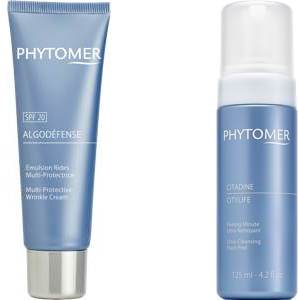 Matis also enhances its city care with a protection against blue light with Réponse Jeunesse City Protect SPF 50 Fluide Anti-Lumière Bleue (30 ml, €42).
The brand states that "6 hours per day and per year of exposure to blue light from the screens is equivalent to 3 months of sun exposure…"
Certified organic care is not to be outdone
After Patyka (Hydra-Défense Anti-Pollution Mist 1st Signs of the Age, 40 ml, €19.90), Sanoflore has just launched Aqua Aeria Oxygenating Botanical Mist Anti-Pollution (100 ml, €27.50) which contains a totum of citrus savory (hydrosol and essential oil) helping urban women to keep their skin healthy and fresh. Its plus: it can also be sprayed on the hair.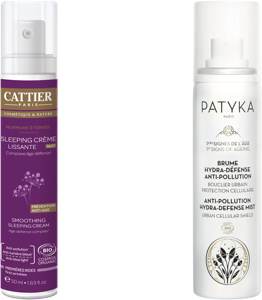 Cattier offers a range of 1st anti-pollution wrinkle treatments based on montmorillonite clay, seaweed, remineralizing and detoxifying Noirmoutier seawater, anti-pollution white marble extract and blue light (Eclat de Rose Concentré Regard, 15 ml, €15,70; Eternal Nectar Rich Anti-Aging Smoothing Care, 50 ml, €22.99; Eternal Nectar Light Anti-Aging Smoothing Care, 50 ml, €22.99; Eternal Murmur Sleeping Smoothing Night Cream, 50 ml, €24.30; Flower Sap Revitalizing Smoothing Serum, 30 ml, €24.99).
Ariane Le Febvre
© 2019- 2022 CosmeticOBS