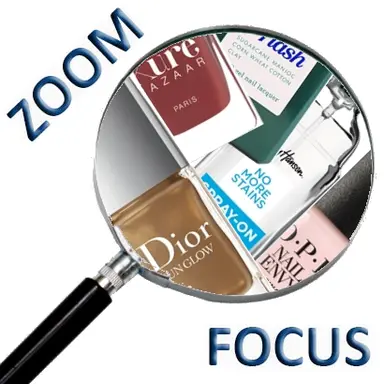 Spray base, first semi-permanent green varnishes, anti-gaspi packaging, specific formulas for women undergoing chemo, bronzing nail… this ultra creative make-up segment is evolving towards ever more care, naturalness and safety.
Between nail care and colourless varnish, No More Stains, Spray-On Base Coat by Sally Hansen (11 ml, €10.90) is the first spray base for nails, a new simple and quick procedure.
Its light mist is effectively distributed, while softening the nail surface and reducing streaks to prepare the nail for colour application.
Manucurist's Green Flash is the new green solution with semi-permanent varnish (€35 in approved salons, 30 minutes, 20 colours).
Formulated with natural organic ingredients sourced up to 84% (sugar cane, manioc, corn, potato, wheat and cotton), without sensitizing monomers (which allow polymerization under LED) nor hydroquinone (banned in cosmetics) and always 9 free (without toluene, DBP, camphor, xylene, formaldehyde alone or in resin, ethyl tosylamide, triphenylphosphate, benzophenone 1 & 2, styrene), it is performed in the institute or at home, with a LED or UV lamp and lasts up to 10 days.
Its rendering is also new. Mo more plasticizing effect, it is as thin as a varnish.
It is also for this reason that it can be removed like a conventional nail polish (with acetone free solvent), an important point because it is often during removal and sanding that it causes the nail matrix to suffer the most.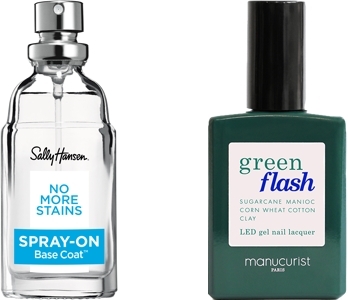 varnish that won't be wasted
Clever Beauty imagines formulas that are 100% vegan and "10 free" with an anti-waste bottle, thanks to a clever cap that allows you to draw the entire varnish without losing a drop! Simply press the cap to lower the brush to the bottom of the bottle. The wide brush also allows you to cover the entire nail in a single pass (12 ml, €17.90, 11 shades + 1 base-top coat).
The same high naturalness threshold for the dermo-cosmetic brand Même (dedicated to people affected by cancer), which offers 10 free varnishes enriched with silicon (10 ml, €8.90). According to the brand, "chemotherapies, especially those based on Taxane, can weaken nails, which often tend to split, break, blacken, and sometimes fall. Effects multiplied tenfold by the photosensitization of the nails caused by the treatments. It is therefore advisable during and after chemotherapy to wear nail polish to strengthen the nails and protect them from the sun's rays."
The fortifying care in colour
Even the very American OPI integrates more care into its new varnishes, by adapting its Nail Envy formula (hydrolyzed wheat proteins, calcium) which strengthens fragile and brittle nails, to the colour (15 ml, €27, for the moment, four shades: Bubble Bath, a nude pink, Hawaiian Orchid, a vintage pink with light purple shades, Samoan Sand, a pink beige and Pink to Envy, a light pink).
The healthy look of the nail
Another trend that is beginning to appear is the "good-looking" varnish, tanned or blushed. Bronzing" affects all layers of make-up and even hair colouring!
Now it's the nail's turn with Dior's Sun Glow Varnish, Nail Protection and Radiance Light Veil (10 ml, €27), a varnish inspired by the sun's reflections. Alone or in top coat, it sublimates the nail with an iridescent light and claims a protective action against external aggressions, such as sand, seawater or chlorine.
For its part, Kure Bazaar releases the Rose Blush (10 ml, €16) whose effect is that of a healthy glow powder on the nails.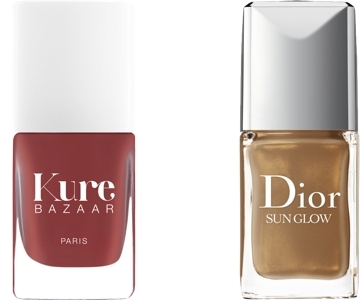 Finally, let's mention the first solvent packaged in a tube that looks like a make-up remover for nails: Remover On The Go by Nailmatic (30 ml, €9.90).
Solvent-free (it is scented with rose), rich in vegetable oils and beeswax, it massages on the nail and is practical when travelling (no more solvent running in the suitcase!).
Ariane Le Febvre
© 2019- 2022 CosmeticOBS