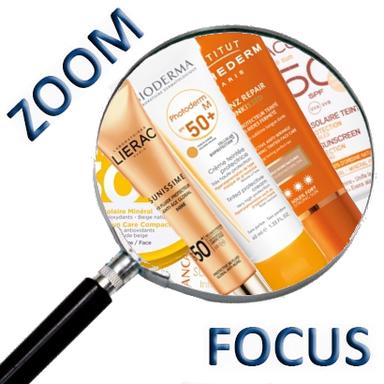 Action on the complexion for summer 2019 sun products! BB creams, tinted compact products or perfector treatments, those who (also) care for the glow seem to be the rule. Apart from giving us a pretty complexion (at the beach as well as in the city), it seems that the pigments preserve better against pigment spots…
If tinted sunscreens do not seduce - far from it - all women, the good news is that laboratories have recently discovered that mineral pigments (and especially iron oxides) are particularly effective in protecting the skin from pigment spots. One of the first to mention it is Bioderma with Photoderm M Very High Protection Protective Tinted Cream SPF 50+ (40 ml, €11.86) which protects the skin against hyperpigmentation like pregnancy mask.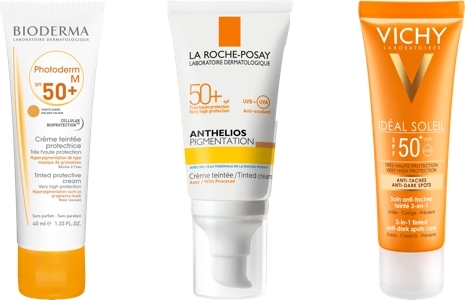 Logically, many dermo-cosmetic brands are now offering their tinted sunscreans, such as :
• La Roche-Posay (Anthelios Pigmentation, Tinted cream SPF 50+, 50 ml, €17,50)
• Vichy (Ideal Sun Stain Repel Care tinted 3 in 1 SPF 50+, 50 ml, €15,30), Daylong Face (BB Tinted Fluid SPF 50+, 50 ml, €15,50)
• Lierac (Sunissime BB Global Anti-Aging Protective Fluid SPF 50+, 40 ml, €29,90, two shades)
• Uriage offers four new tinted references in its Bariésun solar range, compact version (Very High Protection Compact Mineral Cream SPF50+, 10 g, €15.70, two shades) or fluid with an anti-shine texture and an ultra-dry finish (Face tinted cream, Very High Protection décolleté SPF50+, 50 ml, €11.20, two shades: light or golden)
The brand also offers, this time in its Hyséac range for oily skin with imperfections, a tinted product that combats the rebound effect and combines photoprotection and care (Hyséac 3-Regul Global Tinted Care SPF50+, 40 ml, €15.40, a single universal shade).
Avène is the only one to offer a tinted care not in its solar range but in its facial care line (B Protect 50+ Embellisseur, 30 ml, €13,40). Anti-UV and anti-pollution, it is aimed at urban women.
Special mention to its evolving texture with encapsulated micro-pigments that give the skin an imperceptible powdery finish (addition of a new generation silica, blurry and mattifying).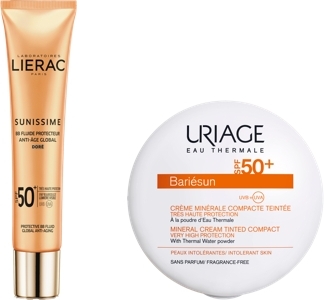 The Selective is not to be outdone…
Particularly noteworthy are the latest creations by Shiseido, Clarins and Esthederm.
Shiseido, the king of "sun make-up" (and especially sun compact products), offers a creamy compact foundation with a powder-free finish in its new Suncare Sports range developed for outdoor sports enthusiasts (BB Sport Compact SPF 50+, €38), as well as a fluid BB sunscreen (BB Sport 50+, €34).
Both are sublime without weighing, resist extreme stress and maintain skin hydration even after sport (thanks to an amino acid emollient derivative).
In the event of perspiration, the brand's Wet Force technology activates and uses moisture to strengthen the protective film.
As for the 2019 innovation called "Quick Dry", it uses a polymer to disperse sweat on the skin's surface, so that it evaporates faster and prevents it from dripping down the face. The skin, perfectly protected, remains fresh and the make-up intact.
Institut Esthederm offers its best-selling Bronz Repair sun product in a tinted version (Bronz Repair Sunkissed, 50 ml, €68, Soleil Normal or Soleil Fort), to be adopted in the city or on the beach. Its sunny pigments offer an ultra natural golden tan result, without any material effect.
Clarins imagines a SPF 30 Mineral Sun Compact (11.5 ml, €37, a single universal shade) and Sisley a SPF 50+ Tinted Super Solar Stick (15 g, €75).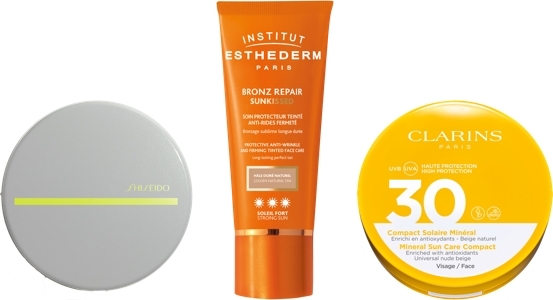 The complexion perfectors
In this category, which is devoid of pigments but embellishing, let us mention Lancaster's Sun Perfect Infinite Glow range, which combines the best of the brand's solar and anti-ageing expertise for mature skin (Wrinkle and Stain Perfector Fluid SPF50, 30 ml, €45; Wrinkle and Stain Radiance Base SPF30, 30 ml, €40; Wrinkle and Stain Perfector Cream SPF30 or SPF50, 50 ml, €45).
Tinted sunscreans certified organic
Pigments are an excellent way to suppress the white effect! The certified organic brands have understood this, Acorelle in the lead (Organic Tinted Sun Cream SPF 50 apricot, 50 ml, €22), but also Alphanova-Sun (Very High Protection Sun Cream SPF 50+ Light Tinted, 50 g, €14), or Agathe Sun which offers the first sun protection with snail drool rich in healing allantoin (High Protection Sun Care SPF 50, Tinted Cream, 50 ml, €28 or Very High Protection Sun Care SPF 50+, Tinted Cream, 50 ml, €30).
Who said we shouldn't have a nice complexion on the beach?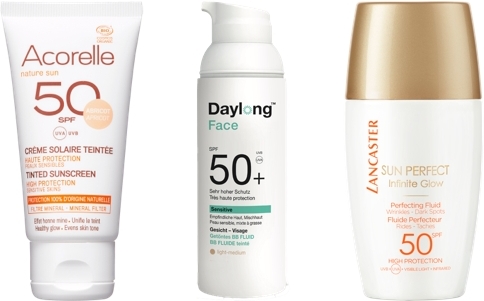 Ariane Le Febvre
© 2019- 2021 CosmeticOBS