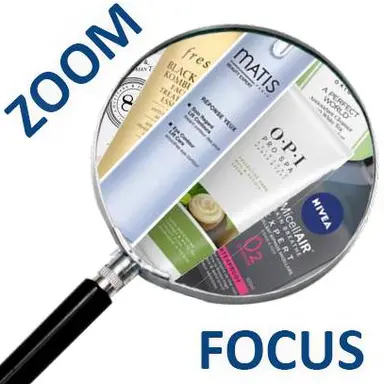 Tea-based cosmetics have been around for a while now, but this autumn and for the end of the year, we are witnessing a real tsunami of cosmetics and perfumes with green, black or white tea!
Tea is the most widely consumed beverage in the world, and it is also a first-class cosmetic ingredient that offers antioxidant and purifying properties. Some brands are entirely dedicated to it, such as Cha Ling (cosmetics with pu'er tea, including the welcome Autumn Mask, 50ml, €100) or Thémaé (among the latest innovations, the Delicious Tea Balm in the East, 200ml, €56€), but as the holidays approach, we rely as much on its naturalness as on its delicious fragrance!
Matcha green tea, in line with the super food trend
Since starred chefs have been incorporating this fine, bright green powder into their recipes, cosmetics, never behind in a food trend, have rushed to its antioxidant, detoxifying and anti-stress benefits. Matcha - if only because of its colour - is also the most "green" tea.
"Grown in China, it is the greenest of green teas: matcha tea leaves are dried whole and then used in their entirety to enjoy all their virtues. They are 100 times more concentrated in antioxidants than ordinary green tea," explains Garnier.
In this category, we find nourishing lip balms (Matcha Balm from Winky Lux, €16, exclusively at Sephora), facial cleansers (Kale + Green Tea Spinach Vitamins Cleanser Youth To The People, 237ml, €29.90, at Sephora), detoxifying masks (Matcha Purifying Mask + Active Pure Clay from Garnier, single dose sachet mask, €1.80; Laurence Dumont Purity Matifying Mask Mask Care, Booster 2ml + green tea fabric mask, 20ml, €5€), or matcha tea vegetable water-based eye care at Matis (Eye Repair Eau Regard Micellaire, 150ml, €22€; Eye Repair Soin Regard Lift Contours, 15ml, €48€).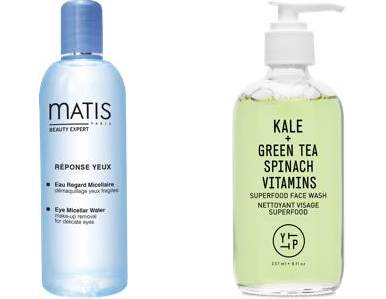 The first black make-up removers in supermarkets!
Made from black tea, they have just come out and grab the eye with their unusual black tint for make-up remover!
Champions for removing high-resistance make-up, Nivea and its MicellAIR Skin Breathe Expert O2 Oxygenation range are responsible for this (Biphase Micellar Eye Make-up Remover, 125ml, €3.75; Biphase Micellar Face & Eye Make-up Remover, 400ml, €4.70; Micellar Face & Eye Make-up Remover, 20 wipes, €3.50).
Fresh also offers a complete line of black tea facial and body treatments (Black Tea Kombucha Facial Treatment Essence, 150ml, €74; Black Tea Firming Corset Cream, face and neck cream, 50ml, €100; Black Tea Instant Perfecting Mask, 50ml, €96; Black Tea Firming Overnight Mask, 100ml, €96; Black Tea Age Delay Firming Serum, 50ml, €103; Black Tea Age Delay Cream, 50ml, €95; Black Tea Age Delay Eye Concentrate, 15ml, €85; Black Tea Age Delay Lotion Broad Spectrum Sunscreen SPF20, 50ml, €74€; Black Tea Age Delay Body Cream, 200ml, €72€).
The nobility of white tea
It is a rare and precious tea that reinforces the skin's self-protection, especially in relation to external aggressions.
Origins dedicates a whole range named A Perfect World (Anti-Oxidant White Tea Cleanser, 150ml, €28; Hydrating Care Prevention White Tea SPF40, 50ml, €46.50; Anti-Oxidant White Tea Hydrating Care, 50ml, €46.50; Firming eye care with white tea, 15ml, €41; Anti-ageing prevention lotion with white tea, 150ml, €27.50; Skin guard Anti-ageing prevention with white tea, 30ml, €46.50).
OPI is creating its ProSpa hand and foot care collection in the institute, all formulated with white tea (Nourishing Hand, Nail & Cuticle Cream, 50ml, €19.90; Ceramic Foot & Hand Spray, 112ml, €23; Foot & Heel Softening Gel, 118ml, €19.90; Foot & Heel Soothing Balm, 118ml, €25.90; Ultra Moisturizing Hand Serum, 60ml, €31; Nail & Cuticle Oil, 8.6ml, €15.80; Oil To Go Nails & Cuticles, 7.5ml, €15.95€; Cuticle Exfoliating Cream, 27ml, €19.90).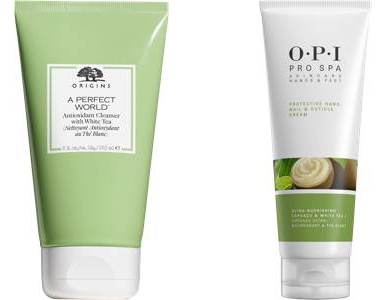 Ready for the holidays!
If you are used to Christmas teas as beverages, they are more original in beauty! It's the surprise of this end of year, tea will also be featured in cosmetics to be placed under the tree!
Yves Rocher thus devotes a whole range to the fresh and spicy aromas of Golden Tea in his Christmas collection (Body Balm, 150ml, €9.95€ ; Body Lotion, 200ml, €4.50; Exfoliating Shower Gel, 200ml, €4.95; Soap, 150g, €4.95; Hand Washing Gel, 190ml, €2.95; Lip Balm, 4.8g, €2.20; Hand Cream, 75ml, €2.50; Bath Shower, 200ml, €1.95 or 400ml, €3.50; Scented candle, 70g, €7.95; Golden Tea Carousel containing a nourishing lip balm 4.8g, a shower gel 50ml, a body lotion 50ml, a hand cream 30ml, all for €9.95).
Perfumes are not to be outdone!
The tea takes on vegetable and gourmet inflections as in the 86 Champs Raspberry & Matcha Green Tea Eau de parfum, a collaboration between L'Occitane and Pierre Hermé (90ml, €100, available exclusively at 86 Champs Elysées).
Annick Goutal pays tribute to "olfactory kindness" with her alcohol-free Eau L'Île au Thé (100ml, €75).
As for Roger&Gallet, we already knew its Fresh Perfumed Eau Parfumée Bienfaisante Thé Vert (100ml, €37.60), and the brand is launching its La Maison Extraits de Cologne collection on September 30, including a Perfumed Candle Thé Fantaisie (175g, €49) and a Diffuser (200ml, €59, both available exclusively at the Roger&Gallet boutique, DermaCenter and on Nocibe website).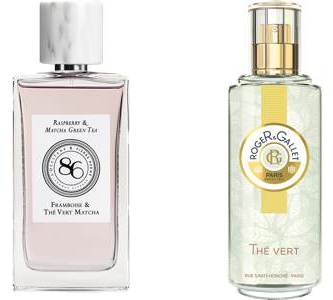 Ariane Le Febvre
© 2018- 2022 CosmeticOBS