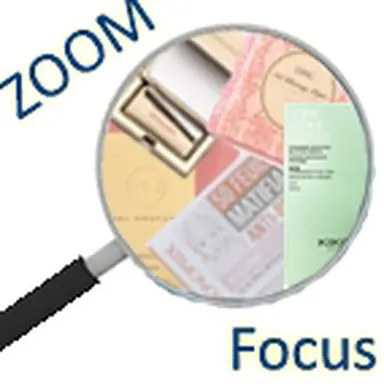 Their name sounds charming to the French (it is so much prettier in English!): their literal translation into French would remind of our school days, but in the field of beauty, it would be the equivalent of 'powdered paper' or 'mattifying paper'. It should be admitted that they represent a real godsend to recover a flawless complexion when the temperature heats up. They are even more welcome these days! If they have been discreet on the market for a while, this summer, and even more when we get back to work, they are boasting a new look – and should create a buzz.
Much better than nose tip repowdering, blotting papers absorb shininess without smudging makeup. You just need to delicately press them on all gleaming areas (usually the T-zone), and your complexion becomes fresh and matte. That is quite useful these days! They are nothing new, but this summer, they are on a roll. In Japan, no woman would ever forget sliding them into their bags. It is a daily, repeated gesture, sometimes it is even a little obsessional (like lip balm for a few French women!).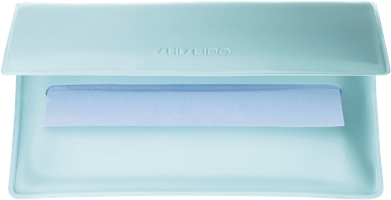 It is only logical that Shiseido was one of the first to introduce us to this typically Japanese accessory launched in France in 1994! Their Pureness Oil-Control Blotting Paper (€23 for 100 sheets in the case) is actually quite technical, and it is patented because it is soaked with a very efficient mattifying agent, hydroxyapatite, which absorbs the sebum and lipid peroxides, the agents responsible for oxidation.
Blotting papers are getting more diversified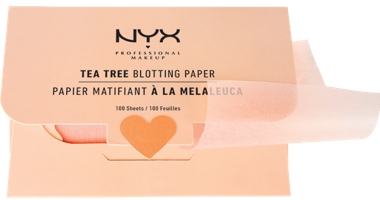 Millennials are crazy for them – they quickly understood how useful this both simple and efficient touch up is – so, most trendy makeup brands have launched their own this summer, like NYX, a professional makeup brand purchased by the L'Oréal Group and only available online, on certain websites like Feelunique. The 100% paper pulp-based sheets contain purifying, anti-inflammatory tea tree (melaleuca) essential oil (Green Tea Blotting Paper, €5.90 for 100 sheets).
Too Cool for School, a Korean brand distributed in Sephora stores, has devised Dinoplatz Dear Brachiosaurus Blotting Papers with charcoal, blackberry, or green tea to mattify and refresh combination and oily skins. They feature a funny design typical of Koreans (€6.95 for 50 sheets with a mirror, as from late August at Sephora's).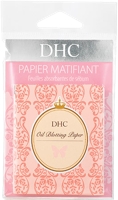 Japanese beauty expert DHC also chose ultra-absorbing, 100% natural hemp fibres free from any perfume or powder for their sebum-absorbing sheets adapted to sensitive skins (Blotting Paper, 100 sheets, €5.50).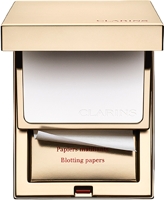 Clarins has followed the movement: the brand has developed a Pore Perfecting, Matifying Kit featuring Blotting Papers that do not dry out the skin, and a white compact powder. The blotting papers can be bought without the powder (€45, €20 for a refill of 2x70 sheets).
Blotting papers can also be found at Kiko's (Shine Refine Papers, 100 powdered blotting sheets, €6.95), Sephora's (Oil-Blotting Papers 'to put an end to shine!' – €5.95 for 50 sheets), and Monoprix's (Feuilles Matifiantes Anti-Brillance – anti-shininess mattifying sheets, €4.15 for 50 sheets).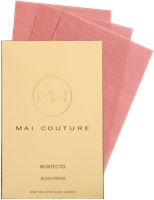 , no doubt the newest and most sophisticated are those launched by Mai Couture, who has dedicated a whole range to blotting papers that are not blotting… but which are actually used to put on makeup. They will be available in Sephora stores after summer (Blush Papier, €17 for 50 powdered papers, Foundation Powdered Papier or Highlighter Papier, €20 for 50 powdered papers, or Trio Pack, composed of three types of different papers, for example 20 blush papers, 20 highlighter papers, and 20 bronze papers: €20 for 60 powdered papers).
© CosmeticOBS-L'Observatoire des Cosmétiques
© 2017- 2022 CosmeticOBS