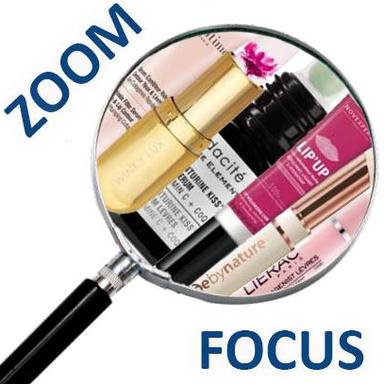 Much more than just lip balms, these complete treatments address the youthfulness of our mouth. They moisturize, nourish, replenish, treat vertical fine lines around the lips and some have an embellishing gloss effect. As real guardians of our smile!
Lip care plays the value-added card, and renew the experience with this kind of products! These multi-action hybrid products are between treatments and make-up, real UFOs cosmetics!
After Filorga (Nutri-Filler Lips Nutri-Pulping Balm, 4g, €24.90) and Lierac (Hydragenist Lips, Nutri-Pulping Lip Balm pink gloss effect, 3g, €14.90) which both revive the natural colour of the lips, this is the Lip Serum Serum with vitamin Cand coenzyme Q10 (Aventurine Kiss Lip Serum, 2mL, €44).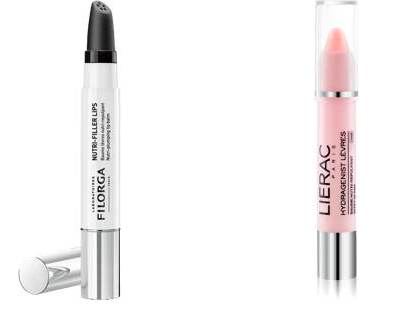 This 100% natural formula, which is at the same time moisturizing, plumping and regenerating, provides new sensations. First fresh (mint) then warming (capsicum, chilli extract), as the ingredients are released, it naturally stimulates blood circulation, which helps restore the lips' natural volume.
The icing on the cake is its aventurine crystal applicator, which gives each use the energy of this semi-precious lucky charm stone!
Resultime imagines the Wrinkle Filler Serum for Eye & Lip Contour (15mL, €42.90) with plumping collagen that smoothes wrinkles at 89%.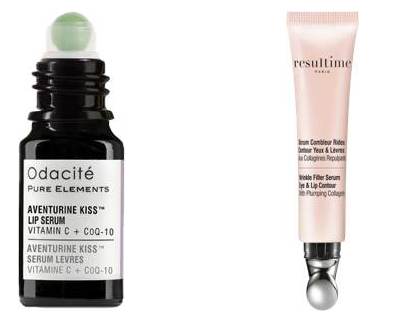 Prefer certified organic formulas
Novexpert is launching the most complete treatment of the season: Lip'Up Volumizing Lip Care (8mL, €17.90).
This new certified Cosmos Natural balm nourishes, smoothes, reduces fine lines, gives volume to the lips, while giving them a natural gloss effect. 100% of natural origin, rich in hyaluronic acid (low and medium molecular weight), Muira puama (an immediate volumizing agent known as "Natural Viagra®"!) and menthol, it is also (like all certified organic formulas) guaranteed free of mineral oils that may contain the controversial MOSHs(Mineral Oil Saturated Hydrocarbons), suspected to be toxic to the liver. To support its claim, the brand refers to several studies.
The first shows that balms and lipsticks can inevitably be partially ingested.
It has even been estimated at 1.8kg over a lifetime (Lead Relative Bioavailability in Lip Products)!
The second is a Swiss survey (Mineral oil and synthetic hydrocarbons in cosmetic lip products) which tells us that nearly 68% of lip balms contain large quantities of MOSHs!
Smoothing balms that beautify the lips
After Plumping Liss Primer, L'Oréal Paris' smoothing lip base that contains an active ingredient derived from ginger root oil (€14.90), and the Rouge Perfecto Baume Embellisseur de Lèvres pH réactif of Givenchy (€35 in two new shades: 04 Blue Pink to darken the other shades and 03 Sparkling Pink, a sparkling pink), here are the creations of Winky Lux and Nude By Nature.
The first one delivers his famous balm in a luxurious all-gold version, perfumed with coconut, with the same formula that reacts to the pH of the lips for a perfect pink shade and its signature: a real chrysanthemum flower in each balm (Flower Balm Luxe Edition, €15.95, available at Sephora).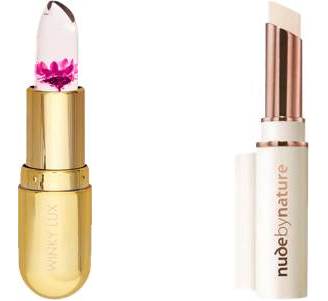 The second (Nude By Nature is an Australian brand of mineral make-up) offers a Perfecting Lipstick Base (2.75g, €20, available at Marionnaud), made from blurry silica spheres, kakadu plum, shea butter, mango butter, menthol… which minimizes the appearance of wrinkles, enhances and protects the lips, while promoting a long hold of lipstick. Again, this is a natural way to say goodbye to toxic ingredients and we think this is only the beginning…
Certified organic brands have a real place in this segment this winter!
Ariane le Febvre
© 2018- 2021 CosmeticOBS