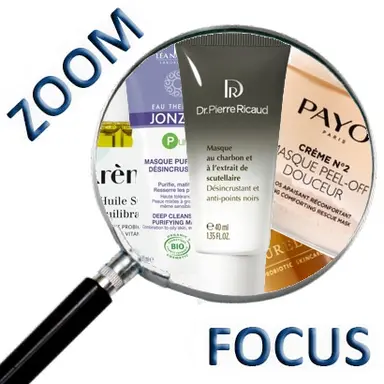 Born from the wearing of masks, this phenomenon - contraction of mask and acne - is gaining ground in cosmetics that are adapting to the health crisis and our new lifestyles. From cleansing to day cream, through masks, an invasion of new treatments and "anti-maskne" kits where probiotics have a great place…
It's a fact, wearing the mask generates an outbreak of imperfections (increased sebum, more visible pores, pimples, but also redness and irritation due to mask rubbing). The skin is "confined" in a hot and humid environment (due to breathing) that is conducive to microbial development and sebum build-up, all the more so as wearing the mask changes its pH. Even if one is usually not prone to imperfections, maceration favours the proliferation of bacteria. The beauty routine deserves to be reviewed, which is perfectly understood by the brands who find this an excellent opportunity to highlight their ranges for combination skin or skin with imperfections, or for sensitive skin. In the harvest of "anti-masked" innovations, AHAs and probiotics are in the spotlight. The latter are proving more topical than ever to allow the skin to remain healthy and to defend itself well.
Deep and respectful cleansers
In the evening, when the skin is no longer covered by the "occlusion" of the mask and is finally able to breathe, cleansing should be particularly careful and carried out with a suitable product such as Clearcalm Clarifying Face Cleanser with clay from Ren Clean Skincare (150 ml, €27). This clay formula cleans deep down, fights against excess sebum, the accumulation of dead cells and the bacteria responsible for blemishes. It minimizes the appearance and size of pores and soothes skin prone to blemishes. With 100% active ingredients from sustainable development, it is presented in a 50% recycled plastic tube with a 100% recycled plastic cap.
Another option is a daily exfoliating cleansing gel that contains 8% glycolic acid, 1% phytic acid, 2% aloe extract and glycerin (Glycolic Renewal Cleanser by SkinCeuticals, 150 ml, €37.80). It removes excess sebum, impurities and traces of makeup (even long-lasting), while maintaining the skin's moisture level and comfort.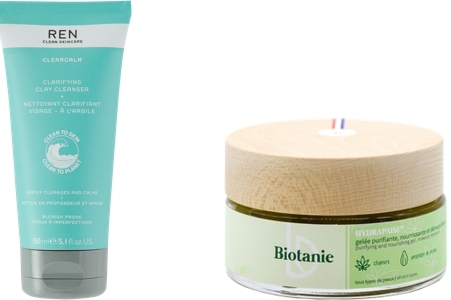 Or, for sensitive, reactive or reddish-prone skin: Hydrapaise Gelée Démaquillante Soin Chanvre & Prune de Biotanie, certified organic (100 ml, €26). Its creamy and fresh texture transforms into milk on contact with water. 100% natural and made in France, it is composed of only six active ingredients and smells delicious (natural and gourmand frangipane fragrance due to the plum kernel oil)!
Flood of purifying masks
Based on clay, AHA, coal… they cleanse the skin without forgetting to moisturize like Peel Express Exfoliating and Rehydrating Mask In One by Lixirskin (30 ml, €35), designed to obtain a skin quality as after a treatment in an institute. Acids, enzymes and humectants are formulated in a water-free jelly to boost the skin's ionic balance.
The absence of water in the formula allows a non-dilution of acids (mainly glycolic and lactic acids). The jelly is massaged until it turns white, then left to act for 20 minutes before rinsing with warm water (twice a week).
Same topo for Hydro Exfoliating Mask, 2 in 1 moisturizing and exfoliating mask from Dermalogica (50 ml, €68).
You can also opt for a simplified preparation, inspired by DIY, to make yourself, such as the Purifying Pushkar Mask from Comette Cosmetics (60 ml, €30, mention Nature & Progrès), a powder based on white and red clay, essential oils of turmeric and tea tree, to be mixed with floral water. It helps to eliminate acne and blackheads and illuminates the complexion.
Other welcome purifying formulas include Dr. Lechler's Charcoal Mask with Skullcap Extract, Scrub and Anti-Blackhead Mask. Pierre Ricaud (40 ml, €12 , in November), the Purifying Scrubbing Mask from the new Pure Eau Thermale Jonzac range (50 ml, €12.90, from November) based on Kaolin powder, zinc salt and a purifying and regenerating algae, or Glyconight 10% Yon-Ka Night Peeling Mask (50 ml, €59, in January), which combines 10% glycolic acid and a clean base, perfect for tightening pores and improving skin texture at this time.
Very sensitive skin will prefer the new SOS Mask from Oh My Cream Skincare (50 ml, €30, from October 30), a "muesli" mask with oatmeal, hyaluronic acid, probiotics, shea butter, vegetable oil … that instantly soothes, reduces redness, repairs and intensely nourishes skin weakened by friction. Without perfume, its "food" texture is ultra comforting.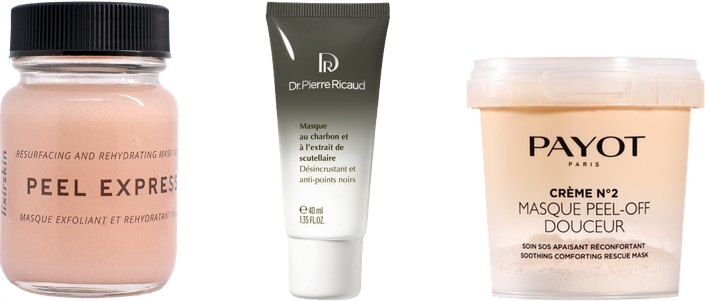 Or the Mask Peel-Off Douceur Soin SOS Apaisant Réconfortant in Payot's Crème N°2 range based on oats, alginates and pre and probiotics (single use, €9, from the end of November) also inspired by DIY (you mix it yourself with water in a small graduated bucket).
Anti-maskne care
Dr. Barbara Sturm created the Maskne Set in response to her clients' questions on how to keep skin healthy and beautiful in this new era where faces are covered daily. This very complete kit includes a reusable antimicrobial mask, made with a skin-friendly fabric that offers UV and anti-fog protection, as well as treatments that help prevent irritation and rashes generated by friction, sweat and heat build-up behind a face mask (Anti-Pollution Drops 10 ml, Calming Serum 10 ml, Clarifying Spot Treatment Untinted 15 ml and Clarifying Mask Sachet 10 ml, €130).
Also good for calming down in the evening, anti-blemish treatments such as Oolution's Spot Off Soin Correcteur Anti-Blemishes (10 ml, €19), SOS Magnifica Soin Local Anti-Blemishes de Sanoflore (15 ml, €13,50), or Jonzac Pure Eau Thermale Anti-Imperfections Purifying Care (50 ml, €15). The probiotic-based treatments are suitable for most people.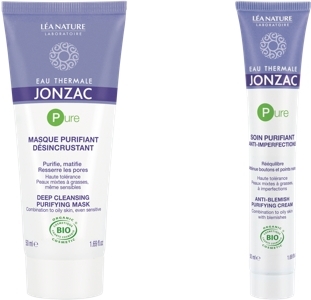 This is the case of the Essence F90 Pro Radiance Activator from Saève, which contains 90% probiotics (150 ml, €30.45), the SOS Balancing Oil from Krême (30 ml, €29) which contains an exclusive probiotic complex (pre, pro and post), of [Pepti] Biotic Gel-Mat Regenerating Smoothing of the SVR Laboratories (50 ml, €42.90), or of The Probiotic Concentrate of Aurelia Probiotic Skincare (10 ml, €52 or 30 ml, €131) with the repairing action which also fights against the imperfections and congestion.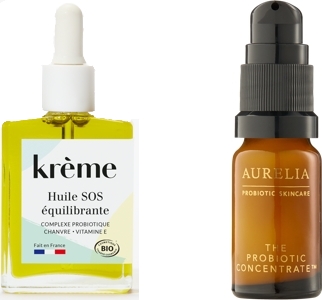 Ariane Le Febvre
© 2020- 2022 CosmeticOBS