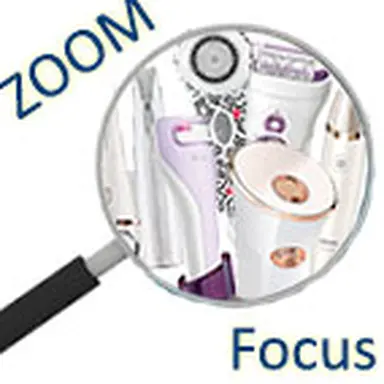 Mini-laboratory of cosmetic formulation, micro-dermabrasion devices, massaging and suction brushes allowing kneading worthy of the pros, epilators that clean and exfoliate at the same time, bathroom scales playing coaches… the new beauty toys are ultra-connected and always more inspired by expert treatments.
Since the success of facial cleansing brushes, electro-beauty has the wind in its sails. Cosmetics ranges are also developing in relation to this segment, such as Clarisonic's (Refreshing Cleansing Gel, 177 ml, 28.50 €, Deep Daily Pores Cleanser, 177 ml, 28.50 €, Invigorating Body Scrub, 177 ml, 28.50 €, at Sephora), or the new line of Foreo cleansers, specifically designed for the Luna appliance (Soin Nettoyant du Matin Yogourt Éclat du Réveil, 29,95 €, Soin Nettoyant du Soir Douce Gelée Divine, 35,95 € or Nettoyant Homme Gel quotidien revitalisant, 29,95 €, 100 ml, at Nocibé).
But the home device The most recent ones go further than the simple cleansing of the face or body, to offer us authentic personalised care or sophisticated modelling that our hands alone would not be able to achieve. Often inspired by professional treatments, whether they are those performed by a dermatologist (laser, photorejuvenation, LEDs…) or at the beauty institute, they also multiply the actions to open the field of possibilities, such as those hair removers that clean and exfoliate the skin. Let's start with the newest, this connected"beauty assistant", capable of formulating on demand and on the field 100% custom care.
Meet my beauty assistant…
Romy Paris is a new French brand dedicated to facial care, which adapts to all everyday situations and formulates, under the eyes of the user, a custom serum or cream. Thanks to the connected technologies, after precise diagnosis and questionnaire, it can capture the skin's needs in the moment and respond in the most relevant way, selecting the right active ingredients, at the right dose, at the right time, as well as the appropriate base in which they will be integrated (two cream textures L'Imperceptible or L'Onctueuse in 30 ml airless bottle, 20 €, only one for serum, 30 ml airless bottle, 25 €). Thus was born the Figure formulator (590 €), linked to the Romy Paris application (available on iOS) which analyses in real time personal data (local weather, pollution levels, sports activity, sleep, etc.) on a laptop or any other connected object, in order to determine as finely as possible the skin's needs. A prescription for specific ingredients is then proposed, among more than 1,000 possible combinations. And instantly, the Figure formulator makes the mixture, and delivers the prescribed care dose. The assets are classified in two Collections (Fundamental or Evolutive) and adapt to all skin types, men and women, as well as to each person's environment. It is possible to associate up to three assets from the same Collection in the same database. All are packaged in hermetic capsules that preserve their active potential intact until they are delivered to the skin (box of 28 capsules of 0.2 ml: from 26 to 38 €). To manufacture a treatment, it is enough first to introduce the recommended doses of active ingredients into the formulator. The device immediately recognizes the capsule and the Collection to which it belongs, and selects the appropriate care base (serum or cream). Then press a button to start mixing. In 7 to 9 seconds, the device delivers, in the hollow of a pretty spatula, a dose of 1 ml of care valid for an application. An automatic cleaning system is programmed after each use. The bases (serum or cream) stored in the device correspond to one and a half months of application. If a base is missing, the unit signals this. A portable mini-formulation lab, you had to dare!
Skin gym session
Philips launches VisaCare MicroDermabrasion, €249.99 (sold with two tips: normal and sensitive skin, at Nocibé), one of the first home micro-dermabrasion devices. Remember that this consists in exfoliating the most superficial layers of the epidermis to stimulate the multiplication of young cells in the deep part of the skin. Thanks to a dual suction and exfoliation system, the device intensively promotes blood microcirculation and cell renewal, while eliminating dead cells more effectively and efficiently than manually, without irritating. The skin is gently lifted and stretched to massage the deep skin layers and boost collagen and elastin production. It can be used all over the face (avoiding the eye contour), but also to smooth and firm the neck and décolleté. The session lasts no more than five minutes, to be repeated twice a week.
Also at Philips, the new VisaPure Advanced facial care device (€ 199.99, sold with three heads, one for cleaning, the second for facial massage, the third for specific eye contour massage) cleanses and massages the face, as well as the eye contour area. Developed with Japanese massage experts, this device allows deep kneading and massage for three minutes to relax small facial muscles. The eye contour head is made of a fresh material with a high-quality ceramic coating. It produces 120 nano vibrations per second to relax the look.
Clarisonic, the star of sonic cleaning brushes, has joined forces with the Keith Haring Foundation and is adorned with graffiti by the famous New York artist of the 80s (Clarisonic and Keith Haring Christmas Collection 2015, 149 €).
The laser effect at home
Tria, a leader in phototherapy skin care, offers Tria Age-Defying Laser (€495, at Nocibé), an anti-aging device that diffuses hundreds of regenerating light beams. It stimulates collagen and elastin production, evens out the complexion and reactivates the skin regeneration process in two weeks. The same brand created the first permanent French hair removal system at home, equipped with diode laser technology, to remove body and facial hair (Tria Hair Removal Laser, 445 €).
The 2-in-1 smart ones
These beauty toys can evoke BB creams because they are multi-benefits. Thus the Silk-Epil 9 SkinSpa SE9-969 from Braun (200 €) exfoliates and epile simultaneously. Featuring a sonic body exfoliating brush, it removes hair in a single pass and visibly refines skin texture. Clever for fighting folliculitis! It is also available in face version with cleaning brush and high precision epilator at the ultra-fine head (Braun Face SE 830, 79 €).
High-tech bathroom scale
The new Terraillon Web Coach Fit (100 €) calculates the fat, water, muscle and bone mass of its users. Careful design, premium finishes, digital meter impedance allowing everyone to connect to their Wellness Coach application and associated coaching services. Powerful, it can connect up to eight smartphones or tablets simultaneously and has a very large"Magic LED" display for optimal readability. As for the Easy View Web Coach (130 €), its satellite screen gathers all the expenses and energy contributions, the follow-up of the weight and the various masses (fatty, osseous, muscular and hydric). Multifunctional, it also displays room temperature, date, time, and is equipped with an integrated timer. All data collected is automatically synchronized on the Wellness Coach application which offers free advice through three coaching themes (Line management, Fitness and vitality or Zen program against stress and sleep problems). And to put all the chances on its side, this application also offers the possibility to subscribe to a personalized nutrition program with a dietician, based on telephone interviews over a period of three months. Even the big household appliance players like Dyson are moving into beauty time. Its latest innovation (The Humidifier, 529 €) claims moisturizing properties, maintaining an optimal and hygienic level of humidity (thanks to ultraviolet rays that eliminate 99.9% of bacteria). According to the brand," moisture can act as a natural moisturizer, reducing dryness that can cause irritation ". Electro-beauty is definitely a booming sector!
The Observatory of Cosmetics
© 2015- 2022 CosmeticOBS