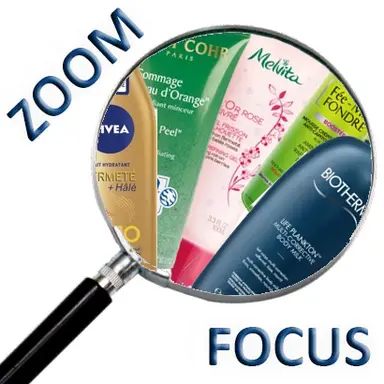 A change of direction for slimming products which, in 2020, will join the Body Positive trend. The loss of inches is no longer at the heart of the messages, but rather the accompaniment, coaching, recovery… The purchase of a slimming product is therefore seen as an opportunity to reconnect with one's body. This reorientation will perhaps speak more to all those who are sceptical about their effectiveness…
Somatoline Cosmetic (N°1 on the market) did not hesitate to call upon a philosopher and author (Camille Froidevaux-Metterie) to talk to us about the movement of re-appropriation by women of their bodies and appearance as a project of coincidence to itself, in order to present its new slimming products.
This skincare sector rather struggling since 2019 (the brand informs us that the market has dropped by 20% in the last year) is clearly in search of meaning.
It is reinventing itself in 2020 with the Body Positive trend, which advocates accepting physical particularities. Pleasing rather than pleasing. "Less obsessed by their weight and more concerned about their general well-being, women, tired of diets and the dictatorship of fitness, seem to be entering the era of slimming down better. On the slimming side, it is more a question of sculpting their body and firming their skin. Targeted and natural formulas aim to redesign the silhouette without idealizing it or leaving it in a good mood," ensures the company that adapts its iconic slimming (the Slimming 7 Nights) to this new situation.
It is now called Amincissant Natural 7 Nuits Sensitive Skin Slimmer (400 ml, €39.90) and has revisited its formula, which is now composed of 95% natural ingredients (caffeine, sea salt, birch extract, seaweed).
Gone is the thermal effect that some may find violent.
As for the 100% natural fragrance with lavender essential oil, it offers relaxing and soothing properties.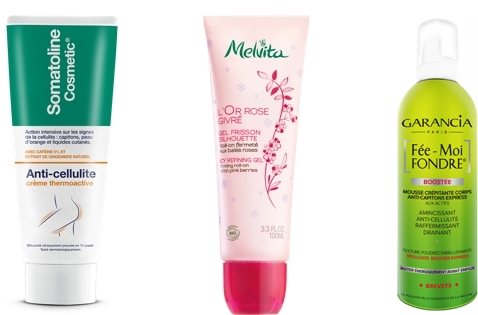 But for those who appreciate the effects (hot or cold), the Italian firm has come up with two new products to reassure them (Anti-Cellulite Thermo-Active Cream or Anti-Cellulite Cryoactive Gel, 250 ml, €34.90 each). Naturalness is always in the spotlight with ginger and maca extracts that improve the skin's elasticity. And always 5% caffeine, uncontrollable!
In the same vein, we can mention the new Garancia formula (Fée-Moi Fondre Boostée, Mousse Crépitante Corps Anti-Capitons Express, 400 ml, €39.90), L'Or Rose Givré Gel Frisson Silhouette by Melvita (100 ml, €29.50), Multi Slim Crème Minceur Effet Drainant Corps by Mary Cohr (125 ml, €49), or My Coach! by Elancyl (200 ml, €28).
A little wink from the latter, thanks to its packaging variations, we can choose the mantra that motivates us the most ("go", "bellissima", "bravo", "yes you can" etc.).
The slimming exfoliation sets in
Enriched with slimming active ingredients (caffeine, pink berries, algae, ivy extract…), it helps to "gym" and stimulate tissues, improve exchanges and prepares the epidermis to better receive slimming treatments.
It gives the impression of being "dressed" with a new skin, all soft and smooth and already that, it motivates!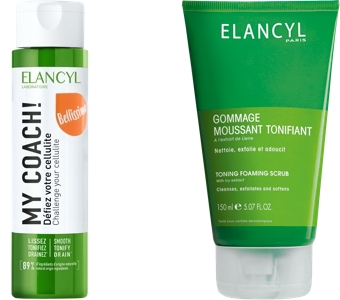 Many brands now offer it, such as Mary Cohr (Gommage "Peau d'Orange", 200 ml, €34), Linéance (Gommage Corps Intense Effet Peau Douce Minute, 150 ml, €6.23), Puressentiel (Gommage Express Minceur Zones Rebelles, 150 ml, €17.90), Elancyl (Gommage Moussant Tonifiant, 150 ml, €12), or Melvita (Gommage Corps Minceur L'Or Rose, 150 ml, €14.90).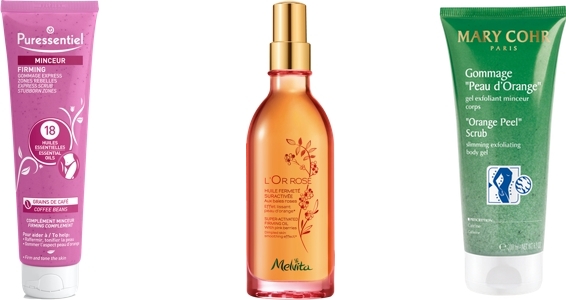 Somatoline Cosmetic is launching three this spring with three different fragrances: balsamic and marine for the Sea Salt Scrub, spicy for the Brown Sugar Scrub or fruity for the Pink Salt Scrub (Complément Minceur, 350 g, €18.90 each).
All three contain vegetable oils and leave the skin feeling comfortable.
Firmness always reigns!
It's the other face of slimming today.
In the springtime, she leads the way, as at Puressentiel Minceur (Firming Soin Intensif Expert with boosted caffeine and 18 essential oils, 125 ml, €29.50), Melvita (L'Or Rose Huile Fermeté Suractivée aux baies roses, 100 ml, €29.50), Caudalie (Concentré Minceur Huile Corps Regalbante, 75 ml, €23.70), or Daniel Jouvance (Gel-Crème Resculptant, 150 ml, €40).
All inclusive!
That's another big trend.
Today, it is easier to buy a multi-active product that claims other actions than slimming: hydration, firmness and stretch marks (Phytomer Sea Tonic Firming and Stretch Mark Oil, 125 ml, 58 €), a light tan (Nivea Firming Moisturizing Milk + Tanning, 200 ml, 5.50 €), or anti-aging body lotion that firms, smoothes and nourishes (Vinosculpt Body Lift and Firming Balm by Caudalie, 250 ml, 25.20 €); Life Plankton Multi-Corrective Body Milk, Biotherm Multi-Corrective Body Milk, 400 ml, €39).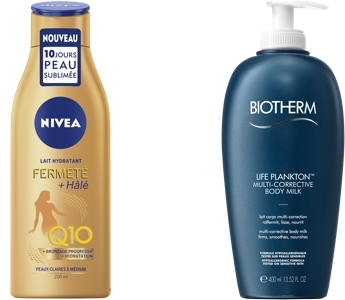 Ariane Le Febvre
© 2020- 2022 CosmeticOBS