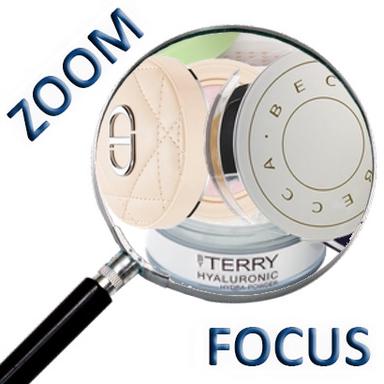 Highly absorbent (they diffuse a real freshness upon application) and non-drying, these loose powders contain 25 to 50% water. They also give a less powdery and "geisha" effect, in short, a more natural effect. For the rest, they matify and make a neat complexion, just like the others…
Rediscover loose powder
The loose powder had fallen into disuse because it was considered impractical (too volatile…) and above all it gave a slightly mealy "mask" effect, not at all in the spirit of the times.
However, it is unparalleled for fixing makeup and matifying, allowing the powder blush to glide better, but above all it gives a clean and pure complexion.
Different brands are bringing it back to the forefront with water-based formulas that are less dehydrating than classic formulas and provide true freshness on application, which is surprising for a loose powder! In addition to this unprecedented sensoriality for a loose powder, it dresses the skin with a subtly velvety radiance without a powdery effect. The complexion remains alive, the skin texture is not concealed. Another novelty: the cases equipped with sieves are more nomadic.
Among the first, which immediately became a best-seller, Becca's Loose Powder (Hydra-Mist Set & Refresh Powder, 10 g, €37, also available in travel size), an ultra-light powder formulated with 50% water, which offers a very "cooling" sensation and provides hydration all day long. It exists in two shades.

Dior imagines in its turn Dior Forever Cushion Powder Light Shade (58 €, five shades including Lavender, a lavender shade that brings a lot of radiance to the complexion). This ultra-fine and fresh loose powder, infused with more than 25% water and enriched with wild pansy extract (which preserves hydration and provides an extra dose of freshness), improves the quality of the complexion, which remains naturally matte and luminous throughout the day. Its compact case with padded lid is also more practical (with the sieve, it does not tip over).
Another "water powder" that refreshes the skin, H20 Skinveil Transparent Moisturizing Loose Powder by Pixi (5 g, €26), two shades Transparent or Sunkissed, by Sephora.

Finally, there is Hyaluronic Hydra-Powder, Matifying Loose Powder by By Terry (10 g, €49.90), a loose powder that contains only two ingredients (hyaluronic acid and silica) and can even be applied as a night care (over your night cream) to maintain hydration during sleep.
Ariane Le Febvre
© 2021 CosmeticOBS